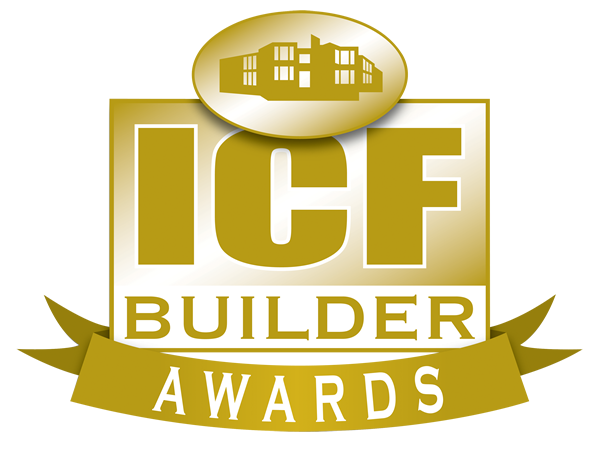 2019 Small Residential 
2nd Runner-Up 
Parks ICF in Knoxville has been building with ICF for more than 20 years. One of their latest projects is this 2,315-sq.-ft. home, built completely from ICF. It used 2,784 sq. ft. of forming. Total build time on the house was eight months, but the ICF installation time was only seven days. During those seven days, however, temperatures plummeted below the region's average of 28 degrees. Some adjustments needed to be made and careful scheduling with other trades was needed to ensure that the build stayed on track.
The homeowners knew their home would be built from ICF while still in the early design stages. As a result, they were able to maximize the attributes of ICF and enjoy all the features and benefits of a custom home. Exterior finishes such as stone, wood and natural-colored architectural shingles help the home blend into the landscape. An abundance of large windows bring in natural lighting, and wooden touches such as natural wood tongue and groove soffit finishes, wood columns and a solid wood door complete the rustic and sustainable feel.
One of the reasons that Parks ICF works with Nudura is because their unique folding forms help reduce shipping costs. Additionally, the company chose highly efficient closed-cell foam insulation in the roof which keeps energy costs low. Because there were so many windows, the highest quality energy efficient windows were chosen. In areas where winter temperatures are known to dip below freezing, ICF are a great choice. Parks ICF recommends ICF for construction because the solid concrete provides continuous insulation on the home envelope and eliminates thermal bridging found in a stick frame structures. No cold spots and a slow release of absorbed energy keep ICF homes comfortable year-round.
Because the east Tennessee region has historically had a low awareness of ICF, Parks ICF has promoted this home throughout the area, which is bringing much positive attention. The total cost to build this standout home was just over $400,000, proving that affordable, modest single-family home builds really are possible with ICFs. 
Project Statistics 
---
Location: Jasper, Tennessee 
Type: Private Residence 
Size: 2,315 sq. ft. (floor) 
ICF Use: 2,784 sq. ft. 
Cost: $412,000 
Total Construction: 34 weeks 
ICF Installation Time: 7 days 
Construction Team 
---
Owner: Landry Family 
General Contractor: Parks Management 
ICF Installer: Parks ICF 
Form Distributor: Builders First Source 
Architect: David E. Wiggins Architect 
ICF System: Nudura 
Fast Facts
---
Winter Construction with Sub-freezing Temperatures
Used in Social Media Campaigns to Promote ICF
Energy-Efficient Windows and Spray-Foam Insulation in Roof
Like what you read?
Yearly Subscriptions Starting @ $30