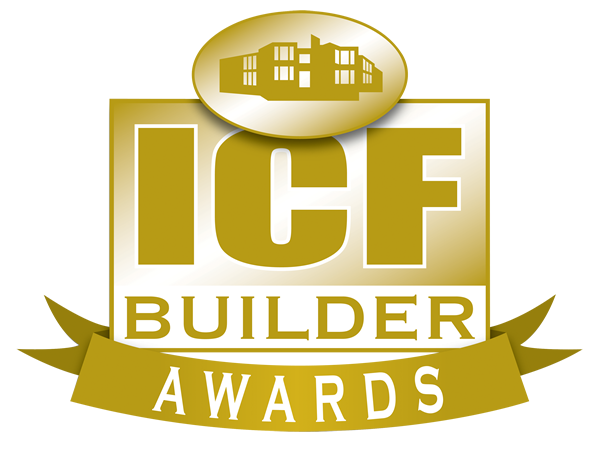 2009 Large Residential
1st Runner-Up
Planned as a spec model home, the European-manor style residence needed to be built quickly. Additionally, it needed to be spectacular enough to wow the thousands of visitors on the Northeast Ohio HBA tour.
The developer/builder thought ICFs would provide that wow-factor, and found an ICF installer to do the exterior walls. The construction team got to work, stacking the tall walls, complex corners and a semi-circular turret in near-record time. Geothermal heat and other green technologies were also installed. The well-coordinated team turned the home around in half the normal time. 
Visitors were impressed. So was the local press, which covered it on TV and in the newspapers. It was certified at the highest level of sustainable building by the Northeast Ohio Builders Initiative. With a HERS score of 42, it ties for the lowest HERS score recorded by ICFA, and has energy costs of less than $100/month.
Since the fall of 2008, when this home was completed, the developer has built and sold six other ICF homes, jobs that he attributes to the success of this first one. 
Project Statistics
---
Location: Chagrin Falls, Ohio
Type: Private Residence-Spec Home
Size: 5,990 sq. ft. (finished) plus 1180 sq. ft. unfinished basement
ICF Use: 7,380 sq. ft. (95% exterior walls, plus garage walls and wine cellar) 
Cost: $1.15 million
Total Construction: 155 days
ICF Start-to-Finish Time: 35 days
Construction Team
---
Developer: Premier Custom Builders
Architect: Design Visions
General Contractor: Same as Devoloper
ICF Installer: Energywise Building Solutions
ICF Distributor: Tri-County
ICF System: iForm by Reward/Bracing by Giraffe
Like what you read?
Yearly Subscriptions Starting @ $30