The volume of forms reported to the ICFA has declined steadily since 2004, primarily due to falling membership. This is expected to change in 2009 when several major players rejoin the association.
This year has been harder for the ICF industry than anyone imagined it would be. Excess housing inventory, tight credit conditions, and a failing economy have conspired to make 2008 one of the slowest this industry has ever seen.
New home construction, which NAHB economists predicted would turn around in the first quarter of 2008, has continued to slide downhill. Commercial-sector growth was also less than expected, which means the industry as a whole barely kept pace with 2006 and 2007 levels. Many individual ICF companies are reporting sales are down 10% or more for the year.
Unfortunately, the next 12 to 18 months do not look much brighter. (See 2009 Industry Forecast on p. 32) ICF executives predict 2009 will barely match 2008's numbers, and will more likely be down by 5-10%.
Of course, residential stick-frame contractors are down 50% or more from last year. The National Association of Home Builders (NAHB) reports that in 2008, only 650,000 homes were built nationwide. That's down from 1.7 million homes built in 2005. They're predicting a slight increase to 700,000 home starts in 2009.
So, while the ICF industry is coming out of its worst growth year ever, it performed very well compared to the construction industry as a whole. There are other positive signs as well. Let's take a look back at the major industry events this year:
Consolidation
In January, Arxx Building Products was acquired by a group of outside investors who were funding a start-up gray ICF called Apex Block. The combined company, renamed Arxx Corp., is now perhaps the best-funded player in the industry. And unlike other ICF manufacturers with major financial backing—Owens Corning's Fold-Form and Knauf Weblok, for instance—Arxx has been aggressively positioning itself to be the major player in the industry.
Within six months, the company bought out American PolySteel, a highly-regarded, successful ICF brand with 30 years of history behind it. In September, Arxx acquired ECO-Block as well. ECO-Block and PolySteel were both top-tier ICF companies prior to the acquisitions, so these are not minor events. Arxx is also securing suppliers and accessories. They purchased tall-wall bracing company Uniscaffold in July, now available only to Arxx distributors.
"This is a watershed event in the industry," said Patrick Murphy, former president of American PolySteel. "This consolidation will trigger other events that will ripple through the entire industry."
Of course, having the resources to buy several ICF lines and integrating them into a single cohesive company are two different matters. The next 12 months will reveal how Arxx plans on handling the newly-acquired product lines, distributor networks, and other assets.
Arxx Corp. admits it isn't done buying up the competition. "We're open to more acquisitions if the right opportunities present themselves," says Robert Coveney, vice-president of sales and marketing at Arxx. "Consolidation is a necessity for ICFs as a whole. For us to enter mainstream construction—where the main lift will take place—for that to happen, consolidation is a must."
Most other ICF executives agree that consolidation is a good thing. "I have been trying to consolidate the industry for the last eight years," says Murphy. "I feel it's necessary to move the industry forward."
Besides Arxx, there are only a handful of companies within the industry able to acquire another. One is Greenblock Worldwide, which has the financial backing of its European parent company. Mergers, of course, are always possible. Building material manufacturers from outside the industry may also decide to step in.
As this year comes to a close, the market has separated into several distinct levels. Logix is likely the single largest ICF brand, followed by Nudura. Arxx Corp. and its family of brands rounds out the top three. The other major players are listed in the comparison chart on page 24-25; the chart also includes a listing of regional manufacturers.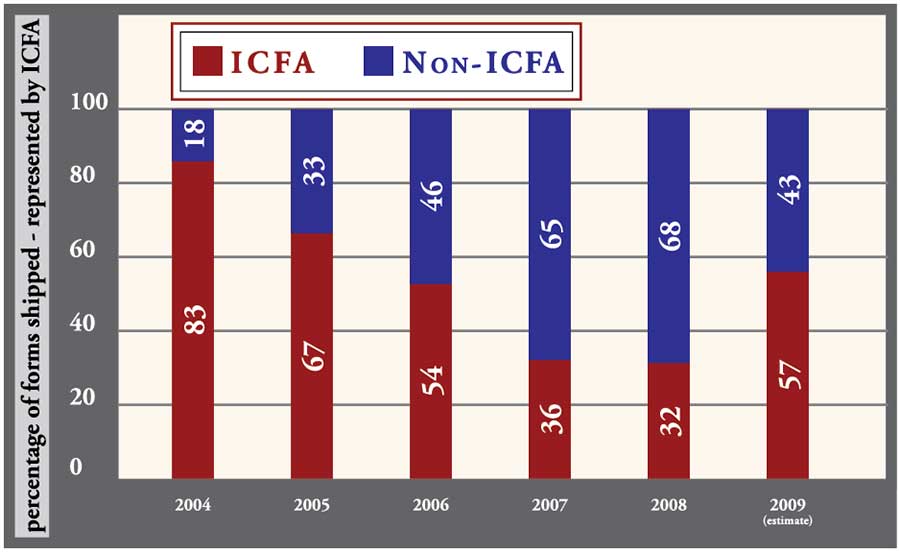 Green Building
The green building movement, which has been gaining momentum over the last five years, shows no signs of slowing down. This industry has been trying to capitalize on demand for sustainable construction for several years, but 2008 marked the first year that it has done so in a consistent and meaningful way. 
American PolySteel set the standard in March when they earned Cradle-to-Cradle (C2C) certification, a rigorous process that involves checking every step in the supply chain. They remain the only ICF to have achieved this.
Other companies, however, are making significant efforts to brand themselves as a "green product." Arxx, as part of their rebranding effort, developed a new logo aimed at attracting green builders. Logix followed suit, changing their tagline to "Good. Simple. Green." Greenblock and Fox Blocks also unveiled new logos this summer, adding green, leafy elements to their insignia.
Efforts to educate builders about the advantages ICFs offer are also moving forward. "We're continuing to build a strong following in the design community," says Hank Pfeiffer, COO of Reward Wall Systems.
Coveney, at Arxx, notes that the popularity of the green building
movement is amplified by the building slowdown. "The timing of it is great,' he says, "because it gives larger builders—25 homes a year or more—a reason to look at us. Now there's two things: a major slowdown, so they want to differentiate, and the green building shift."
ICFA
This year also saw major changes at the ICFA (see story on pg. 16). Steve Heller, who took over day-to-day operations in fall 2007, sent a letter to members in June explaining the situation and apologizing for the fact that due to problems predating his tenure, the organization had not been as effective as it should have been.
Thanks to a heroic effort by Heller and the board of directors, the organization, which nearly shut its doors this summer, has regained its footing.
The ICFA Fall Expo, held in September, was one of the most successful ever.
"There was a good feeling of optimism at the ICFA meeting," commented Bruce Anderson, president of Vinyl Technologies.
Murphy, who was honored at the event for his career contributions to the industry, said, "I hope the meeting was successful enough to reassure Steve and Vera that there's an organization worth staying with."
While some have questioned the relevance of the organization, it appears that the ICFA is making significant progress. Several manufacturers who had left the association in the past have committed to rejoin, including Nudura. "The industry needs the association more than ever," says Murphy, a founding member of the ICFA and former chairman of the board. "If the ICFA continues to struggle, it will damage the image of the industry overall. There will not be the opportunity for strategic alliances without it."
Size and Performance
The actual size and growth of the ICF industry remains shrouded in mystery. The ICFA is taking steps to develop new reporting methods, but it remains a difficult task.
"The industry as a whole is likely less than 300 million dollars," says Gary Brown, vice president of sales and marketing at Amvic. Others indicated the figure may be closer to $350 million, but say either is a good ballpark estimate.
In September, ICFA released its year-end shipment figures for 2007, which include annual figures back to the beginning of the decade. Their numbers indicate that ICF use has been declining over the last three years. The biggest year for ICFs, according to ICFA shipment reports, was 2005, when member firms shipped 56.4 million sq. ft. of ICFs. In 2007, member firms shipped 32.3 million sq. ft., a drop of 43%. (Part of this is due to a number of major producers leaving the association during this time.) Anyone who says the industry has been growing at 20% annually needs to check the facts.
"If we knock out all the fluff, down to the business base of ICFs, it hasn't really grown over the past few years," admits Coveney.
Shipment reports for 2008 will likely show the market dropping an additional 5-10% from the 2007 numbers.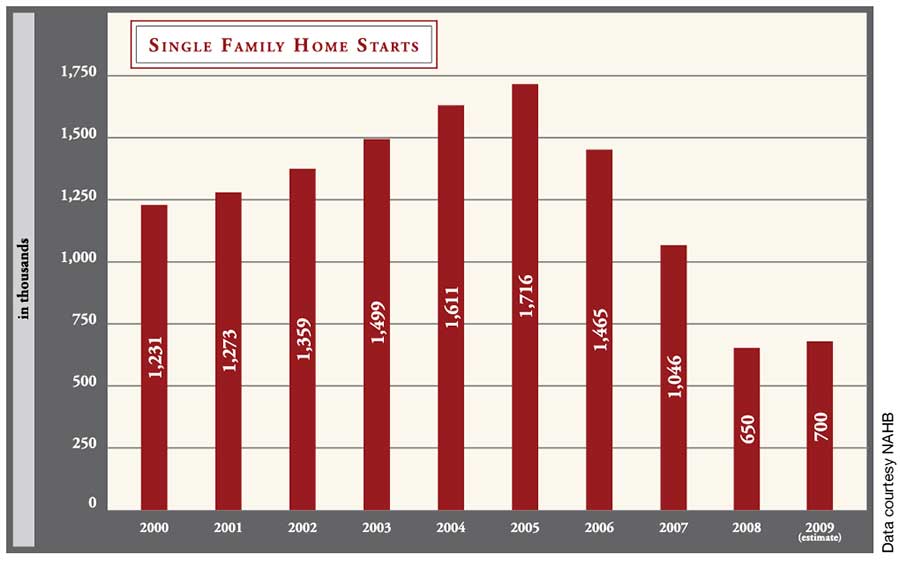 Strategy
The forecast for 2009 is rather bleak, but the long-term industry outlook is actually quite positive.
"A lot of ICF players right now are going through a challenge," Coveney says. "Companies today are looking for how to secure their position and move forward."
Those that can reposition themselves to take advantage of commercial construction and the green building movement will likely come out ahead when the market rebounds in 2010.
"I do believe that companies that come out of this challenging market doing the same thing they did going in are in trouble," says Murphy. "But when we come out of it, it will be positive for the industry as a whole."
Brown, at Amvic, agrees. "Those that can survive the next 18 months and are willing to move forward will enjoy an excellent position in the market. Once we're out of this, the industry will see double-digit growth again."