ICFs take center stage at biggest-ever event
Thousands learned ICF construction techniques at the WOC mega-demos and seminars..
The 2006 World of Concrete trade show, held Jan. 17-20 in Las Vegas, Nev., was the biggest ever. The event also prominently featured ICFs in the mega-demos and seminars.
More than 70,000 attended this year's show, crowding three exhibition halls and two outdoor demonstration areas. That's a far cry from the first event, held in 1976, which attracted an estimated 4,500 participants.
In all, the exhibits covered 1.3 million sq. ft. of floor space, which translated to lots of walking for the show attendees. Conveniently, the 1,600 exhibitor booths were somewhat categorized. Concrete forms, including ICFs, were in the North Hall. Block manufacturers had a major presence there, with more than a dozen brands setting up elaborate booths. Several assembled sizable structures from their blocks, and included brick ledges, 90º and 45º corners. Quad-Lock went even further, roofing a portion of their booth space with EPS decking to create a movie theater. The majority were positioned to face the central aisle, and stayed busy the entire show. Nearby booths exhibiting related products, such as radiant floor heating and rebar cutting and bending equipment, had significant traffic as well.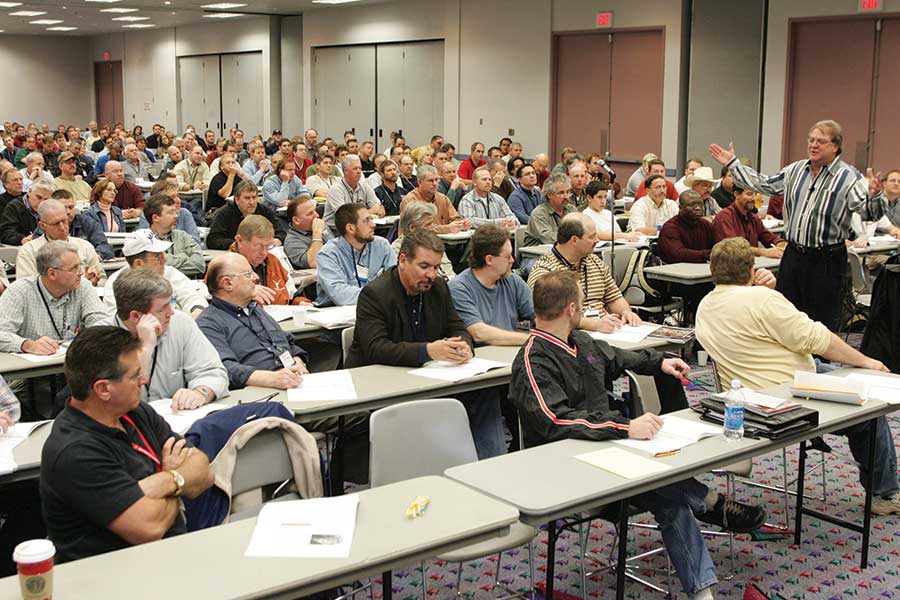 World of Concrete also hosted more than 100 seminars and conference sessions. One of the most popular was titled How to Build with ICFs, taught by Brent Anderson and Phillip Costantini. The three-hour class was attended by more than 200 people, and ran 20 minutes overtime with questions. Anderson noted that the front rows had filled first, which he attributed to the high level of interest in the topic.
Perhaps the most impressive part of the show wasn't in the conference center. Insulating concrete forms were the focus of the outdoor "mega-demos." Four leading block manufacturers had the opportunity to stack, brace, and pour demonstration walls while thousands of spectators watched. The walls included corners, window and door blockouts, brick ledges, and EPS roof decking.
On the second day, attendees filled the bleachers again to watch wall finishes be applied. One manufacturer used a textured acrylic stucco-type finish. Another stacked brick. A third applied a waterproofing membrane and drainage board. The fourth demonstrated how to cut in utilities with a hot knife and attach drywall.
Afterwards, hundreds of spectators flooded the demonstration area to learn more about the technology. Samples of ICF blocks and decking were on display; literature and experienced contractors were on hand to answer questions.
The impact of this year's show will be felt long after the exhibitors have followed up on the hundreds of leads
they collected. 
Between the exhibit hall, seminar rooms, and mega-demo, tens of thousands of attendees were exposed to the beauty, simplicity, and durability of ICF construction. At the show, ICFs competed head-to-head with tilt-up, CMU, and removable forms; not as an alternative technology, but as a viable mainstream building method.