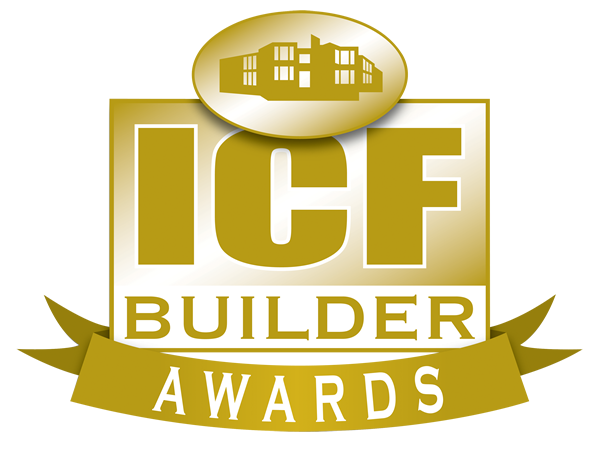 2007 Light Commercial
1st Runner Up
Much of the credit for the success of Fire Station #62 belongs to Chad Grover, the architect at Grover & Company who was instrumental in the decision to build the exterior shell of the building with ICFs.
Grover, who passed away last year, built his own home from insulating concrete forms, so he was already familiar with the benefits they offered. When the City of Kalispell asked him to design the new city fire station and training facility, he knew ICFs could provide energy efficiency, healthy air quality, and speed of construction they required.
The result is quite stunning. With a combination of stone, stucco, and heavy timbers, the building blends well with
the town's architectural style. A 39' tall ICF tower used for training drills
separates the equipment bays from the rest of the station. 
Knowing that ICFs minimize sound transfer, Grover incorporated an interior ICF demising wall to separate sleeping quarters from the office/station/training facilities. Staff report it's a quiet, comfortable place to sleep—a major consideration for a station that answers more than 4,800 calls a year.
The station is so well designed, in fact, that it won the national fire chiefs' "Station Style Award" for 2006.
It has also received attention from other cities. Fire officials from one Canadian township saw photos of the building and were so impressed, they immediately ordered a copy of the plans to build their own ICF fire station.
The winning qualities of Fire Station #62 go beyond its architecture. Built from Logix ICF, and matched with durable, low-maintenance finishes, it will easily outlast its specified 50 to 100-year lifespan. A high efficiency hydronic heating system keeps the building warm through the harsh Montana winters at a fraction of the cost expected. The building used only 30% of its heating/cooling budget during its first year of operation. 
Project Statistics
---
Project Name: Fire Station #62
Location: Kalispell, Montana
Size: 13,000 sq.ft.
Use: Fire Station/Training Facility
Form Used: LOGIX ICF
Cost: $2.8 million
Construction Team 
---
Owner/GC: City of Kalispell
General Contractor: Martel Construction
ICF Installer: Sundance Builders, Inc.
Architect: Grover & Company, Cole + Russell Architects
Engineer: Beaudette Engineers
Fast Facts 
---
• 39' ICF Tower
• Hydronic Heating
• Won Fire Chiefs' "Station Style Award" for 2006
• Used only 30% of heating/cooling budget for 1st year.
• Specified 100 yr. lifespan
• Answers 4,800 calls every year
Like what you read?
Yearly Subscriptions Starting @ $30