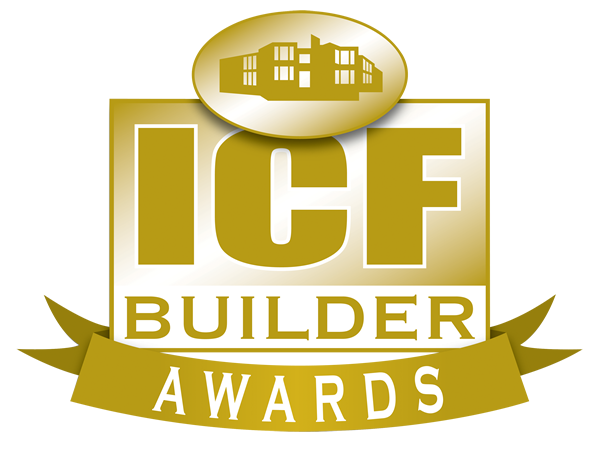 2007 Winner
Light Commercial
Rimrock Construction considered their options for developing land they owned in an office park just south of Salt Lake City. The professional building they wanted to build on the site needed to be different, more progressive, more 'green.'
According to Dan McCullough, the Utah-based Logix distributor that eventually provided the forms for the project, the owners were convinced to use ICFs because of their energy efficiency (near R-24), fire rating (4-hour), durability, longevity, and comfort.
Designers coupled the naturally energy-efficient wall system with in-floor radiant hydronic heating and a highly insulated roof system. To improve efficiency of the heating system even more, a ground-source heat pump was also incorporated into the design.
McCullough worked closely with the construction team at Rimrock to ensure the job went as smoothly as possible for the crew's first ICF experience. The building design is not simple, with numerous setbacks, large windows, and several gable ends built from ICFs as well. 
With proper training, the project moved along smoothly, despite the fact that a major portion of the project was completed during the cold Utah winter. ICFs allowed for concrete placement on colder days, and saved on heating and hoarding costs. The project went so smoothly, in fact, that it was completed in the same time as a wood-frame structure next door, despite the fact that the ICF building included a full basement and the wood frame structure was slab on grade. 
Ready for occupancy in June 2007, the building was fully occupied within weeks of completion, and the new tenants are thrilled with the new, quiet, energy-efficient offices. The use of high-end finishes—like real stone, quality hardwoods, and marble flooring—further promotes the impression that this is no ordinary building. And it isn't. Heating and cooling bills are expected to be half to a third of similar buildings in the development.
For overcoming initial hesitation to create a beautiful, eco-friendly light commercial building, we're proud to recognize Dry Creek Professional Building G as the winner of the Light Commercial category of the 2007 ICF Builder Awards. 
Project Statistics 
---
Project Name: Dry Creek Professional Building G
Location: Lehi, Utah
Size: 18,000 sq. ft.
Wall Area (ICF): 11,000 sq. ft
Completion Date: 2007
ICF Brand: LOGIX
Cost: $1.7 million
Construction Team 
---
Owner: Wallace Investments
General Contractor and ICF Installer: Rimrock Construction
Architect: Blalock & Partners
Engineer: Reaveley Engineers
Form Distributor: Utah ICF
Fast Facts 
---
• First-time ICF crew
• Completed during winter months
• Completed On-Time, On-Budget
• Built in same time as 1/3 smaller frame structure  
• Ground Source Heat Pump for Efficiency
Like what you read?
Yearly Subscriptions Starting @ $30