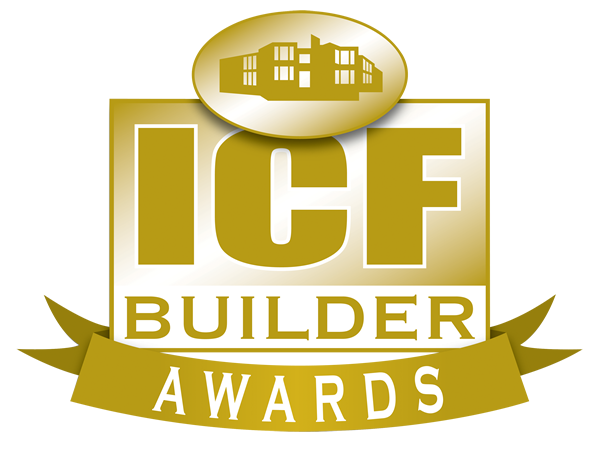 2007 Light Commercial
2nd Runner Up
Faced with a growing congregation and an aging chapel, Pinegrove Church in Kingston, Ontario, decided to build a new facility. After touring a nearby church that had recently been constructed with ICFs, the building committee was sold on the concept.
To keep costs down, the ICF installer agreed to allow church members to help out as unpaid volunteers. The most difficult part of the build was the unusual angles in the front wall under the steeple. With poured gable ends reaching to 32', the non-standard angles had to be hand-cut and carefully braced. Likewise, the unusual window openings and stepped sill plates required extra attention as well.
According to the distributor who provided the ICFs, the church is extremely pleased with their new facility—including the ICF baptismal font. With 10,000 sq. ft. of ICF walls, and only two trained installers on site, the church's walls are reportedly within an 1/8" of plumb, and the entire project was completed for around $85 a sq. ft. 
Project Statistics 
---
Project Name: Pinegrove Church
Location: Kingston, Ontario
Wall Area: 10,000 sq.ft.
Completion Date: 2006
Form Used: 8" IntegraSpec
Cost: $85 per sq. ft.
Construction Team 
---
Owner/GC: Pinegrove Church
ICF Installer: Nikiforuk Const.
Architect: Al Cromarty
Engineer: Tam Engineering
Form Distributor: ICF Kingston
Fast Facts 
---
• Custom cut angles
• Unusual Window Openings
• Stepped Sill Plates
• ICF Baptismal Font
Like what you read?
Yearly Subscriptions Starting @ $30