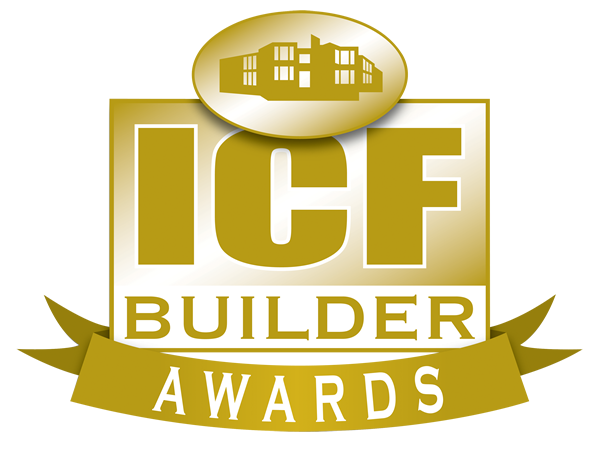 2007 Small Residential
1st Runner Up
Toscana Mia, a Mediterranean-style home built in the Grande Dunes section of Myrtle Beach, South Carolina, is a great example of an ICF home where the builder did everything right.
Berkley White, the developer and builder of the home, was familiar with the many benefits of ICF construction, and says the safety component was the primary attraction.  Myrtle Beach has been lashed by tropical storms in the past, and Mr. White takes pride in the fact that his homes can withstand this type of event more easily than most.  
White's company, Classic Home Building and Design, is registered as a "Fortified…For Safer Living" builder in South Carolina.  That means that in addition to ICF walls, the house has better connections between components, a stronger roof, more durable shingles, and so on.  It's all inspected by an independent, third-party appraiser to give the eventual homeowner complete assurance that the house is built to the highest quality standards.
But the house is not a bunker.  In fact, it's one of the more luxurious projects judges saw this year.  Inside, Brazilian cherry floors and custom ceiling beams set the tone, with plastered, arched entryways between rooms.  The arch theme continues outside, where the flagstone and brick courtyard leads invitingly to a turquoise pool. 
The arches serve another purpose besides the aesthetics, however.  They have been carefully designed to promote airflow throughout the patio and the home, reducing cooling costs and contributing to a more sustainable structure. Similarly, the deep roof overhangs and the placement of the garage are designed to provide strategic shade on sweltering summer days.  Classic Home Building and Design is also a member of the U.S. Green Building Council, which administers the LEED-rating system for sustainable homes.
Every home built by Mr. White and his company is subjected to two intense rating systems (LEED-H and Fortified…), guaranteeing that they are among the safest, strongest, healthiest and most environmentally responsible places to live.
And they are beautiful.  One judge commented, "This is a great home for a southern environment." 
Project Statistics 
---
Project Name: Toscana Mia 
Location: Myrtle Beach, South Carolina 
Size: 4,680 sq. ft.
Completion Date: May 2007
Project Start-to-Finish Time: 15 months
Cost: $1.4 Million
ICF Brand: Amvic
Construction Team 
---
Developer/GC: Classic Home Building and Design
ICF Installer: ICF Builders, Inc.
Form Distributor: Amvic Systems
Fast Facts 
---
• Received "Fortified for Safer Living" Designation
• Received LEED green building Certification
• Roof Overhangs and Garage placement for strategic shade
• Open Arches for Natural Cooling
• "Great Home for Southern Environment"
Like what you read?
Yearly Subscriptions Starting @ $30