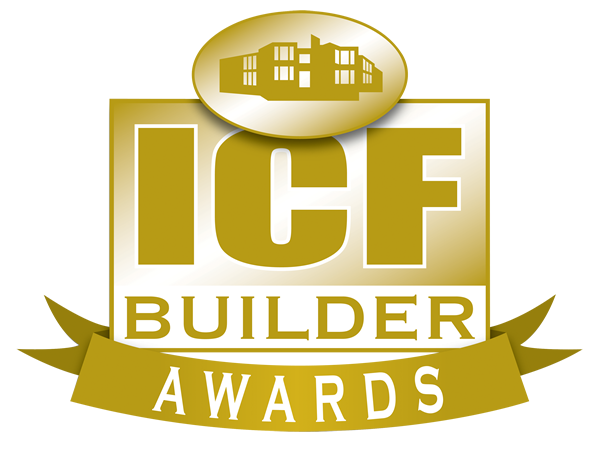 2016 Light Commercial 2nd Runner-Up
New England is notoriously resistant to change, but a three-story office building recently completed in New Hampshire is one indication that ICFs may be gaining respect in the region.
The design/build project was headed up by Groen Construction, Inc., which served as architect, general contractor, ICF installer and part owner. They've been building with ICF since 2001 when they were introduced to the foam-and-concrete construction method at the International Builders Show in Atlanta.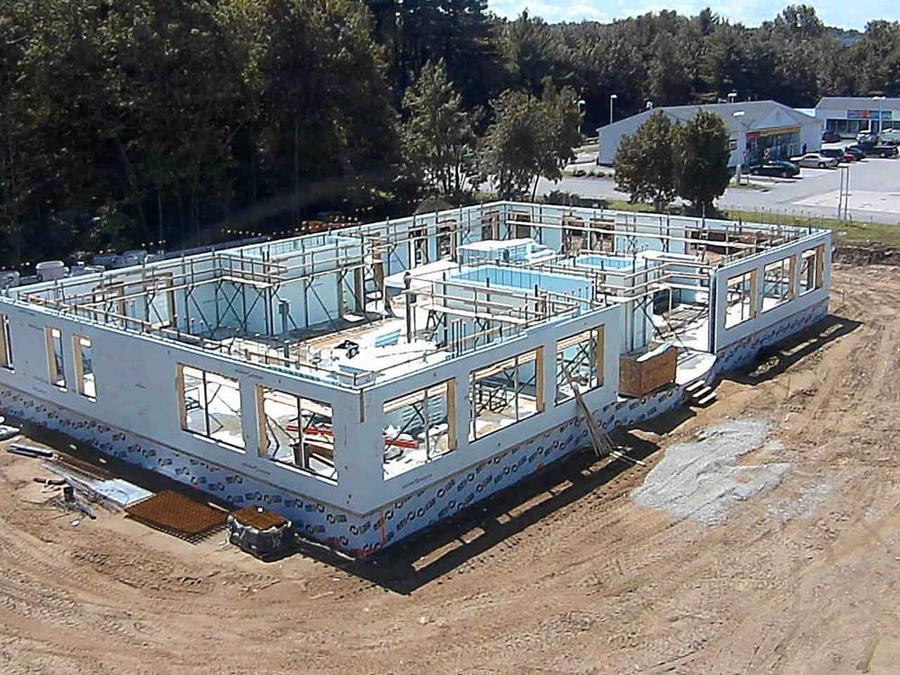 A few years ago, they built a 9,000-sq.-ft., all-ICF custom home for a client, who was so impressed that they became investment partners for this building. "Our purpose at Groen Construction was to locate our office in this building and to be able to tangibly demonstrate the effectiveness, cost efficiency, energy efficiency and comfort of using ICF for commercial construction," says Fenton Groen, president of the company.
The brand was already selected when this project was drawn up. Years earlier, a local fire station was specc'd with Nudura ICF, and Groen did the install. "By the time we were finished with that project we were fully committed to remain with Nudura because of the excellent product and excellent service," he says.
The jobsite was located near the off-ramp of a new highway interchange. It has high visibility from the major artery going through Rochester, New Hampshire. The city wanted developments nearby to serve as an attractive approach to the city. "We exceeded their expectations with the placement and attractiveness of our project," says Groen. "For our city of 30,000, this is one of the larger office buildings and is referred to by many as the most attractive building in Rochester."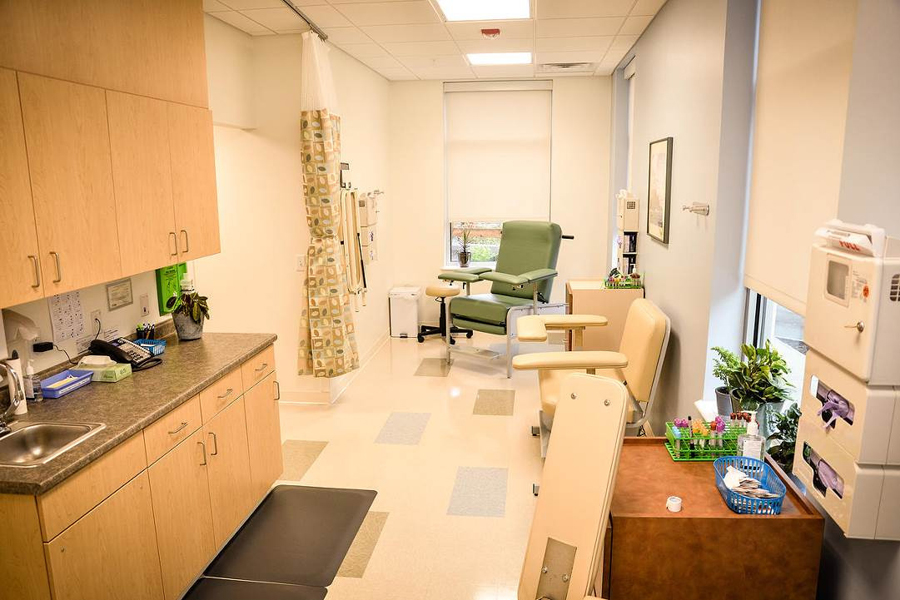 The three-story building is built to classical proportions and finished in a beige acrylic stucco. A radiused curtain wall of glass rising nearly 30 feet in the air highlights the entrance.
"This building was designed and value engineered to demonstrate the cost effectiveness of ICF to our commercial construction clients," Groen explains. "Thus, we specifically asked our design and engineering team to evaluate all aspects of the ICF configuration and construction to maximize construction cost efficiency without compromising performance."
They designed and installed a large retaining wall, which helped level the site and created room for a 6,000-sq.-ft. underground stormwater holding and treatment system below the parking lot.
The basement and first floor walls use eight-inch-core ICFs to support the backfill pressure below grade and long lintels on the first floor. Most other exterior walls were six-inch-core ICF. Rebar spacing was engineered to match the dimensions of the form and web layout.
"With creative use of our site, we were able to locate 27,100 sq. ft. of building space and 78 parking spaces on a 1.1 acre site," says Groen.
The entire exterior of the structure—from 11 feet below grade to the parapet above the roof—are ICF, as are the stairwells and elevator shaft. Groen reports that using ICF for the stairwells and elevator shaft saved more than 30% over CMU (cement block), eliminated the need for a separate masonry crew and assured the stair and elevator structures didn't disrupt the schedule.
It total, the building used 20,400 sq. ft. of forms, including the 5,700 sq. ft. used as interior walls.
The ICF stairwells and elevator shafts were designed to carry floor loads, reducing the floor joist spans and amount of reinforcing steel needed.
The floors were built with a composite steel, concrete pour-over system from EcoSpan by Vulcraft. "This system reduced the total floor system depth by more than three inches compared to conventional bar joists," Groen says. "It integrated seamlessly with the ICF walls. Plus, the simplicity of the EcoSpan system allowed us to utilize our ICF crew to install the floor steel.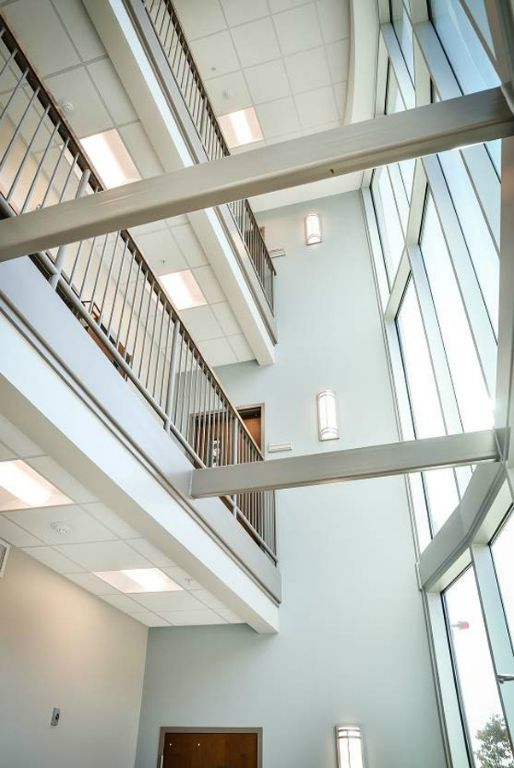 Window openings were formed with wooden bucks, with the glass inset 2½ inches from the face and finished with waterproof EIFS for a simple, attractive window treatment.
EPS foam was used to create the roof cornice and belly band. On the lower three feet of the building, the EIFS finish imitates the look of a cut stone ashlar foundation.
On the roof, a single-ply TPO roof system was installed over R-40 polyisocyanates insulation, which abuts the ICF parapet perimeter to provide an unbroken thermal barrier. The central arched parapet hides the elevator shaft and screens much of the HVAC equipment.
Groen says, "By coordinating much of our site construction to overlap with the ICF foundation and wall work we were able to complete the building shell in 5½ months. We heated the entire building during winter construction with a 150,000 BTU natural gas heater located in the lower level, blowing into the elevator shaft. It maintained a uniform 55-58 degrees temperature throughout the building."
Completed in May 2014, the average monthly energy use for the first full year of operations, including potable water heaters, ran $431.
Groen concludes," Our building was designed to showcase the beauty, cost-effectiveness, energy efficiency and comfort of ICF. This building has exceeded our expectations in every way. Since completing our building we have showcased it to architects and commercial users. We have been a primary influence in two local municipalities choosing ICF for their proposed new
municipal buildings."
Project Statistics
---
Location: Rochester, N.H.
Type: Office/Retail Space
Size: 20,500 sq. ft. (floor)
Cost: $2.7 million
Total Construction: 9 months
ICF Installation time: 60 days
Construction Team
---
Construction Team
Owner + General Contractor + ICF Installer + Architect: Groen Construction, Inc.
Engineer: JSN Associates, Inc.
Form Distributor: J&E Wall Systems
ICF System: 8″ core Nudura
Fast Facts
---
3-story building considered "most attractive in town"
ICFs used for all walls, including stairwells and elevator shafts
Multiple long lintels required careful reinforcement
Average monthly energy use is $430
Like what you read?
Yearly Subscriptions Starting @ $30