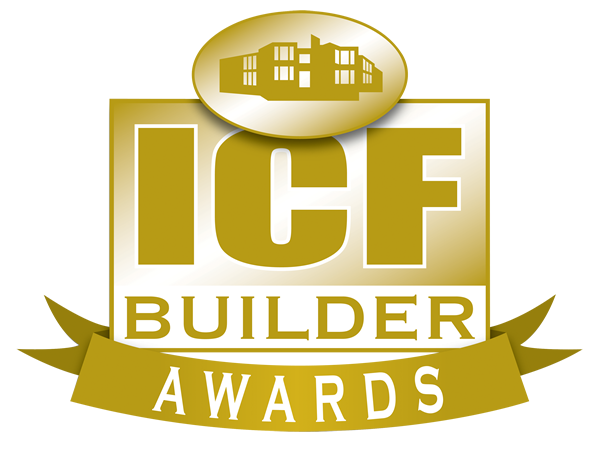 2006 Light Commercial
1st Runner Up
The first runner-up in the light commercial division is an outstanding example of the beauty that can be achieved with ICF construction.
The Holy Cross Catholic Church,
in Porterville, Calif., looks like an old mission church hundreds of years old, but is in fact a state-of-the-art, energy efficient, modern building.
"Our main focus of the church design was to pay homage to… the historic missions scattered along the west coast of California," notes the architect. 
The owner had become converted to using ICFs for the new church after visiting a school project in Visalia, California built with Arxx. So the brand was selected from the beginning.
The general contractor is a member of St. Anne's Parish and was also identified from the start. However, he had no previous experience with ICFs, nor did the masonry contractor, architect, or anyone else on the construction team. After attending Arxx training, they began finding ways to maximize their efficiency. The window openings and wall plate heights, for example, were designed to correspond exactly with the heights of the ICF courses. 
ICFs also helped resolve one of the most difficult design issues. The complex steel trusses spanning the vaulted ceiling areas of the church are extremely heavy. Clear spans over the nave and transepts are 58 feet. Hip trusses over the altar area span 82 feet. Fortunately, the reinforced concrete core of ICFs easily support the weight of this steel.
Forms used on the exterior walls of the church have an eight-inch concrete core. With all interior & exterior wall finishes considered, the total wall thickness is more than 14 inches.
Mark Schneider, a former marketing manager for Arxx, notes, "This will greatly reduce the monthly operating costs of the church where heating and cooling
is concerned."
Interior finishes continue the mission theme. Custom stonework surrounds the altar area, window and door surrounds, and columns. Bright Mexican tile work highlights the baptismal font. Textured, stained concrete floors add not only beauty to the space but also ease of maintenance.
Upon completion in April 2006, the church held an open house. Fr. Scott Daugherty commented, "There were many people, we lost count, but it was crowded. Some folks came from out of town… So many people, Catholic and non-Catholic, were moved emotionally. I've never had an experience quite like the open house."
In addition to this award, The Holy Cross Church has received national recognition from the National Association of Church Design Builders (NACDB), and has been featured in numerous articles in both the Porterville and Fresno (Calif.) newspapers. 
Project Statistics 
---
Location: Porterville, Calif. 
Total Bldg Size: 18,500 sq. ft.
Cost: $4.2 million 
Project Start-to-Finish Time: 540 days
ICF System Used: Arxx
Construction Team 
---
Owner: Roman Catholic Church, Fresno Diocese
Architect: Townsend Architectural Group
General Contractor: Dayco Const.
ICF Installer: R.C. Kucala Masonry
Like what you read?
Yearly Subscriptions Starting @ $30