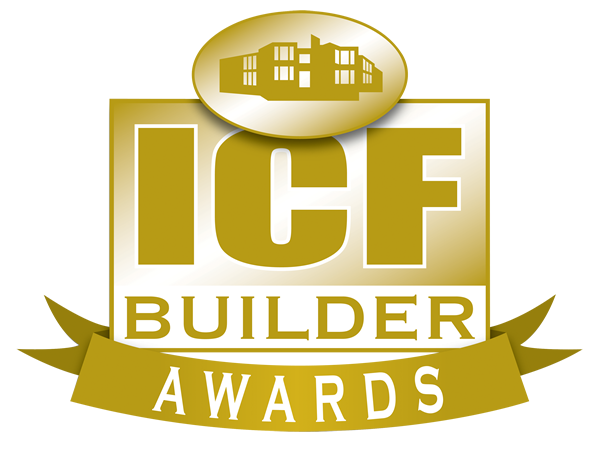 2023 Light Commercial
Winner
The Roten & Co. Insurance Office in San Antonio, Texas, is a 4,020-square-foot office with a 1,630-square-foot mezzanine all constructed of Amvic ICFs. Stacking of the ICF took only six days out of a total construction time of 30 weeks. The contractors estimated that they saved eight weeks of work time by using ICFs with a savings of $60,000 specifically related to the mezzanine. 
Complex Design
"The key design feature that defines the complexity and creativity behind this ICF project starts with the tight cluster of multiple sloping and intersecting ICF concrete roof lines near the main entry," says Czyrelle Talento, Amvic's marketing coordinator. "This particular design features two large single-slope volumes that drain to a shared parapet flat roof assembly. The smaller volume faces the parking lot and consists of a 19-foot height with a single slope. The other main volume faces the street and consists of a much wider and taller 24-foot height single-sloped ICF wall supporting a mezzanine structure." 
The tall mezzanine wall design also consists of two double-stacked corner windows at both ends. These had to be engineered to support a mezzanine floor structure in between them. This same volume supporting the tall wall and mezzanine also includes a series of 10 large windows with five transoms that also include a series of custom steel shading devices. "Between the numerous window openings, mezzanine floor structure anchors, and numerous sun shade awning embeds intended for placement along this particular wall, one can imagine the complexity and coordination involved for the concrete pour at this one wall alone," Talento says. Despite these conditions, the ICF installer performed these tall wall heights in just one concrete pour along with the rest of the ICF envelope.
Small Work Site
The property is a very compact 0.32 acre commercial site with two neighboring structures built with a zero lot line building placement. One of these structures encroached into the lot by 12 inches, resulting in several permitting issues. The lot also had issues related to its previous use as a gas station for the school district, which required additional building pad remediation where the underground gas tank had been. "With the neighboring structures being right on the property line and the owner's requirement to maximize the buildable area, the rear walls were designed as ICF fire walls without any windows, to allow for the building to be constructed as close as possible to the property line without abutting the neighbors," says Talento. 
By utilizing ICF, the project was able to secure code approvals along with additional exemptions from the city due to the 4-hour fire rating the ICF envelope system provides. It took careful precision and coordination to ensure the exact placement of the roof slopes along with the endless series of embeds that must be carefully placed prior to the concrete pour. Talento says the "cherry on top" moment was revealed at the end of the project when all the shading devices were finally installed and welded to the exterior embeds along the mezzanine wall. Everything was installed remarkably straight and in perfect alignment with each other.
High Marks For Sustainability
The double-stacked corner windows provide an abundance of natural daylighting for the main interior office space. "By utilizing ICF for the building envelope and combining this with a 100% LED lighting design, the project exceeds the International Energy Code envelope requirements by nearly 50% and is an impressive statistic that has baffled local city plan reviewers and utility companies during permitting," says Talento.
In 2019, the architects, Architectura SA, achieved a groundbreaking milestone accomplishment by working with the local utility company to issue the very first utility rebate recognizing the advantages of ICF construction in San Antonio. The Roten building is the very first ICF project in San Antonio to be recognized for a high-performance envelope that successfully delivered a utility rebate to the owner. "This project looks forward to being utilized as the key local case study to further expand and grow these ICF rebate incentives for the foreseeable future," she says. After gathering a year's worth of business operations and utility expenses after being fully occupied, this project was officially designated as an Energy Star Certified Building in 2022 with an Energy Star score of 93. A score of 93 means that this building is more energy efficient than 93% of similar buildings. Architectura SA plans to combine energy usage for this and other projects and encourage the local utility company to expand upon this groundbreaking rebate program. The property owner noted that they were surprised to receive their first electricity bill, which was lower than their water bill, demonstrating the superior energy efficiency of the ICF building envelope.
Expanding Influence
This project helped convince a San Antonio–area school district to use ICF for their new facilities under a 2022 bond measure and is currently in the planning stages for 2023. "After numerous attempts by various ICF manufacturers to convince the local school districts in San Antonio to make the switch to ICF, it was the recent efforts by Architectura SA and showcasing this building as a key case study to break through and achieve a major milestone in spurring a critical change for future educational facilities in San Antonio, let alone the greater South Texas region," Talento says. "By achieving this critical opportunity due to the tremendous success of the Roten Building and the rebate opportunities, these future school facilities will be of huge significance and visibility for numerous other major institutional facilities throughout the San Antonio/South Texas area over the next 10 to 15 years."
Because of the significance of this building, the San Antonio Business Journal wrote about insulated concrete forms as a building system of the future. During construction, the building also caught the eye of another adjacent property owner who initiated an ICF two-story office across the street. This particular project was itself the primary catalyst that facilitated two previous award-winning projects in the ICF Builder Awards Light Commercial category in 2021 and 2022, Delta Terra Campus and Delta Terra Square. 
Project Statistics 
---
Location: San Antonio, Texas
Type: Office building
Size: 5,650 sq. ft.
ICF Use: 4,687 sq. ft.
Cost: $1,150,000
Total Construction: 30 weeks
ICF Installation Time: 6 days of stacking
Construction Team 
---
Owner: Robert Roten
General Contractor: John Alvarez
ICF Installer: ICF Constructors
Form Distributor: Amvic
Architect: ArchitecturaSA Inc.
ICF System: Amvic
Fast Facts 
---
Fast Facts
Tight 0.32-acre lot
Energy Star Certified Building score of 93
First local project to receive a utility rebate for using ICF
Only 6 days for wall stacking and fenestration openings
Double-stacked corner windows supporting mezzanine
Like what you read?
Yearly Subscriptions Starting @ $30