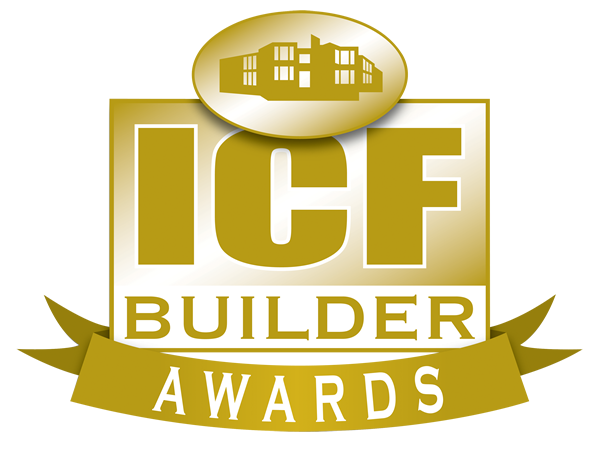 2006 Light Commercial
2nd Runner Up
East Bay Suites, a three-story addition to a historic Minnesota hotel, earned 2nd runner-up, light commercial in the 2006 ICF Builder Awards.
Connie Chisolm, a marketing manager at Reward Wall Systems, says, "This was a very sensitive project in Grand Marais. Beloved by travelers for decades, East Bay Suites sits right on the shore of Lake Superior in the middle of town." 
The 12,000 sq. ft hotel, originally built in 1909, was extensively remodeled, and a 16,000 sq. ft addition was constructed alongside with Reward ICFs.
"What once was a building almost 100 years old with understandably poor insulation, weak windows, and high air infiltration is now a quiet, strong, and energy efficient property that can stand up to the extreme elements of Lake Superior." says Chisolm.
Developers worked hard from the very beginning to ensure that the finished project would reflect the history and flavor of the original hotel. And they succeeded. The new property has 31 units, an on-site restaurant, community room and a "hall of memories" with memorabilia from the area's past. The living spaces are luxuriously appointed, and have reportedly received rave reviews from critics.
"The East Bay Suites project is important because it is symbolic of how redevelopment of important landmark properties can be positive," notes Chisolm. "This project is a great example of how ICFs can be easily utilized when designing or redeveloping landmark properties. Marrying history and tradition with modern, energy-efficient building materials, it remains supported and celebrated by locals, owners, and guests alike." 
Project Statistics 
---
Location: Grand Marais, Minn. 
Total Bldg Size: 28,000 sq. ft.
Cost: $3.8 million 
Project Start-to-Finish Time: 10 months
ICF System Used: Reward Wall Systems
Construction Team 
---
Owner: Sterns Associates
Architect: Pope Associates
General Contractor: Morcom Construction
ICF Installer: S and C Masonry
Like what you read?
Yearly Subscriptions Starting @ $30