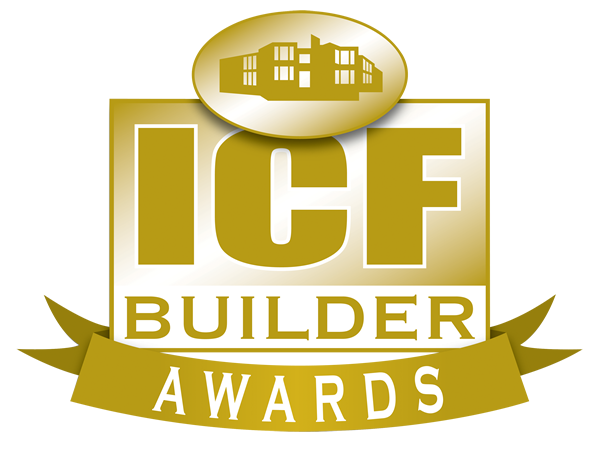 2008 Light Commercial
2nd Runner Up
When the owner of this building approached the design team, he made an unusual request. The building needed to be durable enough to last 300 years, and strong enough to support an oriental garden terrace on the roof. ICFs were a perfect fit.
All of the floors and the rooftop garden are concrete, formed with Insul-Deck, an EPS flooring system. They carry the weight of the rooftop garden and were used to create cantilevered concrete balconies. The radius wall on the front corner of the building not only catches the eye, but makes the nearby intersection safer by allowing motorists to see around traffic on the cross street better.
The owner is so pleased with the final product that he's now planning a second identical building in the area. Other property owners also took notice, and the ICF distributor claims this project directly led to three ICF high-rises in the area. 
Project Statistics 
---
Location: Peterborough, Ontario
Type: Retail Complex/Offices
Size: 18,000 sq. ft. (floor)
ICF Use: 12,000 sq. ft. (walls) plus floors and roof
Height: Approx. 25 ft.
Total Construction: Approx. 20 months
ICF Start-to-Finish Time: 78 days (shell enclosed)
Construction Team 
---
Architect: New Architecture TKD/ Erik Wilke
General Contractor: Beavermead Construction – John Kraetzer
ICF Installer: Tradewind Construction/Todd Watts
ICF Distributor: North River Distributing/ Ken Williams
ICF System: Logix, InsulDeck, and Amazing Brace
Like what you read?
Yearly Subscriptions Starting @ $30