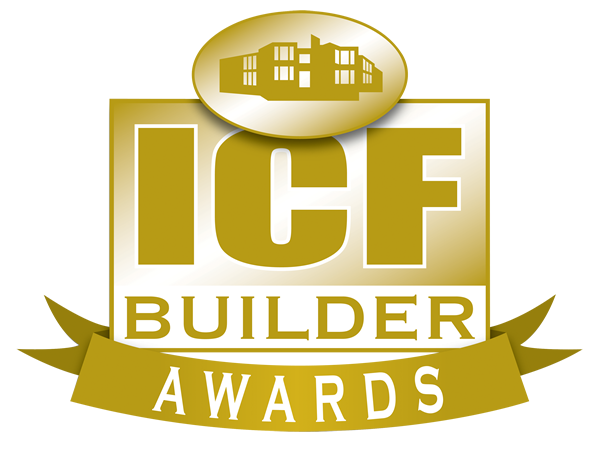 2005 Light Commercial
Winner
Protecting and conserving the environment is a major focus of the Boy Scouts of America, so it was only natural that they chose ICFs for a new education center to be built at a scout camp just a few miles from downtown Pittsburgh.
"It was a good fit for us," says Bob Mazzuca, head of the local Boy Scout council. "We're a not-for-profit organization, and if over time we can save a significant amount of money in energy costs, that really makes sense. Our goal is to have this facility available for generations of young people."
Actually two buildings in one, half of the center is a dormitory with space for 114 scouts at 6 per room. The other half contains a large dining/meeting room, two conference rooms, and a kitchen big enough to serve 160.
Situated in a narrow valley surrounded by 160 acres of pristine forest, the center was placed back into the hillside to avoid impacting a nearby stream. The rear wall of the building would serve as the retaining wall. For strength, the ICF installer used block with a 13-inch concrete core, with #5 reinforcing steel every 12 inches.
Conceived as an ICF structure from the start, the McGinnis Education Center maximizes the advantages of ICF construction right down to the building dimensions, which were optimized to reduce form waste. "The Boy Scouts wanted a building that was easy to maintain [and] efficient to operate," says Gary Moshier, the building architect.
Columns on the large porch were salvaged from timber cleared from the site. In the large meeting room, automatic light dimmers compensate for sunlight. The roof deck is made from compressed recycled newspapers. And the halls feature wall panels made from wheat straw. A "truth window" lets visitors see a cut-away view of the actual wall.
The building is the first BSA facility in the country to attempt LEED certification. ICF walls, coupled with high-performance windows and R-30 roofing should earn a gold level ranking.
"Incorporating these green building features is not difficult to do," says Moshier. "It just takes some care and attention to detail from the architect and the builder." 
Project Statistics 
---
McGinnis Education Center: Sharpsburg, Penn.
Size: 12,000 sq. ft
Cost: $1.8 million 
Date Completed: April 2005 
Owner: Boy Scouts of America, Greater Pittsburgh Council
Construction Team 
---
Architect: Moshier Studio
Engineer: Bert Davis & Associates
General Contractor: Turner Construction Co.
ICF Installer: Solid Wall Construction
Additional Info 
---
ICF Block: Reward iForm with 11" and 13" cores
Wall Bracing: rBase
Waterproofing: Super Seal Basement Systems
Ledgers/Joists: Louisiana Pacific
Exterior Finishes: Certainteed Weatherboards
Heating/Cooling: Wirsbo In-Floor Radiant
Like what you read?
Yearly Subscriptions Starting @ $30