Although my engineering practice is mostly focused on ICF engineering — 170 projects processed to date — I still frequently receive engineering inquiries for wood frame construction. The complexity and scope of the project will normally dictate whether the additional workload can be accommodated, but I always ask the question, "Why wood frame?" This especially applies if the project is a 1- or 2-story superstructure over a basement, when the decision has already been made to construct the basement with ICF.
Here's some of the responses, and how I address them.
"What is ICF?"
It's hard to imagine that anyone would ask that question in this day and age, but it happens. When confronted with this, I talk the client through the following comments, and very often, once they are informed, they make a decision to go with ICF.
"It's too expensive."
Prior to Covid, the average additional construction cost of a 1,600-square-foot single story, single-family home built with ICF was around 5% more than building with standard R-21 wood frame. However, an ICF building envelope performs closer to R-40 or even higher. So to get a true comparison, the cost of a double-framed wood frame should be considered, and at that point there would be very little cost difference, if any. Even at a 5% cost increase, this would be recouped in six to seven years of utility savings. Added to that, in California, all new residential construction is required to be net zero energy, which now makes ICF construction very attractive to achieve this energy rating.
Throughout Covid, wood-frame building material prices skyrocketed, while ICF prices hardly increased at all. The effect was that for the past two years, ICF frequently penciled out to be less costly than wood-frame construction. Wood product pricing has now reduced and stabilized as of the time of writing, but they are still 5% to 10% higher than pre-Covid, resulting in the original 5% difference to be reduced to maybe 3%.
"It takes too long."
This is a fallacy, and I'm not sure how this "urban legend" even came to be! The walls of a single-story, single-family home of around 2,000 square feet can easily be installed and poured out in less than two weeks. While this may be about the same time to frame a dwelling of the same size, with an experienced framing crew, it should be noted that in that same two weeks the insulation and house wrap have also been installed, as they are integral to the ICF system. This saves both time and labor cost.
"No-one in my area wants to install ICF."
It's true that in many areas, there is a shortage of skilled ICF installers. That being said, it's not impossible to find an ICF crew that is willing to travel. As stated above, if the ICF install is only of the order of two weeks, crews are frequently prepared to travel several hundred miles to take on a short duration project.
"I don't know where to buy the ICF material."
Between the major ICF product manufacturers there is an excellent network of dealer distribution opportunities throughout the U.S. Finding a source of product is not difficult — the client may just need some help and direction.
"It seems too complicated."
For someone not familiar with ICF construction, at first glance it can be overwhelming. However, when some education is offered, and perhaps even some hands-on training, it becomes very uncomplicated. Both Dave Gowers Engineering and our sister company, Cascade ICF, will offer installation guidance and training. Having made a commitment to ICF construction, we'd be falling short of our obligations if we weren't prepared and go the extra distance to inform and train prospective homeowners and installers.
"It's already been designed in wood frame."
Frequently the client already has a design completed in wood frame, has heard of ICF at a late stage, and seeks more information before deciding to proceed to a building permit. An experienced ICF engineer should be able to take the client's existing drawing set and convert to ICF, complete with revised structural calculations. 
"I'm already permitted for construction."
This is the toughest objection to address, as the client has already gone through the arduous process of plan review and approval. Very few inquiries come to us at this stage, but those that do occur because the client has had second thoughts. Maybe they have come to hear of ICF at a late stage, and want to explore the merits of switching to an ICF construction. In most cases, if the decision is made to switch to ICF, it will require resubmitting the construction documents for a revised permit. Changing the building envelope is beyond a "field revision," so revised documents need to be approved and permitted. 
"I want to be an owner/builder. I have framing experience, but I know nothing about ICF construction."
Owner/builder clients with this mind-set are very common. The good news is that framers, generally speaking, make the best ICF installers. Layout skills are just as important with ICF as they are with wood frame. Rough openings, wall penetrations, plumbing, and electrical rough-ins are just a few of the necessary items that need to be considered ahead of placing concrete. In many respects this is a plus, as thorough pre-planning will benefit any type of construction.
"I don't understand what the benefit would be."
This is an excellent comment to address, as the benefits are extensive! Resistance to fire, tornados, rot, and mold are the obvious building envelope advantages. A quieter and substantially more energy-efficient interior environment is yet another benefit. While the calculated R-value of an ICF wall is around R-25 (that already exceeds the code minimum requirement of R-21), due to the effect of the thermal mass of the concrete in the ICF core, ICF construction frequently realizes a performance R-value of R-40, or better.
ICF are still unfamiliar to the general public and ICFs have the potential to be misunderstood by the people who do already know about it. If you have a chance to talk to these types of people, the way you address their concerns can go a long way to increasing acceptance and understanding. Most homeowners planning to build a new home rely on local design professionals and builders. If both of these entities have no prior exposure or empathy for ICF construction, wood frame will most likely be the recommended building method, with all of its inherent deficiencies.
It is my hope that in the coming years, ICF construction will become more widely known, and more accepted by the general public, and that it will steadily acquire a larger market share of residential construction.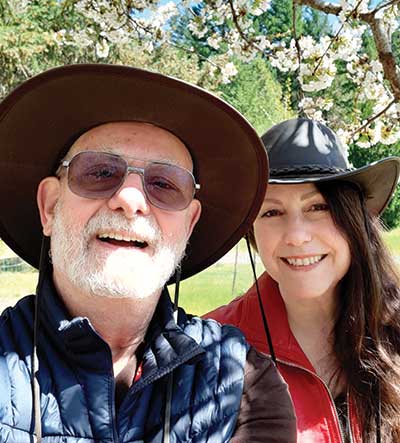 Dave Gowers
In the 51 years since graduating from London University in the United Kingdom, Dave Gowers has acquired extensive experience in concrete construction through diverse commercial, residential, and industrial projects, up to $1-billion in value, in several countries. Dave resides in Southern Oregon with his wife and business partner, Jennifer. Dave holds a PE license in 14 states/territories and is the principal of Dave Gowers Engineering LLC, and co-principal of Cascade ICF LLC. He can be reached at 541-660-9661 or dave@dgengineering.com.