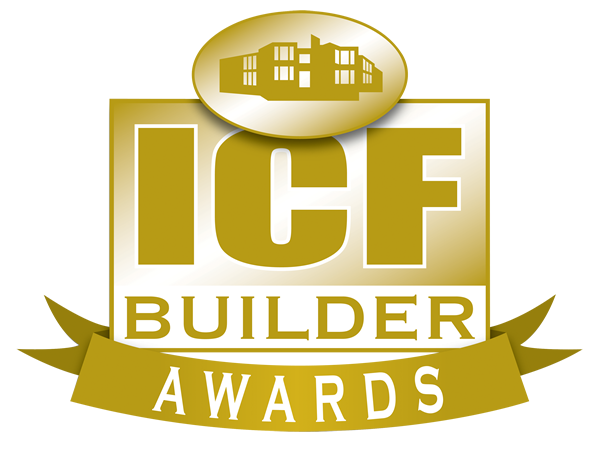 2008 Light Commercial
1st Runner Up
"This is truly a case where lemons were turned into lemonade," says Dan McCullough, ICF distributor for this project. Almost single-handedly, he turned this project from a potential industry black eye to an award winner.
The original GC had no ICF experience, so the owner called McCullough to come rescue the job. "I was contacted on Thursday, and asked to begin stacking the next Tuesday," he says. He had enough inventory in his well-stocked warehouse to meet that request, only to find a willing but untrained crew and a schedule that was already two weeks behind.
Other challenges kept coming. The large windows on the main floor meant the second story basically stood on columns, leading to tight, congested rebar for most of the job. Unusual 10- and 80-degree angles also complicated the project, as did the local inspector, who insisted that no more than 4 vertical feet of concrete be placed per day. 
McCullough convinced the builders to replace interior structural walls with ICFs; he showed the electrician how to cut the utility chases. He devised new ways to reduce waste, work around subs, and promote ICFs. 
In the end, he and the crew he "borrowed" finished 3 days ahead of schedule. They finished on or below budget and material usage. 
The finished building, designed to look like a collection of individual buildings with its own unique style, is in a prime location visible from the freeway.
The crew has gone on to build three more ICF homes and McCullough feels well compensated, too. "Not only did I gain valuable experience on this job, but as a result, I have gained over 20 new jobs directly and an unknown number of indirect work," he says. 
Project Statistics 
---
Location: Taylorsville, Utah
Type: Retail Business Complex
Size: 15,700 sq. ft. (floor)
ICF Use: 14,750 sq. ft. (exterior walls) plus 400 sq. ft interior
Height: ICF walls to 36' feet high (intermediate floors)
Total Construction: Spring '06 to Summer '06
Construction Team 
---
Owner: Hawes Brubaker Neider Real Estate Development
Architect: Richardson Design Partnership
General Contractor: Desert Sage Contractors/Kirk Holgate
ICF Installer: Utah ICF and Harrell Construction
ICF Distributor: Utah ICF/Dan McCullough
ICF System: Logix / Bracing by Reechcraft / Block-outs by V-Buck
Like what you read?
Yearly Subscriptions Starting @ $30