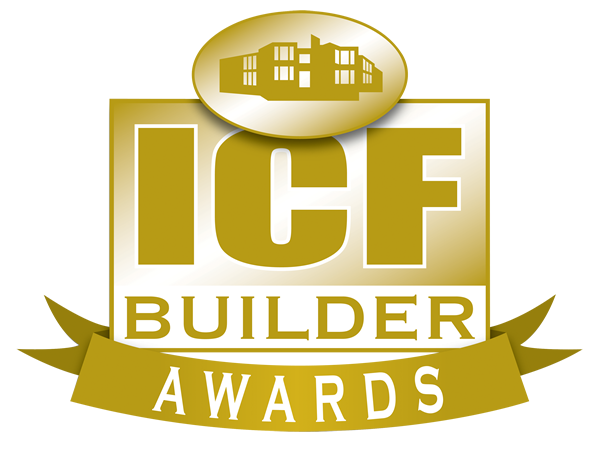 2023 Small Residential
2nd Runner-Up
This million-dollar home is 2,521 square feet, with a 606 square foot garage built using Fox Blocks forms by Airlite Plastics Co. The project used 660 square feet of interior ICF walls for a total of 4,795 square feet. Mike Kennaw, a representative of the form manufacturer Fox Blocks, says that the house design was fairly simple. "However, the construction included revolutionary techniques that have not been seen before in residential builds," he says. The builders on this project have 20 years of experience, and the general contractor on this build, Penna Construction Inc. in Capistrano Beach, California, exclusively builds with Fox Blocks.
Palos Residence in Santa Clarita, California, is also known by another name: the PHNX1. The name is an homage to the fact that the home was a rebuild of a home lost in the 2019 Tick Fire.
Type II Non-Combustible
There are five types of building construction. Type V is wood-frame. Type IV is heavy timber. Type III is considered "ordinary" and are also known as brick and joist structures. Type I is fire-resistive, which applies to apartment buildings, offices, hotels, and the like which are more than 75 feet tall. Type I structures are designed to withstand high temperatures for a long time without collapsing — these are typically concrete structures. Type II construction is "non-combustible," which includes structures such as schools or malls. According to the National Fire Protection Association, while Type II structures do contain fire suppression systems, they have a lower fire-resistive rating than Type I and are typically built using steel.
The Palos Residence is the first home in the nation to be permitted as Type II non-combustible and Net Zero. PHNX1 contains no structural wood. "The home uses unique, standing, seam-metal roof panels that are insulated, which provides the most fire-resistant roofing on the market," explains Kennaw. "Other exceptional considerations to provide this family with a home they will feel safe in for years to come include aluminum-clad and tempered windows, which will not melt or deform like vinyl and fiberglass windows, and steel rebar in the Fox Blocks ICF walls, which maintains tensile strength for earthquake and storm resistance."
The PHNX1 home sits on state wilderness property, and is in an area where strong winds whip through. The flat building site and extreme winds created the need to make sure the blocks were sturdy during the pours. On-site winds, according to Kennaw, consistently blew at 30 to 40 miles per hour, which is the maximum wind speed a boom concrete pump can handle.
New Roofing System
Since there were no residential fire-resistant roofing options on the market, the engineer, general contractor, and sheet metal contractor worked together to develop a new roofing system to achieve the Type II fire-resistant building rating. "This innovative system includes 44-foot-long panels craned onto the roof to produce an all-weather, insulated, panel roof system.
High-span steel joists were set against the walls as a rim, and different clipping and attachment systems were used to fasten the panels together and clip the roof onto the home," says Kennaw.
Kennaw says the biggest difficulty to accomplish the innovative roofing system was sourcing the correct products, since the home needed to meet Type II requirements and would be Net Zero. Using ICFs helped achieve the Net Zero goal, because the blocks are approved for Type II construction and are highly sustainable and energy-efficient enough for Net Zero. Many ICFs, including Fox Blocks contain a large amount of post-consumer recycled content in the foam.
Environmental & Trauma Resilience
The PHNX1 is all electric, and is highly sustainable, with energy saver appliances, a full-capacity solar array, and battery backup storage system.
When the Palos family lost their home and all of their belongings in the Tick Fire, the family began researching fire-resistant homes. It was while looking around at homes that survived disasters that owner Ryan Palos discovered a photo of three surviving homes in a neighborhood surrounded by homes that had burnt to the ground. This is how Palos discovered the fire-resistance of ICF construction.
PHNX Development was founded in 2019 by Laurie Fisher and Tony Penna. A contractor, Tony Penna has worked with Fox Blocks ICF for more than 16 years. With their experience in rebuilding homes for families who have experienced the disaster of fire, the intent is to design homes that will survive disaster and also help the families more easily navigate the process of rebuilding.
Project Statistics 
---
Location: Santa Clarita, California
Type: Residence
Size: 2,521 sq. ft.
ICF Use: 4,795 sq. ft.
Cost: $1,000,000
Total Construction: 44 weeks
ICF Installation Time: 50 days
Construction Team 
---
Owner: Ryan and Ann Palos
General Contractor: Penna Construction Inc.
ICF Installer: Penna Construction Inc.
Form Distributor: Forming Solutions Inc.
Architect: LCFA Studio
ICF System: Fox Blocks
Fast Facts 
---
This is the first Type II non-combustible, Net Zero energy home in the U.S.
Rebuilt home after the Palos family lost their home in the 2019 Tick Fire
The PHNX streamlined design and building method is easier to navigate
Designed and completed in under 21 months, same cost as a traditional build
Absence of wood created a home with close to zero maintenance required
Net Zero energy per California building code
Like what you read?
Yearly Subscriptions Starting @ $30