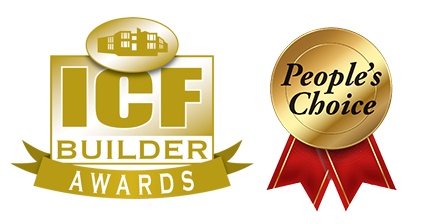 2021 Small Residential
Winner
After building with many of the products available in the ICF market, the builder, Ed Robak, designed and invented his own system, InsulaForm, which was used for all of the walls on this project. Located in Babylon, New York, this home was the winner of our Small Residential ICF Builder Awards last year. It was completed in May 2019 and includes 1,100 square feet of ICF along with 1,330 square feet of wood partition walls. It used 1,100 square feet of underslab insulation and 3,300 square feet of floor and roof decks. A 770-square-feet retaining wall was also part of the project.
Robak says the main goal with this project was to build a sustainable home in a beautiful waterfront location. The area may be beautiful, but it does present some challenges such as frequent flooding and high winds. Not only that, the area was partially burned after Superstorm Sandy swept through the area in 2012. Fortunately, they were able to overcome the obstacles and the finished product is remarkable. Robak entered the construction industry in 1984 and has 17 years of experience using ICFs. The Babylonian Villa is Robak's home, so no corners were cut and no details were overlooked.
Historical Design
The home is styled as residences were in Ancient Babylon, with three levels and a flat roof. Each level measures between 8 and 10 feet high and 35 feet wide, with four 90-degree corners, six T-walls, and one blind wall. Each level was constructed using ICFs. The first floor, where the main living space is, was elevated more than 16 feet above mean sea level (MSL), more than double the building code requirement. The long, clear-span concrete decks (25 feet without support) were all monolithically poured with the walls below, including the flat roof and parapet walls, which adds to the Babylonian design. The Villa also includes nine aesthetical arches on the front porch and rear patio, all constructed using ICFs.
Robak created his very own ICF system, InsulaForm, for this project. The system consists of just three components: panels, ties, and corner straps. InsulaForm interlocks both horizontally and vertically, resulting in incredibly strong walls that confidently withstand harsh winds. The simple system includes just one standard panel, even for corners, that has no embedded plastic — so it can be cut to any size, removing the need for common wall seams.
Battling The Elements
All of the initial work had to be done during the winter when the water levels are slightly lower. At just 3 feet above MSL, this area of Long Island is one of the largest flood zones in New York and is prone to regular tidal flooding. Early on, the team's excavated trenches would fill with water at each high tide — twice per day. It also sits atop a bog base, necessitating the use of piles under the entire structure. Placing the concrete pile cap below the required frost line was a challenge. Ultimately, the entire property was raised a total of 7 feet above sea level using concrete retaining walls.
The location also experiences persistently strong ocean winds. InsulaForm's unique design made it easy to cope with those. The plastic ties interlock all blocks by penetrating halfway into the first row of panels, as well as halfway into the second row. Further, the proprietary corner and T-wall strapping proved extremely strong, removing any need for mid-wall odd joints or additional bracing of corners, T-walls, or blind walls. Now, this home is assuredly safe if another hurricane or tropical storm were to hit the area.
Detailed Design
Due to the continuous horizontal and vertical interlocking feature of InsulaForm, Robak avoided any common seams and was easily able to achieve straight plum walls, and level and square bucks. The thickness of the ICF walls allowed him to install hidden automatic roll-up shutters for every single window on the home. One of the reasons for the home's three-level design had to do with the limited lot size which required Robak to build up instead of sideways. Fortunately, this resulted in breathtaking unobstructed views of the Great South Bay. 
The first floor includes a two-car garage, spacious work/gym area, utility room, mud room, elevator chase, utility chase, and a beautiful covered patio with access to the canal. The main living area on the second floor has an open concept living room, dining room, kitchen, pantry, laundry room, powder room, computer/home office area, and access to an elevated backyard deck and grilling area. The third level holds four spacious bedrooms and two full baths. The elevator and utility chases continue throughout each level. To emphasize the open concept design, Robak custom-built see-through/suspended stairs to the upper level and roof. The rear covered patio has concrete flooring, a panelized ceiling, and recessed lighting for outdoor entertaining.
Thanks to the flexibility of ICF assemblies, the architect designed this house with gorgeous arches at the front and rear of the home. The front porch and rear deck floors were built with Insul-Deck, which allows for long spans without additional supports. These panels were installed parallel to the house walls and separated with 2.5 inches of foam insulation.
Sustainability And Impact
There is no thermal bridging between the structure's concrete walls and exterior concrete decks. The flat, concrete roof was built with Insul-Deck and was waterproofed with GAF HydroStop, a liquid applied membrane which is water based, non-flammable, and environment friendly. GAF HydroStop complies with Energy Star guidelines and is commonly called Cool Roof. The solar reflectivity of this roof is as high as 79% and the thermal emittance is as high as 90%. Typically, the ambient temperature on the third level (no attic) is 2 to 3 degrees lower than the temperature at the second level. Robak believes this could be due to the small amount of heat emitting from electronic equipment on the lower level and lack of heat gain on the upper level. 
All main living areas are heated by 100% radiant heat. The same concept is utilized on the stamped concrete driveway to supply heat to the snow melting system. Ventilation, cooling, and dehumidification is controlled by an AI thermostat. The components of this system are two-stage cooling, humidification and dehumidification, and HRV (Heat Recovery Ventilation). Fresh air for the HRV intake is pre-conditioned by the earth's temperature by traveling through five 100-foot-long underground ducts. Triple-pane turn and tilt windows have a U-Factor as low as U-14 — double that of windows typically used in today's homes. 
Project Statistics
---
Location: Babylon, New York
Type: Family Home
Size: 3,675 sq. ft. (2,450 conditioned sq. ft.)
ICF Use: 9,020 sq. ft. 
Cost: $900,000 approx.
Total Construction: 80 weeks
ICF Installation Time: 200 days
Construction Team
---
Owner: Edward Robak
General Contractor: Edward Robak
ICF Installer: Edward Robak
Form Distributor: Edward Robak
Architect: John Notaro, Notaro Grupp Associates
ICF System: InsulaForm
Fast Facts
---
All exterior walls, decks, roof, and some interior walls are ICF
The entire property was raised to 7 feet above mean sea level
HVAC system includes 100% in-floor radiant heating, (driveway snowmelt) and geothermal air pre-conditioning 
Sustainably designed with a flat "cool roof," triple-paned windows and energy efficient appliances
Like what you read?
Yearly Subscriptions Starting @ $30