West High School in West, Texas.
Talk to any school-age child about Legos and they'll know what you're talking about. Tell them that you're building a school in a similar manner, and they just might understand. What they might not understand is how much safer and more sustainable their school is than other schools. But luckily, they don't have to understand. They just get to benefit from it. 
Building schools from the Lego-like technology of ICFs is (thankfully) becoming more common. In the last ICF Builder Awards in January, we recognized winners in a new category of ICF construction for educational facilities. Our five entries were all high schools, and the winner was three Fox Block-built schools in Texas. Three were in Texas, one was in Nebraska, and another was in Kentucky. Over the past five years or so, we know of other school projects that have been built with ICFs in Texas, post-Katrina New Orleans, Virginia, Utah, Oklahoma, New Mexico, Arizona, and Florida. In March 2022 the Concrete Council of St. Louis, Missouri, hosted hard hat tours for school district officials and architects at the construction sites of Zitzman Elementary and Hancock Elementary. These are the first schools in the state to build with ICFs.
Schools Can Be Damaged 
ICFs make sense in many places around the country, where there is a risk of storms like hurricanes or tornadoes, or floods. In 2005, Hurricane Katrina significantly damaged 110 of the 126 public schools in New Orleans. In 2010, Parks ICF built Richardsville Elementary School, the country's first net-zero energy school, in Bowling Green, Kentucky. It was an important move for school sustainability, and it was also a bold move toward school safety — there are now dozens of ICF schools in Kentucky, due to the tornado risk there. In 2019, several schools in Dallas, Texas, were damaged and some closed indefinitely after three tornadoes touched down. Luckily, it happened on a weekend when no one was at the schools.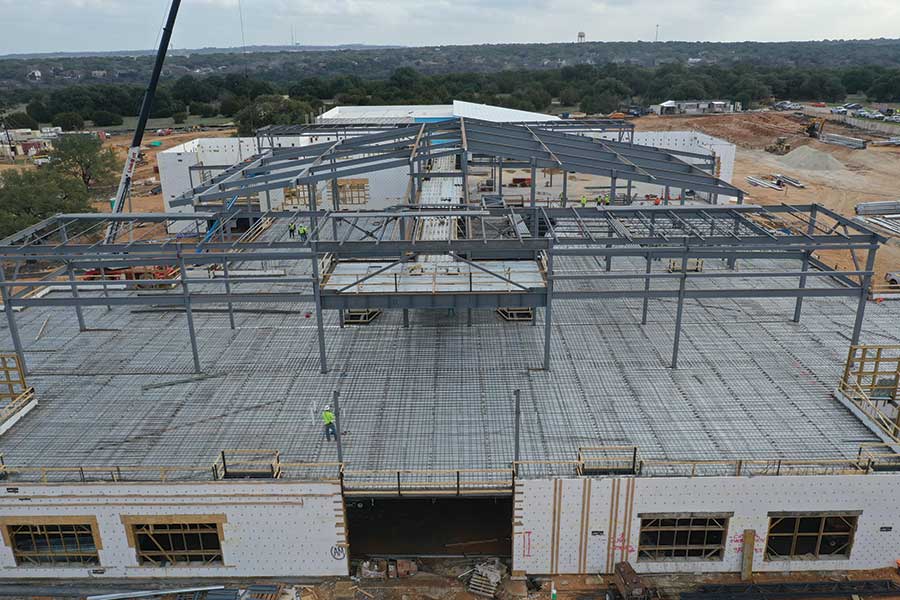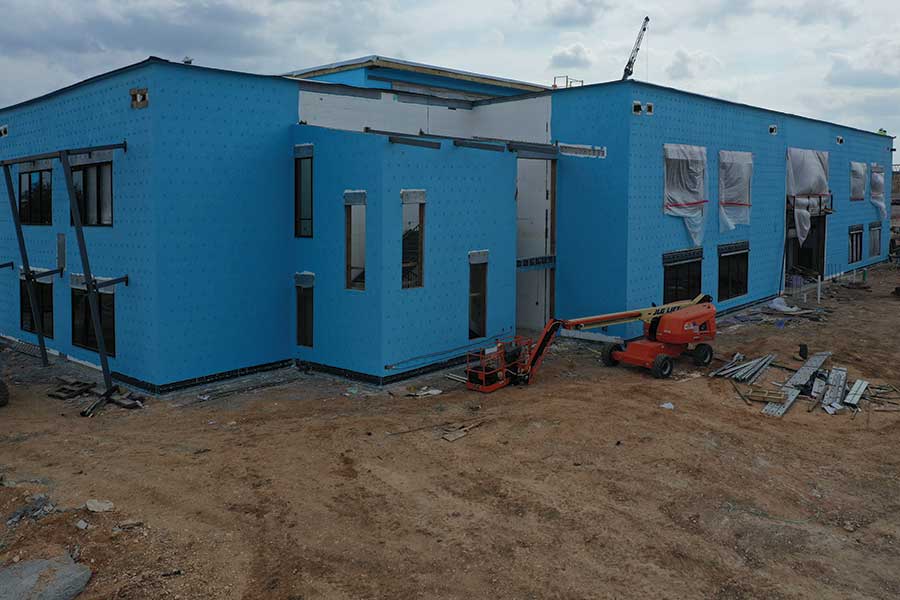 But the risk from schools doesn't always come from natural disasters. In 2016, the roof of the 1940s-era gym at Kenwood Elementary School in Bend, Oregon, collapsed right as school was starting for the year. Luckily, no one was injured. But it did cause problems for the district because winter was coming (it snows a lot in Bend), the footprint of the new gym needed to be in the same place as the old gym, and the site and buildings were occupied as school had already started. In 2013, two schools were completely destroyed by a fertilizer plant explosion in the town of West, Texas.
"Hardened Space" Design 
School districts and building specialists avoid saying that their buildings are disaster-proof. Instead, they refer to safer buildings as "hardened spaces." Jay Klein is superintendent of Bartlett Cocke General Contractors, who have built a lot of schools. "FEMA requires a whole set of structural thresholds in order to call a building a storm shelter," he says. "So even schools that are built from ICF may or may not comply with the FEMA standards but the decision to use ICF is made primarily due to a faster construction schedule, competitive wall assembly costs, the comfort of the GC and the architect with ICF versus traditional masonry or light gauge steel frame, and things like that." 
In Klein's Central Texas area, the decision often boils down to energy efficiency. "They're starting to realize that the ICF wall assembly is critical to achieving some of their energy goals," he says. "The architects also say they can get more of what they want out of their designs like larger curtain walls and larger openings with ICFs."
Unfortunately, even following a disaster, some school districts rebuild the same way. Randy Daniels, business development advisor for Fox Blocks and Airlite Plastics Co., toured Joplin, Missouri, following the devastating tornadoes in 2011. "They were going to rebuild the same way, because the school district wanted it as fast and lowest cost as possible," Daniels said. "A structural engineer considered ICF, but they rebuilt those schools the exact same way. It was a shame." 
Klein says sometimes school districts struggle with making decisions that are viewed as "non-standard," because it can be difficult to explain and gain acceptance for the unfamiliar. "Sometimes they go the route of least resistance, unfortunately," says Klein.
Sustainable and Safe Design 
One important benefit for school districts that build with ICFs is that the construction method is much sturdier than anything else. Industry figures agree that the solid, reinforced concrete walls of ICF structures are estimated to be 10 times more durable than wood or cross-laminated timbers and twice as strong as CMUs. The Portland Cement Association (PCA), compared the structural load resistance of conventionally framed walls to ICF walls. They concluded that concrete walls have a higher structural capacity and stiffness to resist the in-plane shear forces of high wind than steel or wood-framed walls. The strength of the concrete walls resists lateral twists, which helps reduce damage to other aspects of the building such as plumbing and electrical systems.
In years past, hollow cinder blocks were commonly used in school construction. These are at least an improvement over wood-framed walls. Finishes over either CMU or wood frame such as drywall and insulation offer little in the way of structural safety. In tests, CMU walls cracked. However, when steel reinforcement is added, the wind resistance does increase. Steel reinforcement increases wind resistance to 200 mph and more, with plenty of anecdotal evidence out there to account for ICF concrete walls with steel rebar withstanding winds up to 250 mph.
It's clear that the reinforced concrete walls of ICF construction provide better resistance to natural disasters. If disaster does strike, they can prevent wind-hurled debris from penetrating. They can prevent fires from spreading from one room to another. They are more stable than other types of wall construction, even in the event of something debilitating like an earthquake or fire, which can give students, teachers, and staff within a school precious minutes to escape or seek safety.
Other Benefits
A study by the PCA estimated that ICFs require 44% less energy to heat and 32% less energy to cool. In the case of Richardsville, the Tennessee Valley Authority utility company purchases energy from the school and provides it to surrounding homes and businesses. On a sunny day, Richardsville's solar panels can create about 2,500 kilowatt hours of energy, meaning the school produces more energy than it uses. Instead of receiving an energy bill each month, the district actually gets paid by the local utility to the tune of at least $30,000. 
Another benefit to school planners is the speed of ICF construction. Fox Blocks built three schools in Texas for the Georgetown and Liberty Hills school districts. All were built concurrently and two were identical. The projects were completed on time and on budget, after only 115 and 102 ICF installation days out of a total project construction time of 60 weeks. Those builders estimated that they saved two months by building with ICFs with no additional construction costs. Larry Ware, director of buildings and grounds for Nebraska's Papillion La Vista Community Schools, which has Nebraska's first ICF school, says they chose ICF over traditional CMU to shorten the time for construction of the exterior shell, which was accomplished. "I believe ICF construction is well worth the cost due to insulation factors and structural strength," Ware says.
Pat Carson with BCDM Architects, was the architect of Ashbury Elementary in Papillion, Nebraska, near Omaha. They've also designed ICF schools in Kansas and in Arizona. He has worked as an architect with the Papillion-LaVista school district for 30 years. They have built six variations of a prototype elementary school as the area's population grows. "Energy efficiency is a big deal to the school district," Carson says.
Carson says he stressed all the benefits of ICF to the school officials as "a game changer." "Durability, energy efficiency, and being a little more sound for a storm," Carson says. "The real reason that the district said yes to ICF was due to the availability of masons in the local market." The last time they built a Papillion-LaVista school with concrete block, they couldn't find enough masons to do the work, which dragged the construction schedule out.
"We said, 'This ICF approach, in addition to all those great things, also helps to eliminate masons from the critical construction path, and that was really the reason," Carson says. "ICF is my preferred way to build, but it can be very difficult for us to convince school districts who have a number of existing schools that are historically constructed a certain way, to talk about doing it in a new and different way."
The New Standard
ICFs in school construction should become the new standard. Natural disasters are increasing in frequency and intensity, but even non-natural disasters can be devastating when school communities are forced to abandon buildings due to damage or rebuild completely. Schools are built to last for decades, and ICF construction certainly adds to the lifespan of a building. ICFs should be called upon to provide safety where it is needed most, and schools certainly qualify. ICFs can provide a much-needed sense of trust and safety within schools, both for the staff and the students who want to feel safer while in class.