In many parts of North America, the biggest threat to buildings is not hurricanes, but fire.
In recent years, wildfires have decimated thousands of homes in Arizona, New Mexico, Colorado, and California. A single fire in October 2003 destroyed an estimated 2,400 structures near Cedar, California. The Cerro Grande Fire in New Mexico, which was originally an intentional burn, destroyed more than 200 homes before it was contained. 
These losses are in addition to the tens of thousands of residences that are lost due to cooking fires, electrical shorts, and other accidents. In fact, the U.S. Fire Administration claims that in 2004, "Fire killed more Americans than all natural disasters combined," and "direct property loss due to fires was estimated at $9.8 billion."
ICF construction can help ensure that your home is protected from this danger.
Concrete has resisted fires so well, over so many years, that insurance companies offer a masonry discount on concrete homes. Joseph Lyman, executive director of the Insulating Concrete Forms Association, says that ICF homes qualify. 
"When you talk to your agent, make sure that they understand that your home is made of concrete," he says. "Your agent will show you how to qualify for a 'masonry-style construction' discount." According to Lyman, the discount ranges from 10% to 15% depending on the carrier.
The EPS foam on each side of the concrete face contributes no fuel to a fire. In fact, they resist heat from outside sources much better than frame walls. The Southwest Pacific Research Institute found that emissions from melting polystyrene are "no more toxic" than wood smoke. Most ICF blocks have a fire rating of 3 to 4 hours.
Of course, homeowners can further fortify their homes by using fire-resistant interior and exterior finishes. These include steel framing on interior walls and trusses, cement-based siding or stucco, and fire-resistant roofing.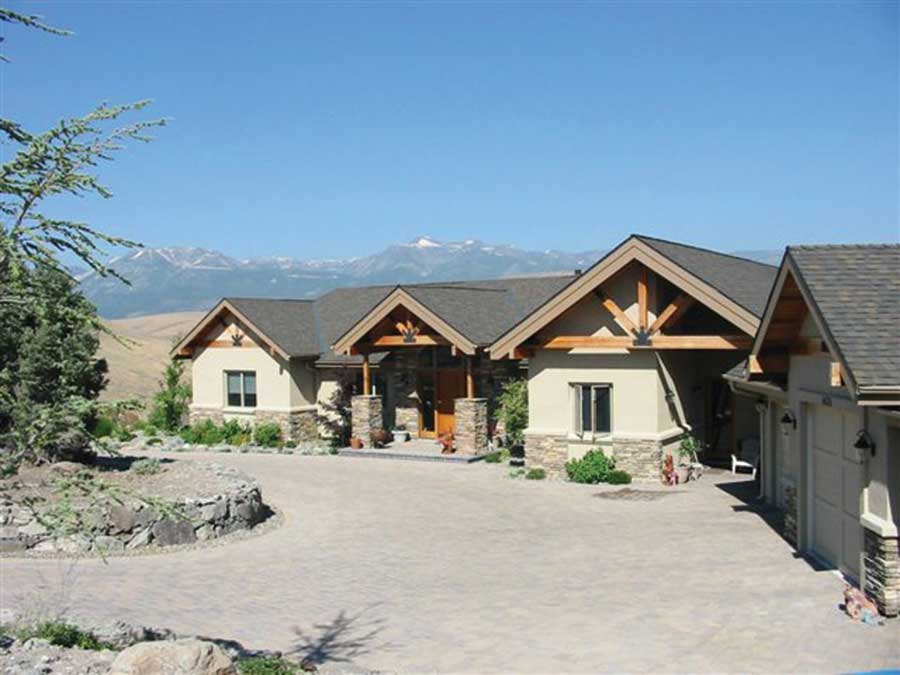 "It Didn't Even Suffer Smoke Damage"
Bill Rentsch owns Rentsch Construction and normally builds wood frame houses, but for his own home, situated in a hilly area south of Reno, he wanted to try something new.
Rentsch and his wife Cindy had been living in their new home less than a year when a fast-moving wildfire swept through the area. 
Fueled by tinder-dry brush and pushed along by winds that gusted to 40 miles an hour, the whole area was soon engulfed in flames.
"My mother got through to the house just before the firefighters closed the road," said Daniel Rentsch, architectural designer of the home, and son of the owners. "The flames got within 20 feet of the house, and the heat of the fire was so intense it broke one window. But… it didn't suffer even smoke damage."
Most of the neighbors were not so lucky. Fifteen homes in the neighborhood burned to the ground, leaving only the chimneys to mark the sites of what were once stick-built homes.
The Rentsch's had built with Nudura ICFs, using an 8-inch core for the walkout basement and 6-inch core for the rest of the house. The fire-resistance and tightness of the exterior walls saved the home—and all their personal belongings inside.
"Building with ICFs is starting to catch on in Reno," Daniel said, "because it is cold here, and ICFs provide good insulation. The cost of using ICFs wasn't a lot more than it would have been if we built from wood. We have a lot of large windows, and to get the size openings we wanted with wood, and still meet the seismic standard for this seismic zone, it would cost nearly the same."