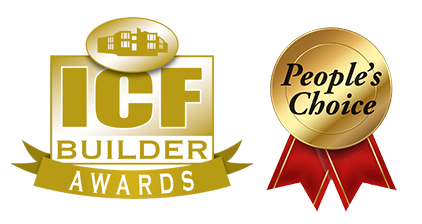 2022 Small Residential
1st Runner-Up
(People's Choice Winner)
The Burton House in Lakefield, Ontario, Canada, maximized an addition to the existing historic structure by designing specifically for 16-inch Amvic blocks. The home expansion, completed in April 2020, used 1,720 square feet of 6-inch EPS Legalett decking and floor slabs. The second floor balcony is also made from Legalett. No underpinning of the old foundation or any added cost to secure was required because of the slab design.
"The Legalett slab is a Passive Haus-certified component which greatly improves thermal resistance and provides maximum drainage beneath the slab through a 6-inch clear stone bed," says Ken Williams, supplier of ICF slab foundation and suspended ICF floor forms, with Legalett. "No deep earth excavation was required; only the top soil was removed protecting the roots of nearby mature trees.
Sustainability and Craftsmanship
The existing structure is a local historical building on the main street in town. The new structure had to be married to the 145-year-old building. The brick facade in this area was first removed and "L" brackets were attached to the framing where the new ICF walls met the old building to be cast to the soon-to-be placed, concrete. The existing 2,600-square-foot building's previous combined yearly costs for water, natural gas, and gasoline for the car was $5,300. The new addition of 3,450 square feet of conditioned space more than doubled the building area. Despite this, the total annual bill has been reduced to $2,976. This is a 43% reduction in energy costs and is a result of the increased thermal mass performance of the ICF envelope both under and around the entire addition. Using this slab system with warm floors eliminated many design issues related to point loads and attachment to the existing structure. "Legalett's unique attributes eliminated the underpinning that would otherwise have been required as well as an expensive drainage plan," says Williams.
Since the design was carefully considered to maximize the 16-inch blocks, there was little waste. The EPS deck came made to fit. In the midst of universal material shortages brought on by Covid, Williams says that using ICF floors and walls provided a stable price point, allowing the project to stay ahead of schedule and below budget. "At the time of design this was not considered but we realized later that by being able to do most of the work with a smaller crew, it minimized the risk of any down time related to Covid or any cost escalation," he says.
Significance and Visibility
Although ICFs are not uncommon to the region, adding the air-heated slab on grade, and EPS deck to the second floor and balcony, along with the ICF walls created quite a stir, Williams says. "People would stop in all the time during construction and were offered site tours," he says. "Afterwards, knocks on the door from strangers were commonplace to compliment on the work and ask questions about the build process. Over 25 requests to build similar homes and commercial buildings have been requested. The existing building is a Royal LePage real estate office and this has also generated much interest from new home buyers." The homeowners even got a call from the mayor's office to congratulate them on a job well done and to extend appreciation for adding to the historic streetscape of the community. 
Since this is a historic structure, the owners of it are well-known around town, and any flaw in workmanship or performance would have quickly become public knowledge. But that has definitely not been the case as they are thrilled with their improved home. ICFs were chosen because the general contractor had been in a home with a Legalett slab and EPS deck previously and realized this was a good fit for this project. The ICF contractor was recommended by Legalett and the ICF block was selected by the installing contractors, Stephen and Phil Hegarty of Towerview Construction. 
Project Statistics 
---
Location: Lakefield, Ontario, Canada
Type: Commercial & residential addition
Size: 2,600 sq. ft. house, 856 sq. ft. garage
ICF Use: 2,940 sq. ft.
Cost: $800,000
Total Construction: 37 weeks
ICF Installation Time: 11 days
Construction Team 
---
Owner/Developer: Larry and Gail Burton, homeowners
General Contractor: Homeowners
ICF Installer: Towerview Construction
Form Distributor: Amvic
Architect: Hideaway Homes
Engineer: Ksander and Associates Engineering
ICF System: Amvic and Legalett
Fast Facts 
---
Addition to a historic home in a tourist town
Exterior perfectly matched the roof lines, brick, and stone work of the 145-year-old structure
Legalett's GEO-Slab provides a continuous and unobstructed drainage plain beneath the building
EPS deck for the second floor used in-floor radiant heat and incorporated a large cantilevered deck   
ICF center-bearing wall for fire and sound 
More than doubled the square footage yet reduced yearly energy costs by 43%
Like what you read?
Yearly Subscriptions Starting @ $30