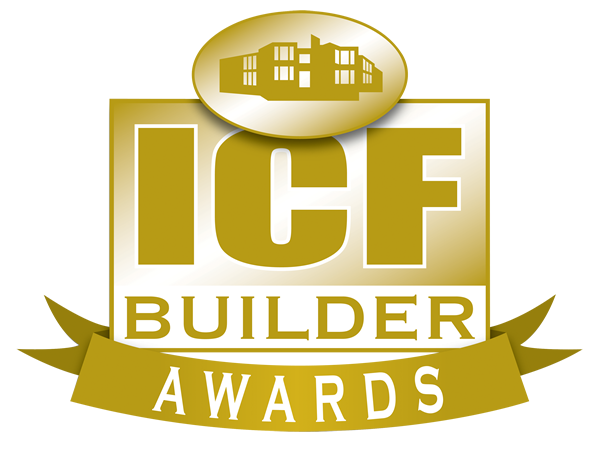 2021 Multi-Family
1st Runner-Up
Completed in October 2020, the Island Harbor Club Condos in Gananoque, Ontario, was a unique multifamily project that presented challenges from the ground up, literally. The site was classified as a brownfield site, which means a contaminated industrial site where building may be complicated by the presence of a hazardous substance, pollutant, or contaminant. In this case, the original property was an abandoned lumber yard on the waterfront that was converted into a parking lot for five years. The soil needed to be tested to find out how bad the contamination was, and the site needed to be cleaned up before construction could even begin. 
Testing revealed that the soil was polluted by petroleum and heavy metals and required a two and a half-year clean up process. The team excavated down to the rock surface that covered one entire city block — 250 feet by 180 feet. The entire property had to be excavated and cleaned down to the rock, which made it a complicated design to utilize the land to its best value. Only after all this was done and the cleanup satisfied strict Ontario environmental guidelines could the project proceed. And, the contractor was required to provide a sustainable development that would stimulate the local economy and preserve the historic feel of the community. This project's success should lead to many more ICF projects within eastern Ontario and beyond.
Site Considerations
Island Harbour Club is located on the edge of the St. Lawrence River, adjacent to a park and walking distance to the harbor. Residents enjoy some of the best views of the river to be had. The property offers mixed use, with more than 10,000 square feet of shops and services on street level retail and upper residential condominiums. The design encourages comfort and accessibility for the residents while also encouraging pedestrian traffic and providing for a diversity of uses and ease of access.
A large courtyard within the three-sided layout creates a common area for both tenants and the public. The courtyard has an inviting water fountain and reflecting pool with a sun deck. The design encourages pedestrian traffic with plenty of access around the property which meets Ontario's new mobility and barrier-free objectives. Other building amenities include underground parking, keyless owner access to the garage and main entrance, and reduced condominium fees for the unit holders — fees are one third of the Ontario average, ranging around 21 cents per square foot versus the typical market rate of 45 to 80 cents on the average.
The project cost $27 million to build, with a total size of 190,387 square feet. "The project features complex architectural details and unusual angles in order to achieve it's ship-like appearance and meet the requirement that every unit have a water view and a large exterior balcony," says Mike Kennaw of Fox Blocks. "It's these requirements that led to the building's three-sided layout." 
One of the contractors, RMP Construction and Development Ltd. of Prescott, Ontario, has used ICF for 15 years in their building designs and was familiar with Fox Blocks products. RMP Construction completed the garage ICF walls. Boreal Construction, a large ICF company from Ottawa, built the demising walls and exterior residential walls. "The commitment to energy efficient units with privacy and amenity space was a selling point for building with ICFs," Kennaw says. "The contractors' experience with ICF, its load bearing capacity, energy return, and simplicity of building made ICF a clear choice."
The contractor was able to complete the structural capacity load bearing walls to floor level in the building more quickly with ICF than they would have with poured concrete, which was also more affordable than assembling a poured concrete structure. Building with poured concrete would have driven up the cost by at least 30%. Kennaw says the contractor described this as one of the most difficult builds of his career due to the environmental pollution and site consideration that had to be taken into account before building was even able to start.
Craftsmanship
Kennaw says the demising wall is completely absent of voids and provides exceptional sound insulation, fire resistance, and air-tightness between units. "The complete self containment of each individual unit not only demonstrates the craftsmanship that went into this build, but also provides more comfort and value for residents," he says. 
The most striking visual aspect of this project is it's resemblance to a ship on the water. This unique look is achieved by bold architectural details along the facade, and roof lines that step away from the street as well as decrease in mass towards the rear of the building. The complex features a fully ICF heated indoor parking garage, a public park with a reflecting pool, gardens, planters, and seating.
Each unit has a seaview and most of the 1,200-square-foot units have 350 additional square feet of outdoor balcony. Thanks to this build new electrical lines were brought to the lower town area and all overhead lines were buried below grade. Six new transformers were also installed to power the lower town area of Gananoque. The town itself benefited from a 5% increase in its tax revenue and yearly operating budget.
Energy Efficiency
Energy efficiency was a primary concern of this build. The contractor is experienced in LEED design, and this particular project meets LEED's Silver rating. All lighting is LED. The ICF exterior walls help tremendously with savings on heating and cooling. Argon-filled double glazed windows provide heat for residents on the south and west side of the building through passive solar energy.
The heating costs for units are zero for roughly seven months out of the year. The winter months range from $30-$50 per month to heat the units, making it incredibly affordable and attractive for residents. The building utilizes a hydronic system which provides hot water and heating. "It is designed to be as close to zero energy as is possible in the condominiums," Kennaw states. 
Project Statistics 
---
Location: Gananoque, Ontario
Type: Multi-unit Residential and Commercial Development
Size: 190,387 sq. ft. 
ICF Use: 40,988 sq. ft. 
Cost: $27 million
Total Construction: 135 weeks
ICF Installation Time: 260 days
Construction Team 
---
Owner: RMP Construction and Development 
General Contractor: RMP Construction and Development 
ICF Installer: Boreal Construction 
Form Distributor: RMP Construction and Development 
Engineer: Morris Engineering
Architect: David Chui, ACK Architects 
ICF System: Fox Blocks
Fast Facts 
---
7-story apartment building including a 126-car heated indoor garage
Brownfield site with heavy pollution requiring extensive cleanup 
The architectural design represents the look of an old steam ship 
High-efficiency heating units
Open park space on the piazza for public use
Increased town's tax revenue – 5% of its revenue and yearly operating budget
Like what you read?
Yearly Subscriptions Starting @ $30