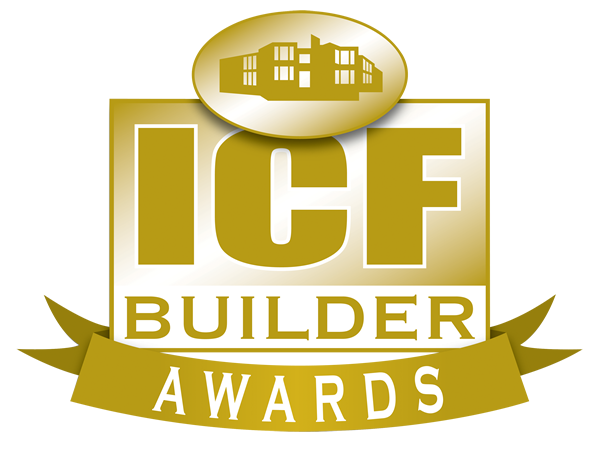 2009 Small Residential
Winner
The owner/builder of this unique residence wanted to create a net-zero passive solar home that blended seamlessly into the old apple orchard and wildflower meadow that surrounds it.
He chose an incredibly complex design for a first-time ICF builder; more than half the walls are radiused, many penetrated by arched entryways. Fab-Form made the curved footings easier, and Quad-Lock's panel system helped with the radius walls.  ICFs were also used for about 80% of the interior walls, and for retaining walls and deck support.
While his New England neighbors in their traditional, square, wood-frame homes scorned the design, and building officials raised a skeptical eyebrow, he convinced them one at a time of the merits of ICF construction. Even the ICF manufacturer revised their manual on radius curves based on his ingenuity. 
The home was not built to any particular green standard, but it still scores extremely high on sustainability. In addition to the passive solar, the home has solar-hot water radiant heat. Flooring, walls, and even countertops are made of durable concrete. All the wood used in the home—including the cabinetry and the massive 6×10 red oak beams supporting the ceiling—was harvested and milled within 3 miles of the home. 
The owner writes, "After 30 years in the building business, I am 100% convinced that ICF is the best way to build most structures. It is the only medium I will build with going forward. I… plan to build a 12-unit apartment building with ICF in the near future. Hopefully, as time goes on, we will continue to influence others in our region." 
Project Statistics
---
Location: Leverett, Mass.
Type: Private Residence—Spec Home
Size: 2,200 sq. ft. (floor)
ICF Use: All exterior walls, plus 80% interior wals and landscaping
Cost: $295,000
Total Construction: 720 days
ICF Start-to-Finish Time: 60 days
Construction Team
---
Owner: Blue Home Design Co.
Architect: In Aeternum Homes
General Contractor: Blue Home Design Co.
ICF Installer: Blue Home Design Co.
Distributor: Miles Supply
ICF System: Quad-Lock
Like what you read?
Yearly Subscriptions Starting @ $30