Heavy Commercial — Winner
The new Pierce County Readiness Center near Tacoma, Wa., is a benchmark ICF project demonstrating superior aesthetics, remarkable efficiency, and uncompromising durability.
The multi-purpose facility replaced the old Tacoma Armory, and is arguably the most innovative and highly-efficient facility on all of Camp Murray, home to the Washington Army National Guard, Air National Guard, and Washington State Guard.
Tasked with providing a specialized training facility, WJA Design Collaborative and Absher Construction Co. came together as a design-build team to create the winning proposal. Absher and WJA-DC have successfully used ICF on numerous past U.S. military projects, and given the requirements of the job, chose ICF for this project as well.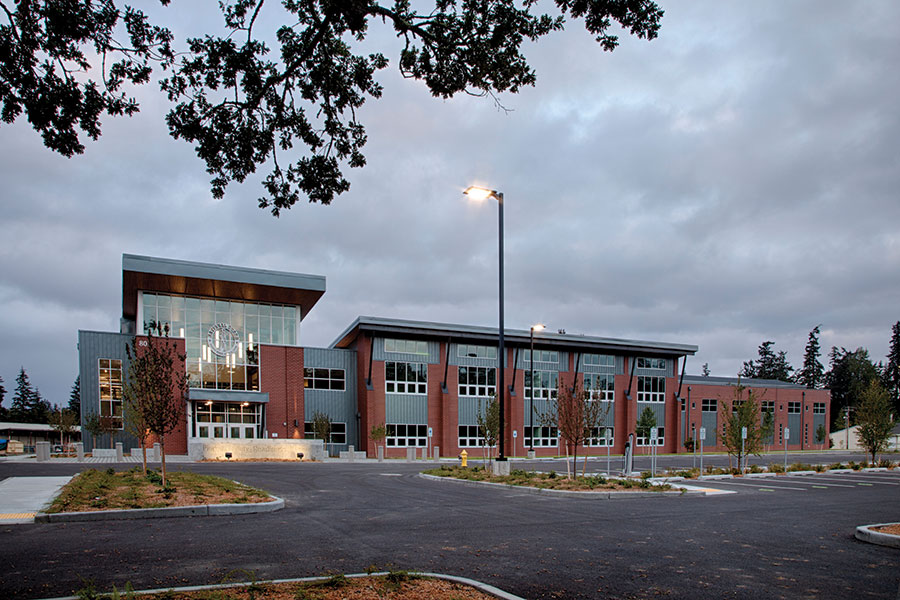 Greg Nespor at WJA-DC comments, "The energy and blast performance value make it one of the most ideal products to design with in regard to U.S. military projects." He continues, "The integrity of this structure during a natural disaster is paramount to allow for continued operation and emergency response following a natural disaster. Additionally, the ICF walls provide excellent resistance to blast loading as required for federally-funded buildings."
The 80,700-sq.-ft. building includes recruiting and administrative offices, assembly hall, break room, fitness room, kitchen, equipment storage, arms vault, training bay, and classrooms. It also includes a 16,000-sq.-ft. space for vehicle storage and maintenance and a central emergency operations facility. A future Joint Force Headquarters is planned west of the main entry, which was taken into consideration.
Because the building serves a wide range of functions, the final design was quite complex, with wall heights ranging from 15 to 37 feet. A number of different roofing systems were integrated, including standing seam metal roofing over bar joists, and composite concrete over a metal deck on steel beams.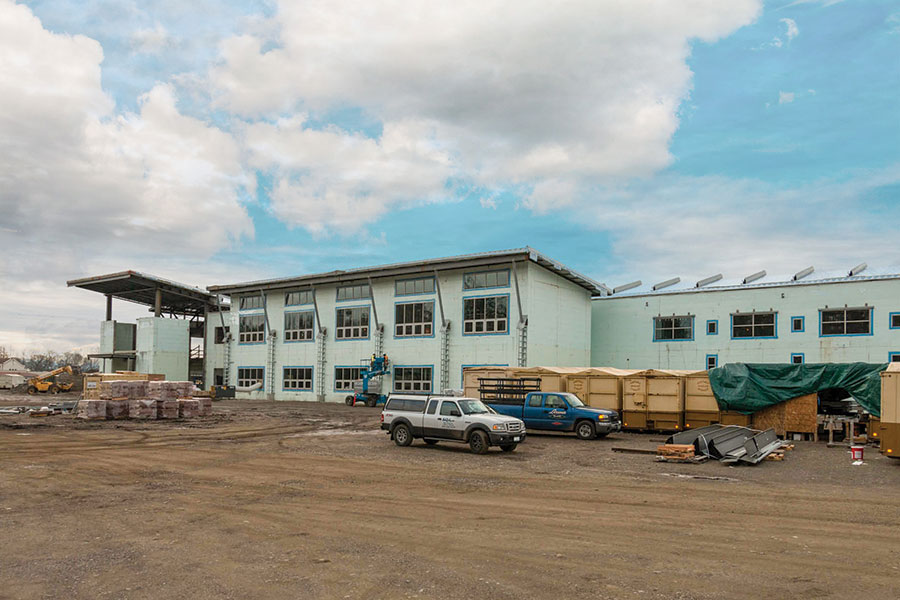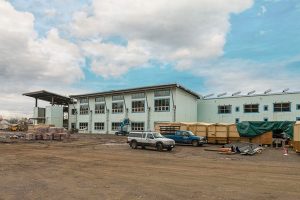 Fortunately, ICFs are easy to work with and can adapt to a wide variety of requirements without slowing the building schedule. So, despite the complexity, the general contractor chose to self perform the ICF installation, leading to enhanced schedule coordination and improved quality control.
Jason Heidal, the jobsite superintendant at Absher, says, "Not having to strip forms saved a significant amount of time and allowed us to stay on a fast-tracked schedule."
He continues, "We installed nearly 400 steel embed plates, 58 window openings, 35 door openings, and four garage door openings, three of which were 16 feet tall."
The building was modeled using Building Information Management (BIM) software, which allowed designers and contractors to optimize the project's value. For example, six-inch to eight-inch core ICFs were used to optimize materials, with the thicker walls in areas of increased height or shear demand. However, in a few areas, the wall core changed size at the corners, which required special attention. Heidal adds, "Because of the blast rating and force protection needed on the project, there were many elements which required use of one-sided ICF forms."
In total, the project used just more than 46,000 sq. ft. of forms.
Much of the ICF installation was completed during the winter of 2015-2016, which had record-setting amounts of rainfall. Heidal says ICF allowed them to continue to place concrete when other construction methods would have ground to a halt.
In addition to being strong, the building is designed to be sustainable. Every regularly occupied room that was allowed windows is flooded with natural light in the summer months. It's performing 32% better than ASHRAE standards. That far exceeds the goal of U.S. Green Building Council (USGBC) LEED-Silver certification.
The Readiness Center is aesthetically pleasing too. Nespor, the architect, says, "This building uses multiple exterior wall assemblies, including brick veneer, metal panel, spandrel glass, and curtain wall. Light wood soffit panels were used at the exterior (and carried into the interior) to add visual warmth to an otherwise strong and cold appearance. Internally, wood and steel are integrated to provide a contrast of materials, representative of the variety of building functions. The lobby flooring is a soft white terrazzo that ties together the large open space created by surrounding tall and monumental ICF walls. The terrazzo echoes daylight through the entry and deeper into the building."
Heidal reports that it was relatively simple to attach the exterior finishes to the ICF, and they were able to do so without additional rain screens or weather barriers. He and the other members of the construction team brought the project in on time and on budget.
Completed in Sept. 2016, the Pierce County Readiness Center is a testament to smart design, capable contractors, and a remarkable building technology.
Project Statistics
---
Location: Tacoma, Wash.
Type: Military/Washington National Guard
Size: 80,700 sq. ft. (floor)
ICF Use: 46,108 sq. ft.
Cost: $30 million
Total Construction: 77 weeks
ICF Installation time: 115 days
Construction Team
---
Owner: Washington Dept. of Enterprise Services
General Contractor + ICF Installer: Absher Construction Co.
Architect + Engineer: WJA Design Collaborative
Engineer: BCE Engineers (MEP)
ICF System: NUDURA
Fast Facts
---
ICF chosen for blast resistance
400 embeds, 93 window/door openings
Fast-Track schedule
LEED-Silver certification pending