SpeedFloor is one of several steel joist flooring systems that can speed ICF construction. In most cases, it can be installed by carpenters, as no welding is required.
In commercial construction, time is money, and compressed schedules can save hundreds of thousands of dollars. Most readers of this magazine recognize that Insulating Concrete Forms are one of the fastest ways to construct a durable, solid concrete wall system. In fact, other trades often struggle to keep up.
Unfortunately, this can negate any time savings ICFs offer.
Multi-story ICF construction is nearly always completed one floor at a time. So until the floor system is in place, ICF work can't proceed. By using a floor system that installs easily and quickly, and is compatible with ICFs, significant time and money savings can be realized.
For commercial work, fire codes and other restraint make concrete floors virtually the only option. Listed below are number of options for installing pour-over concrete floors. These systems all work well with ICF walls and have proven to shave weeks off completion time.
Steel Joist Systems
Steel joists and decking systems have a number of advantages. They're readily available, competitively priced, and easy to install. In most cases, they offer plenty of space for utilities and ductwork and even big pipes can run perpendicular to joists within the plenary space. But most of all, they're fast.
The aptly named SpeedFloor was used to construct the four-story Comfort Inn located in Tifton, Georgia. Built with IntegraSpec ICF, the crew faced and incredibly tight construction timeline: less than four months to complete a 65,000 sq. ft. building with more than 116,000 sq. ft. of ICF walls.
The entire structure was built without the use of a crane.
"SpeedFloor in conjunction with ICFs permitted us to pour very large areas of floors and walls, in very limited time, with a limited crew," says Jim Buttrey, director of marketing at IntegraSpec. "The design was so lightweight and easy to install, that with 14 people, in two weeks, we constructed, poured, finished, and cleaned up 1,586 lineal feet of ICF wall 9' 4" tall, with 15,000+ square feet of flatwork placed."
The steel clear span beams were studded on the upper flange to accept the concrete floor. In essence, the steel joist took the tensile load and the concrete cast into it took the compressive load, with the floor acting like a flange to prevent twisting.
A variety of methods were used to secure the joists to the walls. The SpeedFloor system easily accommodated being fastened to structural steel I-beams, rectangular steel tube lintels, and being inset into the ICF wall itself.
In nearly every case, the floor was set in place before the walls were poured so that the floors and walls could be cast simultaneously.
"The ICF shell, demising walls, and SpeedFloor floor system went up so fast, we were working on the fourth floor of the hotel before the first floor foundation was completed," Buttrey says.
Hambro is another steel floor joist system with a proven ICF track record. The Hambro joist uses an open web design, which makes wiring, plumbing and HVAC a cinch. Like the other steel joist systems mentioned in this article, Hambro can be installed by carpenters, saving on labor costs. Each joist rests on a nut threaded onto a shaft in the concrete. By adjusting the nut, joists can be set exactly level.
"It just makes for a much better building," says Barry Gow, a Hambro representative based in Ontario, Canada. Gow supplied the joists for a pair of 230,000 sq. ft., 5- story apartment complexes in Halifax called The Residences at Mont Blanc.
Peter Polley, who developed the project explains, "The typical unit involves two bathrooms and a washer/dryer in each of the 64 units. There is such an incredible amount of ducting. Hambro gives us the ability to do all the mechanical work within the joist space."
FloorSPAN by Metwood is a third system that is highly compatible with ICFs. "It's a structural steel I-beam with the utility holes pre-cut in it," explains Mike Callahan, owner of Metwood.
"It installs as fast as anything, and you don't have to tear anything out," continues Callahan. "If you do have to use shoring, it's minimal."
In fact, many of the speed advantages that Metwood offers come from the system's simple bracing requirements.
"Joists can be placed up to 8 ft. apart, and still be strong enough to park cars on," says Callahan. "When you're placing the slab, Metwood can span up to 32 feet without any additional shoring required."
To further speed the process, Metwood, Hambro and SpeedFloor eliminate the need to figure out how to get another sub on the jobsite.
"Any carpenter familiar with light gauge steel studs can install our product," says Callahan. "The GC doesn't need to go to a steel erector because there's no welding at the jobsite."
Callahan says it also speeds construction by letting HVAC and electrical subs run their ducting and wires through the plenary space. This saves on install and finishing time. But Callahan says it also speeds wall erection.
"If you save one course of block and three or four courses of brick on every floor of a four story hotel, that adds up," he says. "It doesn't take long to realize that this can be a better buy."
Other Options
Of course, steel joists are not the only structural floor system compatible with ICFs.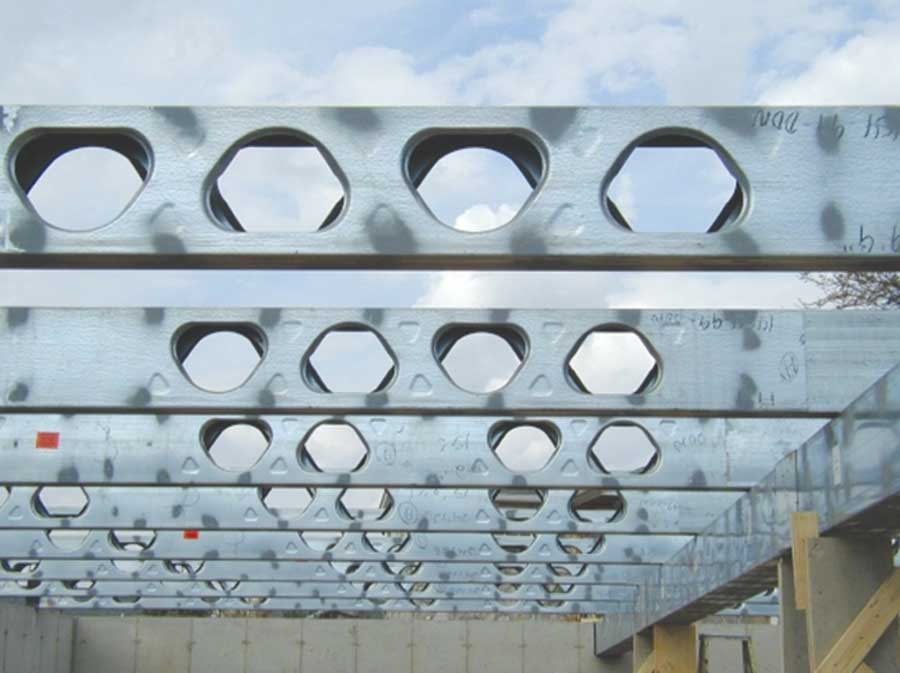 Foam decking systems are also popular. They may be the best choice if insulation is needed between floors, or if utility needs can fit into the pre-cut chases of the foam decking.
Precast planks are a third type of system with a proven track record across all types of commercial applications.
Remember, the key to successfully compressing construction schedules is often found in the choice of floor system. Actual projects completed in the last few years show that it's possible to save tens or even hundreds of thousands of dollars by carefully choosing a system that works well with ICFs.