Drainage sheets are key to managing below-grade moisture
Insulated Concrete Forms (ICFs) were invented in the 1940's in Europe with modest acceptance as a construction method, until the 1960's where a large leap in demand for the system widened it's scope and use in residential as well as commercial building construction.  In North America ICF technology was initially limited to below-grade foundation use.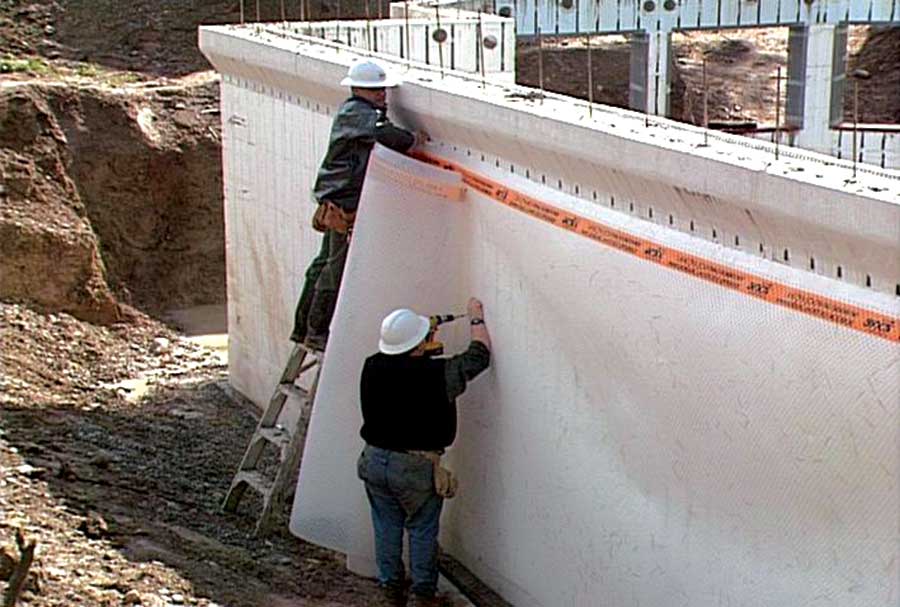 By the 1980's, the housing boom in North America created demand for the "ICF Building System," as it was referred to, and it became more widely available.  In the mid-1990's, industry growth skyrocketed, and ICFs became popular for above grade construction.  Today, 60 million sq. ft. of ICFs are installed annually; about 40 percent of which are used below grade. 
The major benefits of using ICFs include:
Increased energy efficiency
Structurally stronger than light timber frame construction
Less maintenance
Reduced construction time table for superstructure completion
Reduced heating and ventilating requirements
Unlimited design flexibility
As with all foundations there is a need and requirement to provide moisture protection which allows the use of the basement area for usable living space, as specified in the various building codes.  This could take the form of dampproofing or waterproofing.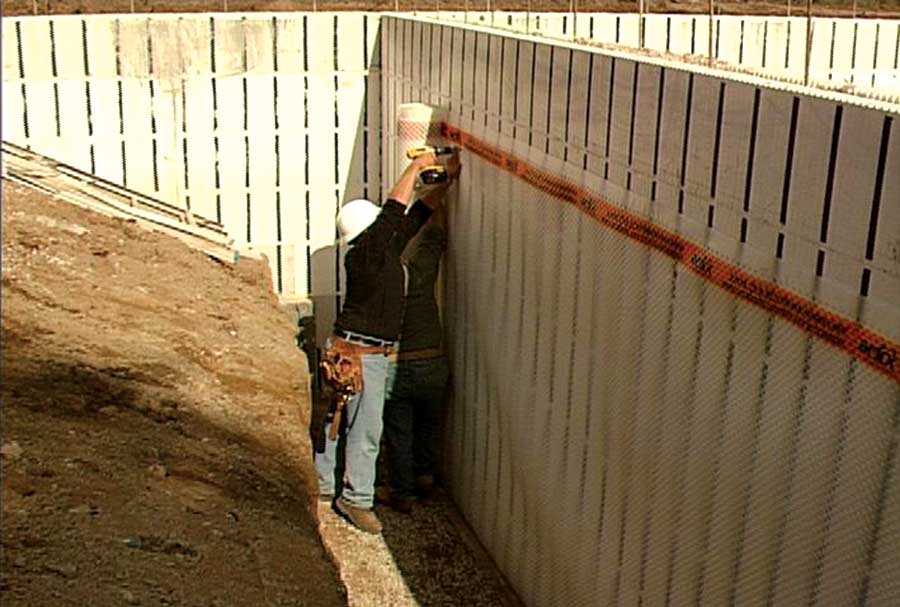 Due to the sensitive nature of the polystyrene used to manufacture the ICF blocks, the selection of dampproofing or waterproofing materials is critical.  Most solvent-based systems will corrode the foam on contact, and many heat-applied systems are similarly destructive.  Still, there are many effective dampproofing and waterproofing systems on the market that provide excellent protection for below-grade ICF walls.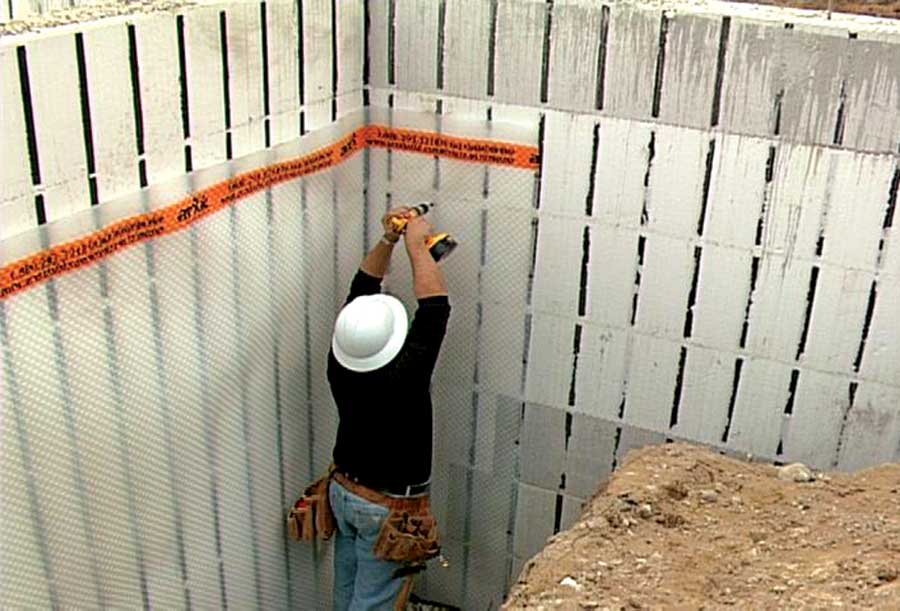 The variety of products available today has made it easier to select one or a combination of systems sufficient for any specific site conditions.  Common systems can be placed into three broad categories:
 Spray-applied, Water-based Modified Asphalt Emulsion (Damp/Waterproofing)
 High Density Polyethylene (HDPE) Dimpled Waterproofing Membranes
 "Peel and Stick" bitumen base with a protective top sheet and substrate primer
Weather conditions can limit the use of many spray-applied and peel & stick membranes, because they require specific temperatures for installation.  Many require the ICF surface be cleaned and treated prior to application.  Depending on the season in which the construction is being done, these conditions can be difficult to achieve —rainy spring and fall weather are particularly difficult—resulting in an extended construction completion time that can affect the closing dates for a residential unit.  Great care must also be taken to ensure spray-on products do not contain solvents that will affect the polystyrene and that gaps between blocks are filled.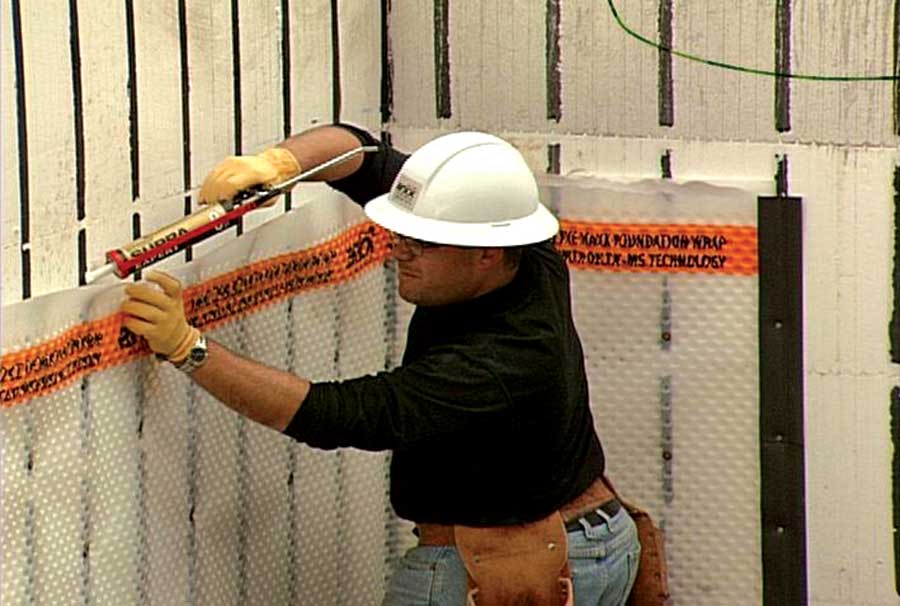 Over the last eight years, dimpled sheet waterproofing membranes have been growing in popularity with residential homebuilders. 
Dimpled membranes have greatly reduced the number of callbacks that waterproofing installers have had to deal with.  This is largely due to the fact that the dimpled membrane provides a drainage path for rainwater to be directed to the footing drainage system (usually French drains) at the base of the foundation, instead of being forced into the basement. As with all waterproofing systems, adequate footing drainage is a must.
By providing a clear drainage path behind the membrane, these sheets diffuse the hydrostatic pressure that affects conventional dampproofing and waterproofing systems.
Air gap membranes, when used on their own, also dry out the foundation. Concrete contains 15 gallons of water per cubic yard and, if the wall is sealed on the outside, water evaporates to the inside. Because soil is a relatively constant 50 to 55 degrees, moisture condenses on the air gap membrane instead and flows to the footing drain.
Dimpled membranes can also be used as protection board for both peel-and-stick or spray-on waterproofing giving "triple protection" to the foundation.  The dimpled membrane provides the first line of defense, the air gap drainage plane is the second line, and the peel-and-stick or spray, the final defense.
It is almost impossible to find a leak in an ICF foundation without destroying the foam, so it is critical that the right materials are selected and applied. Air gap membranes, with their ease of installation regardless of weather and wall condition and trouble-free track record are an excellent choice.
Dwight Walker is an engineering and technical representative for Cosella-Dörken Products Inc.  For more information on dimpled sheet waterproofing for ICF systems, visit www.deltams.com. 
In response to interest and demand from the ICF industry, Cosella-Dörken Products Inc., has produced a translucent (clear) dimpled waterproofing sheet membrane specifically suited to the ICF industry.
This membrane, named DELTA MS Clear, provides specific benefits, the one main advantage being the installer can see through the membrane.  This makes the installation faster and more efficient, as the contractor can easily see the attachment points on the ICF block where the membrane is to be secured. 
Cosella-Dörken has ensured that the membrane received and maintains approval for use on foundations from the Canadian Construction Materials Centre in Canada (NRC) and The International Code Council in the United States (ICC-ES) as a wall waterproofing. 
Platon Foundation Protector, manufactured by Armtec in Orangeville Ontario, is another popular dimpled sheet. First used on an Iceblock ICF foundation in 1994, Platon has been used on thousands of ICF foundations with trouble-free results. With carbon black as the UV inhibitor, and the patented Speedclip / Speedstrip fastening system, Platon is strong enough to require fastening only along the top edge of the membrane.
Its unique double dimple design provides a smooth soil side surface ensuring low drag on the membrane as the back-filled soil settles. Mechanical fastening allows the wall to shift, crack and settle without affecting the membrane or its performance. Platon will easily bridge a ¼" crack.