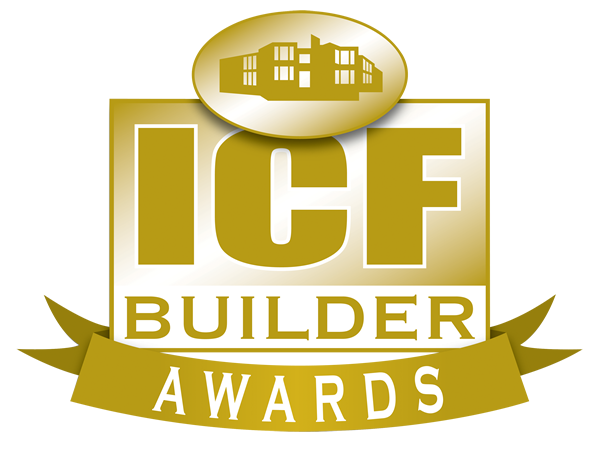 2008 Light Commercial
Winner
This project has helped open the education and government construction sectors in Northern California to ICFs.
The City of San Jose needed a new San Jose, Calif. needed a new recreation facility, and the nearby elementary school needed a new gymnasium. The two projects were combined in a single, environmentally friendly project.
Designed by Weston Miles Architects, a local firm familiar with ICFs, it's a great example of what ICF's can accomplish. The sturdy concrete walls easily support the heavy steel clear-span trusses. The stay-in-place foam form prevent sound from the gym and cafeteria from distracting occupants of adjoining meeting rooms.
It also makes for a very environmentally-friendly building. It is the first LEED-certified public school in state, and the first ICF project for California's Division of State Architects (DSA). DSA approval was extremely rigorous, requiring third-party testing of wall samples (the "3,000 psi" mix tested to an average of 6,700 psi!). Driving, cold rain during the install made conditions difficult. The DSA also required on-site testing of wall consolidation. Installers had to strip the foam every four feet on center around the entire building exterior to satisfy inspectors.
Thanks to the building's energy efficient design and water-saving fixtures, the building saves the school district $10,000 annually on energy costs and $5,000 annually on water bills. 
It has been the subject of numerous presentations at green school events, received a "Saving by Design" award, and has been covered in numerous newspaper stories. And at the elementary school, a new generation is being taught the benefits of ICF construction, thanks to a new sustainability course taught there. 
Project Statistics 
---
Location: San Jose, Calif.
Type: Combined city recreation and elementary school gymnasium
Size: 12,000 sq. ft. (floor)
ICF Use: 6,000 sq. ft. (exterior) plus 2,500 sq. ft. (interior)
Height: 24 ft. with ICF gables to 35 ft.
Total Construction: 370 days
Construction Team 
---
Owner: Morgan Hill Unified School District/City of San Jose
Architect: Weston Miles Architects/ Lesley Miles
General Contractor: TBI Construction Management/Mike Paye
ICF Installer: Advanced Building Technologies/Jim Deering
ICF Distributor: Arxx Corp/Randy Daniels
ICF System: 8" and 10" core Arxx
Like what you read?
Yearly Subscriptions Starting @ $30