Roofs are often the most vulnerable part of a structure during high wind events. In hurricane and tornado zones, it is crucial that roof trusses are secured to the core of the ICF wall.
If you're willing to live in a cave or bunker, perfect protection from high winds can be guaranteed. Most of us, however, value aesthetics and day-to-day convenience very highly, so protection becomes something of a trade-off.
The Dangers
According to Chuck Vance, who oversees the insurance industry's Fortified…For Safer Living program, most of the damage and risk to life during hurricanes and tornados comes from flying debris.
Windows and doors are the most vulnerable, but tests at Texas Tech University show that 2×4 wood studs easily penetrate wood frame and even brick-veneer walls. (See the video on our website.) The boards were shot at speeds up to 80 miles per hour—barely hurricane force. During tornados, winds two or three times that speed are not uncommon. 
High winds can also cause the complete the complete structural failure of wood-frame homes. Often, the roof is destroyed, opening the home's contents to the rain and weather that always accompanies strong winds. 
The current Miami-Dade code shows how wood-frame construction can resist hurricane force winds. (Construction standards claim new homes can withstand 146-mph wind forces.) But tornadoes frequently have windspeeds in excess of 200 miles per hour. Currently, concrete is the only material that can hold up to such severe winds. In addition to anecdotal field evidence, lab tests confirm this. In the Texas Tech study, for instance, the ICF wall segment was the only sample that withstood the wooden missiles. (Concrete cast with removable forms would be just as durable.) 
Options
Dozens of real-world examples prove solid concrete walls are virtually hurricane- and tornado-proof. Many experts believe ICFs are the most cost-effective—and aesthetically pleasing—way to protect occupants and their belongings from wind-related natural disasters. 
Perhaps the best solution is to build all exterior walls from ICFs, using impact-resistant windows or metal storm shutters on all openings, and a disaster-proof roof. 
Cloyd "Joe" Warnes, a professional engineer who has studied the issue for decades, claims that the only way to build a truly disaster-proof structure is to use a monolithic concrete roof. "Anything less than a total concrete shell cannot be classified as disaster-proof," he states.
Most homeowners, however, are unwilling to go to such lengths. "People make decisions about what parts of their home to save and what parts to sacrifice," says Vance. 
"Owners and designers make choices about what can be saved and what can be replaced after a tornado," he continues. "For example, pitched roofs, doors, windows, and garage doors often are regarded as sacrificial items in a strong tornado. But an owner might decide to build a box-frame structure with a structural concrete flat roof to avoid losing a roof to a tornado of any size."
A few builders have installed a sacrificial wood-truss roof over a flat concrete roof. In case of a disaster, the sloped roof is destroyed, but the home and its contents remain intact. 
Others sacrifice more, building just a portion of their home—the basement, or perhaps part of the above-grade living area—out of ICFs, knowing that the other areas may be destroyed.
Taken to the extreme, this concept of a "sacrificial home" leads to the idea of a "safe room."
"Providing safety for people can only happen by including a 'safe room' in a home," says Vance. In practical terms that means building a room with concrete walls and ceilings, no windows, and a door area that can't be breached by flying debris. 
Finishes
Over the past decade or so, questions have been raised on the performance of vinyl siding installed over foam sheathing and similar products, such as ICFs. Observed damage from high winds has led to discussions by the ICC and other code bodies to ban vinyl siding over foam sheathing and require solid backing such as OSB or fiberboard, even in areas where there is a low risk of tornadoes and hurricanes. 
After this magazine ran a story last year that mentioned vinyl siding isn't a good exterior finish option for high-wind areas, the Vinyl Siding Institute sent a clarification. (See Disaster Resistant Finishes in Aug. '08, and Installing Siding over ICFs in the Feb. '07 issue of this magazine.) 
According to a new report issued by the National Association of Homebuilder (NAHB) and the Vinyl Siding Institute (VSI), vinyl siding installed over foam sheathing and studs has a solid record of excellent performance under the wind conditions that are typical for most of the U.S. 
The key is that the product must be installed and fastened in accordance with the manufacturers' instructions and building code requirements.
In the 2007 Supplement to the 2006 International Residential Code, the required nail size for fastening vinyl siding to studs was increased to a shank diameter of 0.120" and a head diameter of 0.313". A sufficient length of fastener is required to accommodate the wall sheathing thickness and to penetrate a minimum of 3/4" into wall studs spaced at 16 inches on center.
The report also has special recommendations for gable end walls, where damage from severe winds is more commonly observed.
In hurricane-prone areas along the Atlantic and Gulf Coast, vinyl siding products can provide adequate wind pressure resistance, but often continuous structural sheathing is needed.
The recommendations are based on research and testing conducted by the NAHB Research Center, and were submitted for consideration at the upcoming ICC code hearings.
Glues vs. Fasteners
Another somewhat contentious issue is whether polyurethane glues are sufficient for attaching items to the foam, or if mechanical attachment is necessary. Building inspectors and code officials have typically insisted on mechanical fasteners, while contractors have often found glues to be sufficiently strong and provide significant labor savings. 
According to Roger Lahman, polyurethanes were originally developed not as insulation, but as an adhesive, used to attach gypsum board to studs in manufactured homes. "The material's elasticity provided the necessary flexibility and structural integrity, allowing the manufactured home to be moved onto the site without nail popping or joint breakage. Currently, a two-part polyurethane adhesive is the predominant adhesive used for attaching the ceiling gypsum wallboard to the truss rafters."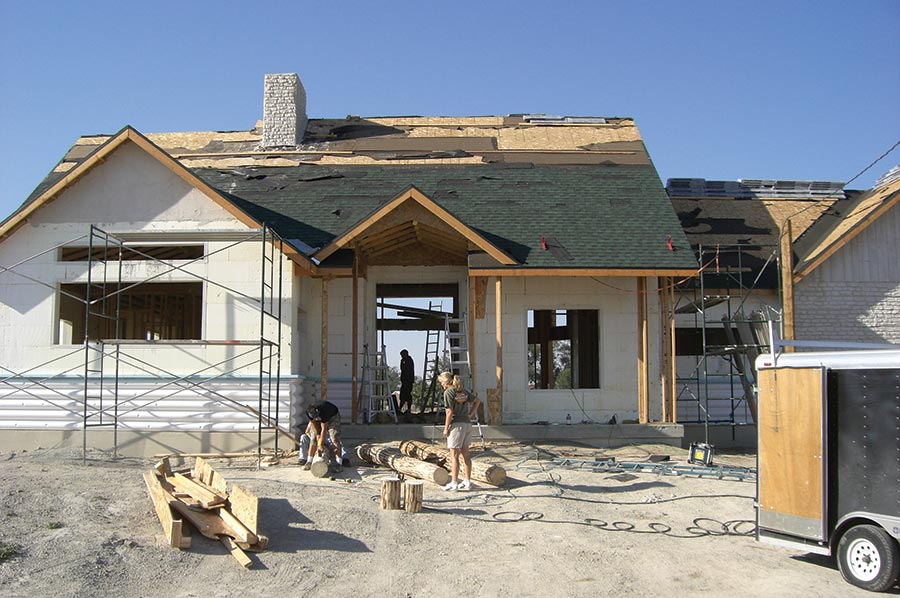 Studies at Virginia Tech indicate that polyurethane glues are adequate fasteners in many situations. "Controlled studies have demonstrated polyurethane adhesives, used with mechanical fasteners in the framing of a house, can provide strong resistance to the damaging high winds of hurricanes and tornados," says Lahman. The report is titled Acrylic Pressure-sensitive Adhesives in Structural Applications in Housing Construction, by William P. Jacobs et al.
Wind-lock and Fomo Products both market polyurethanes for the ICF market.
"We had a specific goal to maximize bonding with all polystyrene-substrates without having any adverse effect on polystyrene," said Tom Fishback, technical director at Fomo Products. "We managed to achieve all of this and give users a fast-curing adhesive that is free from VOCs and solvents, and allows ample time to set all types of substrates."
"Polyurethane adhesives are tough, flexible, and will not lose bond strength with aging. In fact, Handi-Stick will outlast any building where it is used," Fishback says. "In addition, we have proudly verified… that no other foam adhesive specified for polystyrene offers a greater bonding power than Handi-Stick."
Lahman adds, "Design professionals looking for more information on current—and potential—uses of polyurethane sealants and polyurethane adhesives in both housing and non-residential construction should contact the Adhesive and Sealant Council (ASC) at www.ascouncil.org," he says.