Commercial and institutional markets have discovered the sustainable and innovative advantages of ICFs from thousands of proven projects over the last few decades.
Commercial and institutional markets have discovered the sustainable and innovative advantages of ICFs from thousands of proven projects over the last few decades. ICFs' proven building science and resiliency characteristics are also delivering advantages in attracting and training new recruits for the labor force and creating additional bottom-line value through reduced cost, increased speed of construction, stable occupancy, and reduced insurance burdens for owners and developers.
The North American construction labor force is suffering challenges from dwindling workers and there is a dire need to encourage young people to enter construction trades. Compounding this issue is an experienced labor force, in all trades, that is now retiring faster than new skilled labor can enter the industry.
Construction of wall assemblies has become more complicated, requiring more labor and training to meet specifications and the interaction of layers of materials to meet building codes and increased energy-efficient demands of clients. The advantages of ICFs, as a light-weight modular building material, is the simplicity of installation; providing a 6-in-1 wall structural, thermal, airtight wall assembly easily exceeding building and energy codes. Major ICF manufacturers have developed extensive training programs for on-site crews to develop the needed skills for quick, efficient, and quality installs for any size build or building type.
Installing ICFs minimizes the expertise levels required on job sites compared to masonry, precast or steel stud and subsequent skills and expertise required for those legacy systems. Installing ICF block and rebar as well as placing and consolidating concrete are all quickly trainable skills and are easily supervised. Another huge benefit of ICFs is smaller crew sizes, with better efficiency and reduced labor costs versus a large masonry crew. Smaller ICF crews contribute to smaller builders' risk insurance rates, which provides significant cost savings for the contractor. ICFs can contribute to better insurance savings on the overall project as well.
There are several areas in which ICF manufacturers and contractors are improving the labor force:
ICF manufacturers certified online training courses for various skill levels and continuing education.
Manufacturer and contractor ICF classroom and on-site training, including a practical, hands-on approach.
Trade schools and construction associations provide certification or learning credits for ICF training.
Converting masonry and formwork contractors to offer ICFs.
Bartlett Cocke is one of the largest premier K-12 education builders in Texas. One of their offerings includes providing their clients with constructability strategies on various building systems, including wall systems and building envelopes to provide the best value and quickest method of construction. Schedule is crucial in the education market as school districts must have their facilities complete to house their students come fall. Bartlett Cocke has built a database of production and cost rates on traditional commercial wall assemblies and ICF walls. Bartlett Cocke has also been self-performing ICF installations over the past several years and has historical data confirming production rates. Jay Klein, Regional Self Perform Manager in their Central Texas office, offers an example of a 7,710-square-foot initial wing of a new ICF school under construction (HCISD, ES 16, Kyle Texas) showing ICF requiring almost 2/3 less manpower to deliver the same production rates as a comparable structural CMU wall.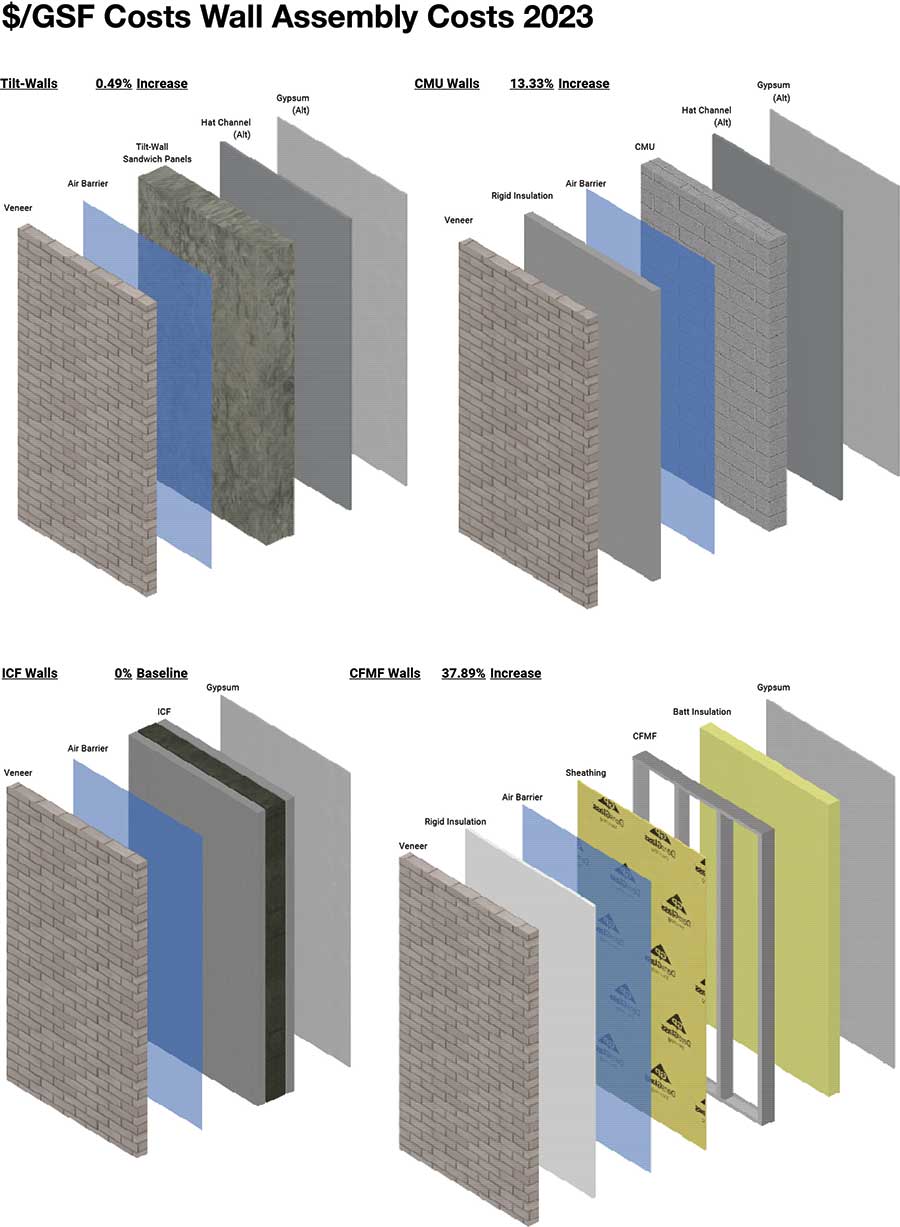 "What we are seeing," says Klein, "is a remarkable improvement in efficiency when using ICF compared to CMU. While other wall assemblies in the construction industry have evolved and stayed relevant, CMU construction has not. The efficiencies of CMU have reached their limits, relying on its familiarity for consideration in projects. The current labor shortages also pose a challenge for CMU, as it requires significantly more personnel to install compared to ICF. ICF continues to push the envelope with creative efficiencies, such as pre-fabricating walls, refined formwork and bracing methods, and seamless integration with other building components."
Ryan Kahn, Self Perform Project Manager, helps develop side-by-side costing assemblies and states, "Recent developments in the industry with structural steel and CFMF now show ICF to be on par or lower cost which we showcase to our clients. An example might be during the pre-construction process at the design development stage of a $300,000,000 budgeted high school. We proposed an estimated Cost Value Option of saving $1.7 million by going with ICF in lieu of a high tonnage structural steel design."
The availability of ICF training to expand the labor force along with having smaller crew sizes, contributes significantly to resolving the labor shortfall. Proven cost savings for builders' risk insurance when building with ICFs and having smaller crews creates big insurance savings and increases speed of construction saving costs for contractors as well. The ultimate advantage in commercial and institutional ICF construction is the ability to showcase overall wall assembly cost reductions while accelerating schedules getting buildings to occupancy faster, which is always
a critical path goal for any GC, developer, or owner.
The ICF labor force now has the tools to grow to meet the exponential demand and seize opportunities driven by the recognition of a wall system that delivers best in class performance and delivering a faster and proven lower thru the wall costing as evidenced by the ICF adoption of leading firms such as Bartlettt Cocke General Contractors.
The Insulating Concrete Forms Manufacturers Association (ICFMA) is the North American non-profit trade association for the insulating concrete form (ICF) industry. The ICFMA was founded in 2014 by a dedicated group of manufacturers with the interest of improving the quality and acceptance of Insulated Concrete Form construction. Their mission is to promote and enhance the social, environmental, and economic value of insulating concrete forms in the North American marketplace. www.icf-ma.org.
*Costs discussed in this article are subject to change and do not reflect every market condition at publication. Factors like location, economic trends, and supply and demand influence construction costs. Construction and real estate are dynamic, thus costs fluctuate. This article offers general construction cost references, not current indicators. Readers should consult professionals or conduct research for accurate, current estimates. Information accuracy may have changed post-publication. Seek reliable market appropriate sources for informed decisions on construction and real estate budgets.