Lightweight ICFs can reduce worker fatigue on any jobsite. Older and smaller workers especially benefit.
Is the biggest advantage of building with ICFs the most overlooked? And if so, could that be because it's the simplest and most obvious?
Most of the discussion about ICF advantages focuses on energy-efficiency, and rightfully so. With energy costs at all-time highs, the ability to save is becoming increasingly important to builders and end-users alike.
But as a growing number of contractors and end-users are confirming, ICFs are also exceptionally easy to use. This fact has an impact whether a project is undertaken by a seasoned, professional contractor or a group of amateur volunteers.
The experienced contractor saves time and money, requires less equipment, and can complete the project without requiring as much construction space. And for those who seek to serve mankind with sweat equity, ICFs make it possible for them, too, to become a builder.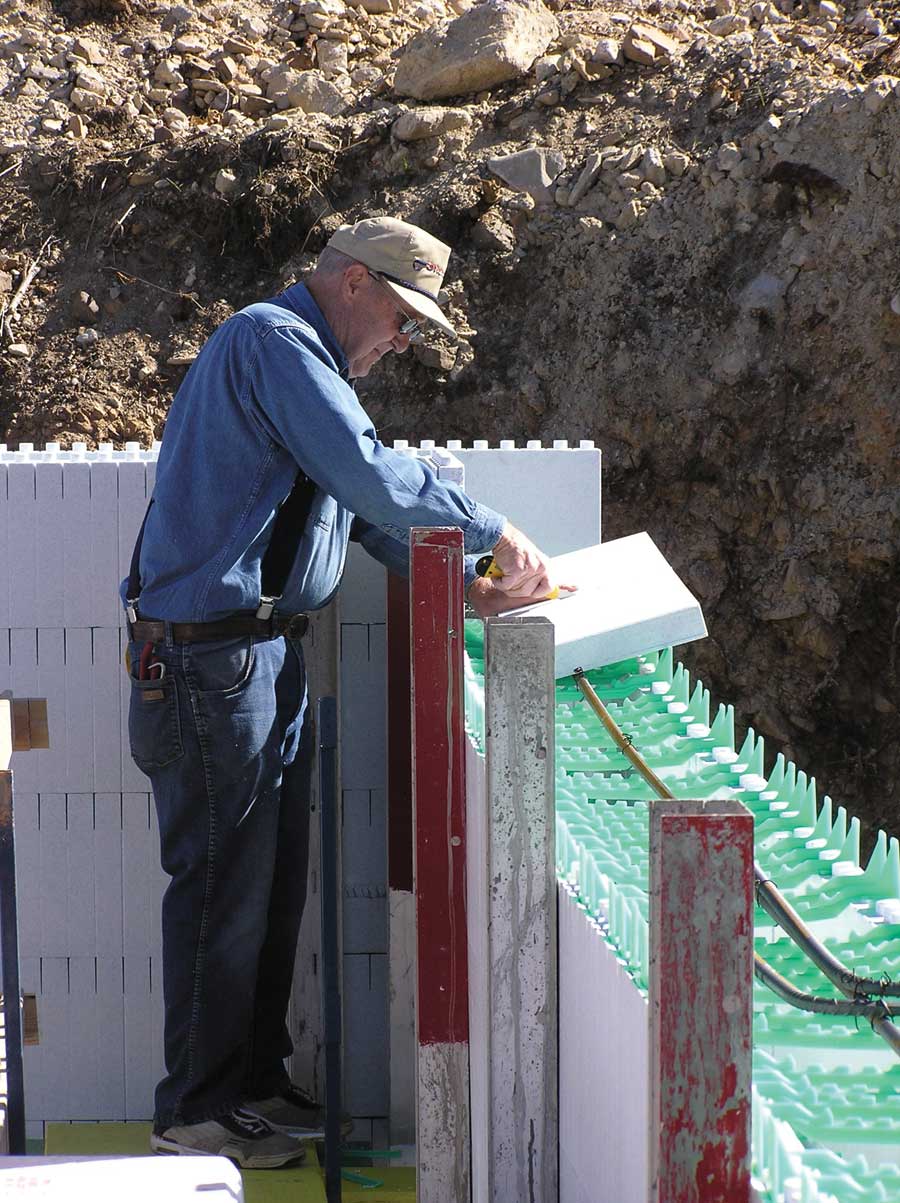 Less Equipment, Lightweight
"ICFs are very flexible and easy to work with from a construction standpoint," said Kevin Doerr, vice president of engineering for Reward Wall Systems. "You do not need large equipment or tools. A pump truck is really the only equipment issue and they have large booms that can extend for pretty good distance and around some obstacles."
ICFs are stay-in-place, interlocking modular units that are dry-stacked without mortar, reinforced with steel rebar, then filled with concrete. Made from foam, the forms provide thermal and acoustic insulation. The most common material from which ICFs are made is expanded polystyrene (EPS), but they can also be made with other materials, including polyurethane or other lightweight composites.  
The fact that the blocks weigh just a few pounds each means crews don't tire out as quickly as they would stacking traditional concrete block or setting removable forms.  It also allows smaller or older workers to be productive.
It is not unheard of for homeowners to buy ICF systems and install the forms themselves, although industry experts caution that do-it-yourselfers need training, and should not attempt anything like a concrete pour without the help of a qualified ICF contractor. Standard home construction plans can be used for an ICF home, provided the plan takes into account the thicker walls that will be present. (See Anatomy of an ICF Plan Conversion  on p. 44 of the Feb. '08 issue.)
Strong and Simple
For the most part, though, it is the contractors themselves for whom ICFs are making life easier.
 John Vogstrom, owners of Excelsior, Minnesota-based Vogue Homes, builds between six and 13 homes per year, and builds almost exclusively with Reward ICFs, in part to comply with new energy-efficiency standards in Minnesota. But in the course of complying with the law, he has found that ICFs have eased his scheduling and overall process.
 The strength of ICF walls also allowed him to build a series of million-dollar lake homes on steep, sloping lots previously deemed "unbuildable" by county officials.  Walls extending two stories below grade on the front of the homes form a walk-out basement on the back.  It was no problem with 13" and 15" iForm.
"There's a learning curve like there is with anything," Vogstrom said. "But it's a lot easier. They're so much stronger, and it's really hard to screw them up. By the time you stack up the walls, put the rebar in there and fill them with concrete, you have an air-tight envelope, and that's extremely strong."
So if you're the kind of person whose ears perk up when you hear that something is "hard to screw up," does this mean that you too can build houses?
Lee Carr, senior director of sales and marketing for Albuquerque-based American PolySteel, accompanied a group of young women to Lubbock, Texas, where they built several ICF homes in conjunction with Habitat for Humanity.  As part of the World Changers program, they also rehabilitated several other homes in the area.
The youth volunteers were able to stack the ICFs on one 1,500-square-foot house so quickly and easily, Carr said, they actually had down time while they waited for the pump truck to arrive for the pour.
"Because of how quickly you can build using ICFs, we were able to train the kids, install the blocks, do a concrete pour and get home within a short time period," Carr said. "From stacking the blocks to the concrete pour – that happened within a week."
Carr said some of the youth volunteers return for the World Changers project every year, specifically because they enjoy how easy it is to build with ICFs.
Construction was simple and fast, but the workmanship was also top-rate.  The 2006 effort won an Audrey Nelson Community Development Achievement Award.
Eliminates Steps, Reduces Staging
Jim Buttrey, senior vice president of Kingston, Ontario-based Phil-Insul Corp., makers of Integra-Spec ICFs, said much of the simplicity of building with ICFs is owed to the ability to eliminate steps.
"As many steps as you can take care of at once, makes it easier to build," Buttrey said. "You're constructing a concrete wall that's super-insulated, strapped and furring-stripped in a single operation."
Buttrey also noted that certain finishes, like stucco, EIFS, and manufactured stone are applied more easily to ICF walls.
At the same time, the ability of ICF walls to work with amenities like concrete decks and radiant heat expand the options of those who choose to build with them.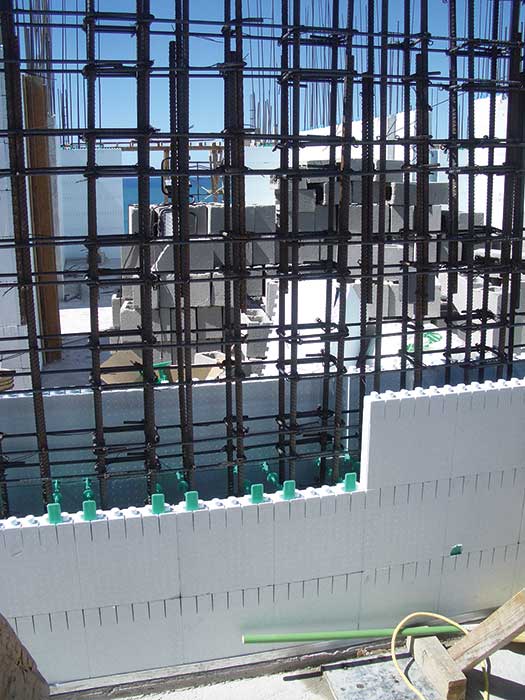 "People want a main floor and another floor above that with bedrooms," Buttrey said. "They can't have radiance for heating on upper floors with wood walls because they won't support the concrete deck. Concrete walls, however, have plenty of built in strength for concrete decks, which can be stamped and stained, and that's a huge business right now."
Doerr, at Reward, agrees that ICFs can cut steps out of the construction process and says they also reduce the amount of space needed at the jobsite. This, he says, helps make ICF projects more feasible.
"There is no need for a lot of extra site room to build," Doerr said. "The Marriott exhibit hall in Orlando had a tight project site, and they initially wanted to build with tilt-up construction. They determined that ICFs would be easier to work with on the project site because with tilt-up, you need some extra site area to tilt and lift the wall panels into place."
Simplifies Complex Builds
Wendy Davidoff, director of marketing for Surrey, British Columbia-based Quad-Lock Building Systems, said her company recently worked with a team that built a seven-story condominium project in La Paz, Baja California, Mexico. While they originally chose the ICFs out of concern for energy costs, they quickly found that their choice was making a major, positive impact on the construction process.
"Originally they were going to do concrete block," Davidoff said. "The development group was familiar with ICFs and they got to talking with our dealer down there, and he was able to convince them it could be faster and overall cheaper – and with a better environmental product – to use ICFs than to go with some more traditional building technology."
Not only did the ICFs achieve the desired 60% savings in energy costs, it actually cut the per-floor construction time dramatically.
"Because they wanted a completely enclosed structure, the time frame was cut to less than 50% of what was expected, in terms of a complete shell, by switching to ICFs," Davidoff said. "The first floor took around 45 days to do, but by the time they got to the seventh floor they were doing it in 28 days. And once they got a crew trained it was even faster."
The ICFs were so easy to use, Davidoff said a group of exceedingly inexperienced workers took to them very quickly – to the amazement of the construction supervisors.
"Building officials would stand up on a hill and watch these things go up, and they were just shaking their heads," Davidoff said.
She notes that the extremely complex rebar placement that officials required was easily accomplished with Quad-Locks panel system, but would have been virtually impossible with concrete block.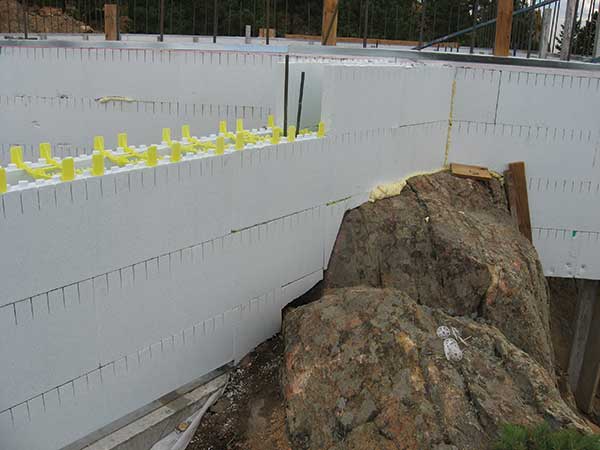 Quad-Lock has also designed its forms to be highly effective in building radius walls.
"You can build any type of radius wall you want, from an eight-foot circle on up," she said. "You're not stuck with something that's just a particular degree. We've got some products where they've put arches in radial walls, so you've got a two-pronged radius, which is kind of neat."
John Hatfield, Colorado regional sales manager for Quad-Lock, was recently involved in a very challenging residential project in southwest Denver. The owner wanted the home built on a craggy section of bedrock that jutted from the hillside, which required the concrete to be poured with no footings.
"The contractor called it his arts-and-crafts project," Hatfield. "You had to trim the panel to match the rock surface. It's a pretty spectacular way to do it, actually."
It's also a pretty impossible way to do it using any building method other than ICFs.
"The only way he could build the house was if one corner of it hung over the rock," Hatfield said. "So we had to clear a spot about 50 feet below that in the middle of the crag and put a mass in there. Then we had to freestand the ICF out of that corner from both directions to support the end of the house."
Making the system work required the designers and the builders to position the ICFs with quite a bit of geometric precision.
"Basically, we had to get the whole corner supported to the concrete floor and then go up to there," Hatfield said. "So we made a beam out of that without a footer – just hanging in the air – and as we were putting it in, we went across the rock and then down like a 45-degree slope of the rock to get down to the lowest corner of the garage, 22 feet below the surface."
Cautions
While it is certainly easier to stack and do pours with ICFs than with most other methods, those building with ICFs still need to know some distinctive nuances in order to complete the project with structural integrity.
Concrete walls are heavy, of course, but if they are built on the right kind of foundation, the weight of the walls will not be an issue. Builders using ICFs should consult with a structural engineer who is familiar with the area's soils.
Preventing  bulges and blowouts is also important, but is rarely a problem if proper bracing and proper pouring techniques are used. ICFs are not identical; consult the form manufacturer for specific recommendations.
Maximizing energy-efficiency in an ICF house also requires some important steps, including the use of high-efficiency attic insulation, floor insulation and high-efficiency HVAC systems. Builders should resist the urge to use cheap products if they want their clients to get the energy-efficiency they're expecting.
Of course, cost of materials is a factor in any job, and sometimes homeowners will balk at the higher cost of ICFs—typically less than $4 per square foot.
Most often, though, ICF manufacturers say homeowners are the ones asking – and sometimes arm-twisting – builders about ICFs because they've educated themselves about the likely long-term
cost savings.
The easier and often quicker construction process may serve as another incentive. In the still simmering debate between the cost and newness of ICFs vs. the strength and energy savings – the ease of use just might be the tiebreaker.