ICF homes need less maintenance; cost less to heat and cool; are more durable in the event of a natural disaster such as a fire, tornado, hurricane, or earthquake; are more resistant to pests and molds; and are quiet and comfortable. In this issue devoted to green building, we were pleased to hear that Habitat For Humanity is increasing its number of ICF new home builds.
Habitat for Humanity building with ICFs is not new — in fact, multiple ICF manufacturers including Amvic, BuildBlock, Fox Blocks, Logix and Nudura have been a part of many Habitat for Humanity projects. But a 2021 initiative by the housing organization in partnership with the National Ready Mixed Concrete Association (NRMCA)'s and Build with Strength Coalition partners including the Insulating Concrete Forms Manufacturing Association (ICFMA), and the American Concrete Pumping Association (ACPA) brought about local Habitat organizations supporting home builds across 16 locations. Together, they seek to build 50 concrete homes in 50 states over the next 5 years.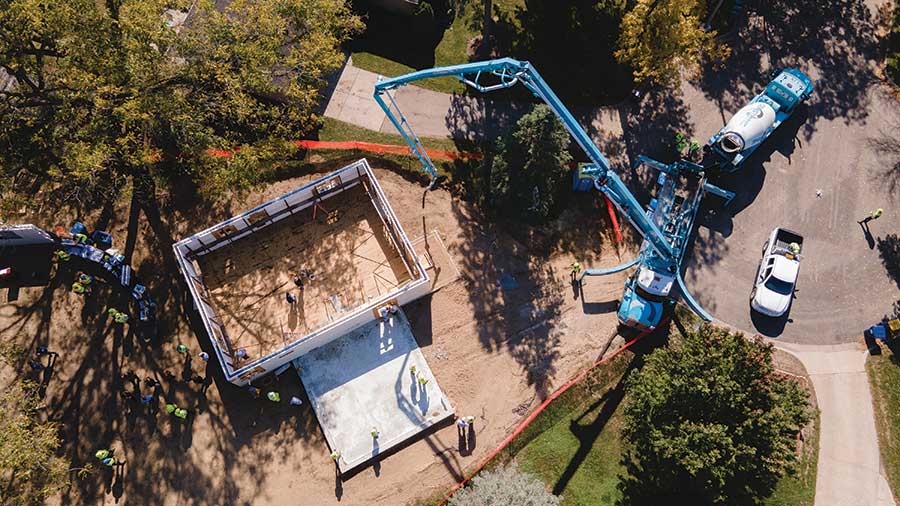 Last April, the project kicked off with the construction of three concrete homes in Paradise, California, an area destroyed by wildfire. Last June, partners convened to construct 18 ICF townhomes in Woodland Park, Colorado. Minnesota-based ready mixed concrete and concrete pumping company Cemstone partnered with Habitat for Humanity on a recent Build with Strength project using insulating concrete forms (ICFs) for the entire structure. 
For this single-family home in Rice County's Northfield, Minnesota, it was important for the home to be energy efficient (thus cost efficient) and disaster resistant. ICF, traditionally used in basement walls, fit the bill and would be used from foundation to roof. Once in place, the ICFs were filled with concrete containing Helix steel fibers which took the place of traditional reinforcing steel. The only traditional reinforcement within the above- and below-grade walls were placed around window and door openings. 
The use of ICFs as a building system is not new to the Rice County Habitat for Humanity build crew. They have used them in the past for other projects such as basement foundation walls, but never above grade. Experts from Cemstone and Logix, the ICF manufacturer that donated the blocks for the project, were on site to guide the build team, especially when it came to forming the windows and doors. 
When the volunteers stacked the first floor with the ICFs, they were pleasantly surprised by the ease of ICF construction. Each block weighs approximately five pounds and allows for speedy construction. The initial process of assembling the four above-grade walls took about five hours and was ready for concrete placement scheduled for the following week.
After a couple of hours of pouring concrete using one of Cemstone's pump trucks, the home was ready for the roof and subsequent interior and exterior finishes. Comparatively, past Habitat for Humanity projects using traditional lumber have required significantly more time to assemble and position the above-grade walls. 
"Volunteers measuring, cutting lumber, nailing it all together, hoisting it in place would have taken considerably more time than the five hours to do what the volunteers did on this project," explains John Lee, PE, LEED AP — director of business development at Cemstone. "With lumber, volunteers must insulate, install vapor and air barriers, and more. Relying on ICFs greatly reduces the time of construction." 
In addition to making the building process faster, Lee also notes how utilizing ICFs can make the process safer for volunteers. By eliminating all of the steps associated with wood construction, Habitat for Humanity can lessen the possibility of onsite injuries. 
Another value-added and time-saving product, Novabrik, was introduced to the Habitat for Humanity build crew. Novabrik, a mortarless brick siding system where the tongue and groove units are made of high-strength concrete, was used to accent the front of the home. The build crew noted how easy it was to install this product, which was donated by Amcon Concrete Products, an affiliate company of Cemstone.
Lee credits the smooth process to their partnerships for the project. "Logix was a good partner in terms of having experienced people on staff to help with the ICF construction," Lee says. "Cemstone's team of engineers and operators made sure the mix design with Helix fibers pumped well."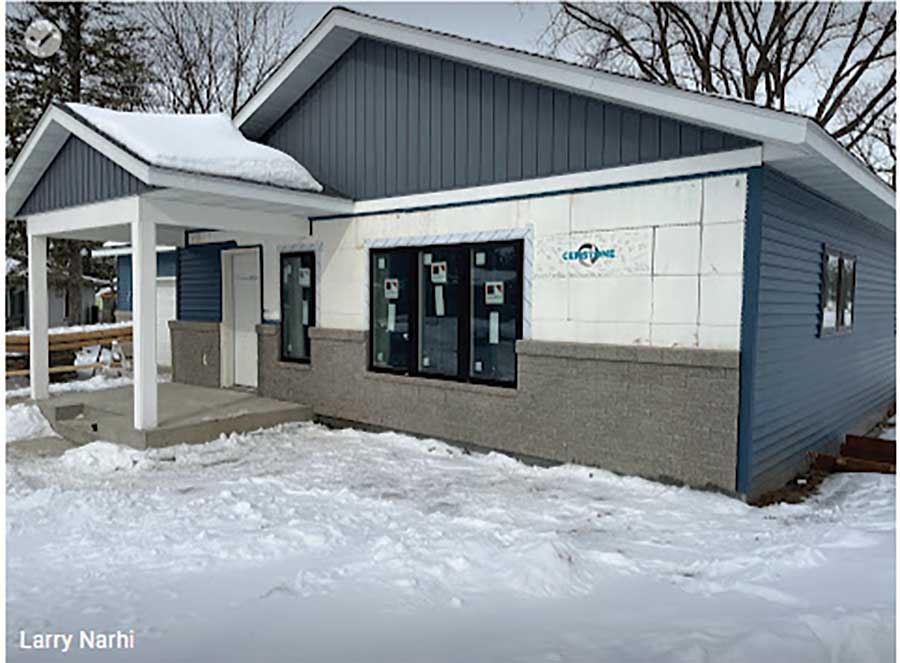 Steven Halgren, general manager placing services, was a key player in the effort's success. "Steven was heavily involved in the project's success — going out to the project site ahead of time, working with the volunteers who would place the concrete within the ICF blocks was critical in making this a success," says Lee. "Cemstone employees from our production facility in Northfield also played a big part in the project. Our plant operator, area manager, ready mixed drivers and quality control all played a key role in the success of this project." 
After a successful introduction of ICFs as an option for an entire build, Cemstone looks forward to incorporating ICFs into future projects with the Rice County Habitat for Humanity chapter.