The increase in natural and climate-related disasters has caused a record number of expenditures related to repairs.
In January 2021, NOAA (The National Oceanic and Atmospheric Administration) released a report that stated natural disasters cost the U.S. a record $22 billion in 2020, $6 billion more than in 2020. Meteorologists ran out of tropical storm names for only the second time. Western states recorded their largest wildfires ever known. Globally, it was tied for the hottest year on record.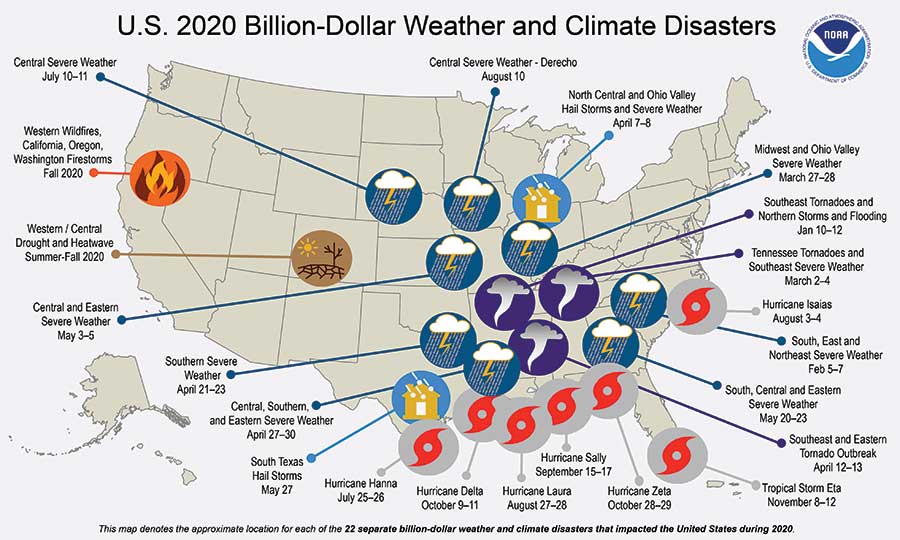 As recently as July 9, 27 million people were under tropical storm warnings as Tropical Storm Elsa raced up the East Coast, causing flash flood watches and tornado warnings in several East Coast states. An estimated 41 million Americans currently live in homes at risk of flooding and millions more are at risk from wildfires. Many homeowner insurance policies, especially in coastal areas, do not cover wind damage or flooding caused by natural disasters.
Spend Money Better
The National Institute of Building Sciences estimates that updating and improving building codes could save $4 for every $1 spent and create 87,000 new jobs. Reforming land use and zoning rules could also help. According to an article written by disaster engineers and policy researchers published by The Conversation*, the federal government, which has the greatest financial incentive to prevent damage, has little authority over building codes or land uses, while local governments, which do have authority over zoning and building codes, have a strong financial incentive to avoid change. 
Even though the Department of Housing and Urban Development (HUD) received more disaster funding to distribute in 2017 and 2018 than any other agency, it took more than two years to approve disaster relief spending after the 2018 California fires and by 2019 less than 1% had been spent. FEMA and HUD both provide funding, but on different timelines. When public buildings and infrastructure are damaged in a disaster, the federal government will pay for 75% of the recovery cost if the damage exceeds a certain threshold. However, that threshold is very low at just $1 million plus $1.55 per capita. Congress's National Flood Insurance Program is bankrupt because its rates are too low to cover its costs and not enough people are participating.
Build Better Buildings
The knowledge we have about ICF's resilience to disasters is far from anecdotal. A Nudura home and Fox Blocks homes survived Hurricane Michael in Mexico Beach, Florida, in 2019. A Pass Christian, Mississippi, ICF house survived Hurricane Katrina in 2005 (https://www.icfmag.com/2009/08/rebuilding-a-survivor). A FEMA report states that a huge storm surge reached 28 feet and sustained winds reached 125 mph. The home was intact except for windows that blew out, some lost materials and tools, and some items including panels upstairs that blew away. ICF homes in New Jersey survived Hurricane Sandy. Various ICF homes in California survived wildfires. An IntegraSpec home built in Middleton, California, survived with essentially no damage while the 1,500 other homes there burned to the ground in the fire. Read our first-hand account on page 12 of an Amvic and Insul-Deck home in Fort Morgan, Alabama, that survived Hurricane Sally in 2020.
Some places are learning. The Escambia County Schools in Pensacola, Florida, have several ICF projects in the works, and were recognized recently with a National Ready Mix Concrete Association (NRMCA) award for their leadership in ICF schools. "They had hardly any damage from Sally in their ICF schools," says Michael Wymant, MEB, LEED AP+, vice president of building innovations for the NRMCA. 
Three Culver's restaurants built out of ICFs in Florida, were undamaged in 2020's storms. Owners Honey and Randy Smith built their home out of ICF before building the restaurants with the same material. "We recognized that even though the cost might be a little bit more, we knew that this would be a house that we would live in for a long time," Honey says. "Living on the coast of Florida, our areas get hit by a number of hurricanes so we just thought, okay, if we're going to spend as much money on a home, let's make it as disaster proof as we can."
In addition to that, they also enjoy the energy savings. The new ICF home was twice the size of their previous home, but the electricity bill was much lower than the smaller home. "When we started building the restaurants, we knew we were going to use ICF construction," she says. The Culver's parent company is Wisconsin-based, and when the couple decided to build their locations, Culver's didn't really understand what ICF was. "We took a foam block with us and my husband showed them how it's made and everything,' she says. "And they were like, 'Are you sure you want to spend that much money?' We explained that our home's location about a half a mile from the Gulf of Mexico had three storms within the last five years with no damage. I firmly believe in it." 
You can find a video of a Logix ICF home that survived Hurricane Sandy by searching on YouTube for "Hurricane Sandy: A Story of Survival. Logix was selected for the #HurricaneStrong demonstration home in Breezy Point, New York, meant to show how ICF homes can survive big storms like Sally. The #HurricaneStrong home utilized 4-inch concrete core Logix ICFs — although 6- and 8-inch concrete cores are most common, the 4-inch blocks were chosen here to maximize the amount of living space within the home given the narrowness of the lot, and still provided the needed strength. The story of a Logix home that survived the California Camp Fire was told over and over again on the news, and you can view that video by searching on YouTube for "Build Fire Safe 2."
It's devastating to have to show and tell the story of how resilient ICFs are after a disaster. Instead, I and the industry as a whole hope to be able to show and tell how resilient ICFs are to prevent having to tell these stories after the fact. Build better buildings, and even if a disaster happens (which it will), there will be less destruction. 
*Read the original article: https://theconversation.com/after-a-record-22-billion-dollar-disasters-in-2020-its-time-to-overhaul-us-disaster-policy-heres-how-152439