Attendee Registration Now Open For World of Concrete In June
In March, Informa Markets, organizers of the World of Concrete, received approval from the Nevada Department of Business and Industry to move forward with its 2021 in-person edition. The event is scheduled to be held June 8-10, 2021 at the Las Vegas Convention Center. Informa Markets developed a thorough health and safety plan to prioritize guest safety, including mandatory face masks and temperature checks for all participants.
"The Nevada Department of Business and Industry has taken a dutiful and cautious approach to re-opening, and we are honored to be one of the first large-scale events to set the industry standard for safe and successful economic recovery," expressed Jackie James, Group Director for World of Concrete. "Our experienced team is excited to lead this charge."
Highlights this year include a feature called Zero Emission Live! In the West Hall. This special showcase area will highlight technology such as zero-emission equipment and tools, that are designed for indoor applications specific to the concrete and masonry construction industries in addition to equipment powered with electrification technology that reduce emissions on job sites. Concrete-specific exhibits include Precast in the North Hall, featuring the latest products and technologies in the precast/prestressed sector. Concrete Masonry, in the North Hall, showcases everything for the producers of concrete masonry (block, segmental retaining wall units, veneer, slabs, pavers, and roof tiles, admixtures, equipment, supplies, and pigments. Concrete Reinforcement, also in the North Hall, features the leaders in concrete reinforcement and all types of reinforcement accessories. Find the Concrete Repair & Demolition in the North Hall for a display of the latest surface preparation equipment, scarifying, grinding, sawing equipment, sealants, joint fillers and more. Concrete Surfaces & Decorative (North Hall) features surface protection products, coatings, cleaning solutions, stains, pigments, molds, and more products to help you capitalize on this expanding segment.
The outdoor exhibits in Silver Lots 1 & 2 and the Diamond Lot feature industry-leading suppliers, live demos, heavy equipment, and decorative concrete products. One of World of Concrete's most enduring live events is back: The 2021 Spec Mix Bricklayer 500 World Championship is taking place as usual, Wednesday, June 9, from noon to 3 p.m. in the Silver Lot. The competition arena has allows spectators to witness an intense battle between 26 bricklayer and mason tender teams that race against a 60-minute clock to build a 26 foot long brick wall. The winner receives the title "World's Best Bricklayer" and a total purse of more than $125,000 in cash and prizes, including a new Ford F-250 4×4 XLT Super Duty truck. 
While the show is going on in person, World of Concrete is following a 3-foot radial distance / 6 feet of physical distance per person. Expect to see one-way entrances and exits into the building and exhibit halls. Lounges, table rounds, seating areas will be arranged to ensure physical distancing. Elevators and restrooms will have capacity controls. Credentials will be scanned upon entering and exiting the exhibit hall to monitor the number of people on the show floor to ensure a safe crowd density. Visitors will have their temperatures taken via thermal temperature scanning prior to exhibit hall entry. All guests will be required to wear a face mask upon entry to Las Vegas Convention Center. Masks and gloves will be available on-site if a guest does not have their own.
Visit the WOC website for all of the latest news & updates on the show. To contact show management, please email
contactus@worldofconcrete.com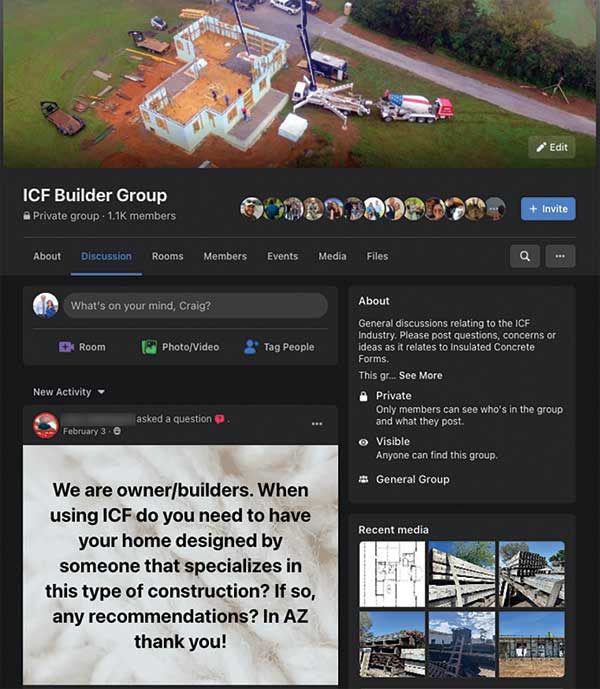 There's an active community on Facebook of people who are involved at all levels of the ICF industry. The team that brings you the ICF Builder Magazine created the group just six months ago. Within that time membership has surged to more than 1,000 members in the group. This is an active group with regular, ongoing discussions that range from questions about builds to advice about picking a certain type of block for specific jobs. Representatives of manufacturers, contractors with a lot to a little building experience, and people who are just interested in ICFs in general are among the members. Join this group if you have questions that you would like real-world answers to, if you are looking for some other resources, or you just want to share photos of the cool jobs you are working on. The ICF Builder Group is private, and is intended for general discussions relating to the ICF industry. Find the ICF Builder Group on Facebook at the address http://Facebook.com/groups/icfbuildergroup