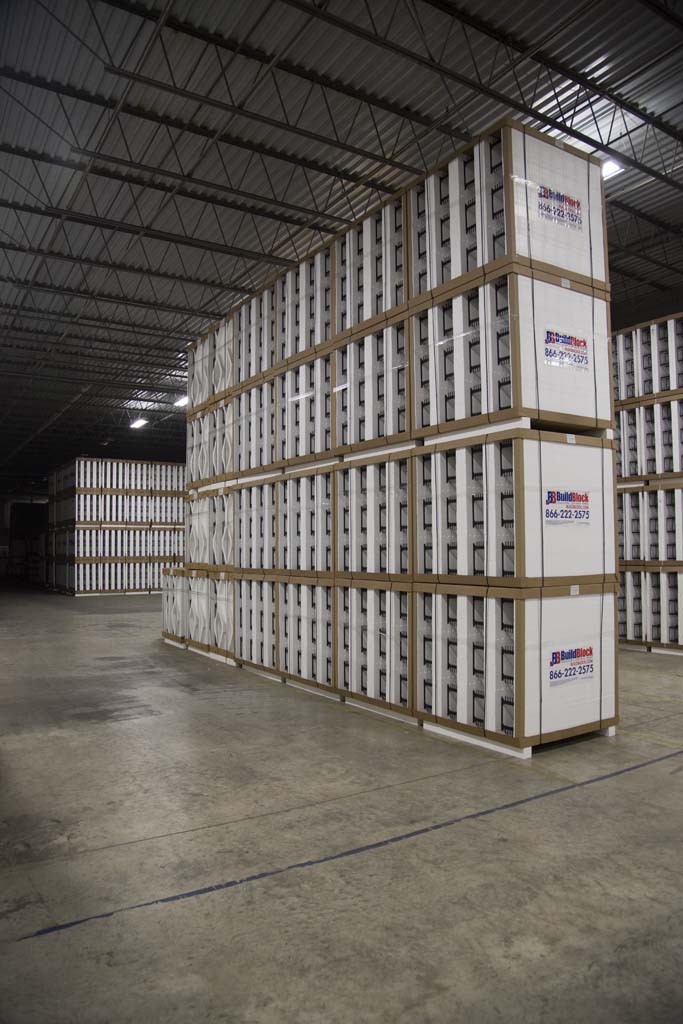 BuildBlock Building Systems has expanded its manufacturing presence, molding its signature product at a plant in Waxahachie, Texas, just south of Dallas. 
"BuildBlock has had a long relationship with ICFs in Texas and we are proud to return manufacturing to the state," says BuildBlock president Brian Corder. "We are excited to expand our relationship with Lifoam Industries, a subsidiary of Newell Brands. They are a great partner for BuildBlock and are centrally located in Texas to allow us to serve our customers."
BuildBlock will initially manufacture its 6- and 8-inch product lines in the facility with standard accessories. 
"In the past 8 months more than 200 people including installers, DIY, homebuilders, architects, and engineers have
been trained in Texas gaining classroom and hands-on knowledge on actual job sites. We are committed to providing the best ICF education and training inspiring ICF installers to deliver quality work on every project, large and small," said Micah Garrett, BuildBlock CTO. "This new location also significantly lowers the shipping costs in the region and creates very valuable business opportunities for those interested in becoming BuildBlock ICF distributors or dealers."
BuildBlock continues to support ICF installation through its free online training and on-site training opportunities. Headquartered in Oklahoma City, BuildBlock serves North America through 14 manufacturing facilities. 
ICFs are being used to address a pressing need for housing in Native American communities across Canada. In March 2019, leaders of Canada's First Nations confirmed the housing crisis in their communities and that new and innovative solutions are desperately needed.
Chris Maracle is seeking to address this issue by teaching First Nations' communities how to build their own homes using ICFs, while simultaneously addressing issues like poverty, homelessness and unemployment.
Along the way Maracle has been recognized with 18 national and provincial housing awards including Canada's Affordable Housing Award and Canada's Energy Efficiency Award. 
Early in his career, he helped Mohawk families realize their dreams of home ownership. Building 10 to 12 new ICF homes per year, he eventually built more than 100, and created a demand for energy efficient, durable ICF housing.
Now, he trains his crews from among the members of the tribe, providing them with the practical skills needed for the project while gaining valuable long-term employment abilities.
One crew he trained is now building four small private residences (each 1200 -1500 sq. ft.) with Logix ICF.
On July 30, an ICF promotional event was hosted in Boise, Idaho. It was the latest in a series of regional Build With Strength events promoted by the National Ready Mix Concrete Association. The event was organized and hosted by the Idaho Associated General Contractors (AGC) with additional support from the Idaho Concrete & Aggregate Producers Association and the Insulating Concrete Forms Manufacturers Association (ICFMA).
Trevor Brown, Amvic's regional manager for the Western U.S., reports that the event was smaller than those hosted earlier this year in Salt Lake and Phoenix, but still attracted a good mix of architects, engineers, concrete contractors and ready mix producers. 
"Because this event was organized by the AGC, the emphasis was heavily geared towards commercial construction, with lots of questions about how the cost compares to CMU and tilt-up," he says.
NRMCA and ICFMA continue to organize similar presentations across the United States. Earlier events have been held in Arizona, Utah, Texas, South Carolina, and Kentucky. 
Greenbuild, the world's largest conference and expo dedicated to green building, will be held in Atlanta in early November. It's expected that nearly 20,000 attendees and 600 exhibitors from the green building industry will come together at the Georgia World Conference Center in Atlanta Nov. 19-22, 2019. Registration is now open. 
The Home Depot–headquarters in Atlanta–is the title sponsor this year, and former U.S. president Barack Obama will be the keynote speaker opening the show. 
The event is produced by Informa and presented by the U.S. Green Building Council. 
Housing Outlook Report
U.S. homebuilding fell for a fourth straight month in August amid a steep decline in the construction of multi-family housing units. Housing starts dropped 4.0% to a seasonally adjusted annual rate of 1.191 million units in August, as reported by the U.S. Commerce Department. Economists polled by Reuters had forecast housing starts would edge up to a pace of 1.257 million units in July. Homebuilding was likely disrupted by Tropical Storm Barry, which drenched Louisiana in the middle of July. Through the first eight months of 2019, total construction starts were down 6% from the same period a year ago.
However, when looking only at single-family homebuilding, which accounts for the largest share of the housing market, this sector increased 1.3% to a rate of 876,000 units in July, the highest level in six months. Starts rose in the Northeast, West and Midwest, but dropped 3.9% in the populous South.
The housing market has not benefited much from declining mortgage rates because of land and labor shortages, which are constraining builders' ability to construct sought-after lower-priced homes. That has left the housing market continuing to grapple with tight inventory and sluggish sales growth.
New home permits, which tend to lead construction starts, is at a seven-month high, offering hope that the market will continue to improve.
The EPS Industry Alliance (EPS-IA) recently published a document titled Polystyrene Foam Insulation in Long-Term Building Applications. As the vast majority of ICFs use expanded polystyrene (EPS) as the insulation material, this publication provides information which is applicable to the industry. 
The publication discusses effective R-value in long-term applications and compares the performance of EPS with other competing insulation materials including extruded polystyrene (XPS). The report considers 3 different factors:
• Aging (time in years)
• Temperature
• Moisture
In summary the report presents that the effective R-value is determined by these three factors: an aging adjustment factor, a temperature adjustment factor, and a moisture adjustment factor.
The document is well written and straightforward to read. "I am confident that members of the ICF community will find this an interesting publication which provides answers to questions which frequently come up when speaking with customers, buildings designers and building officials," says Robert Sculthorpe. The report is available from the EPS-IA at tinyurl.com/epsrvalue.