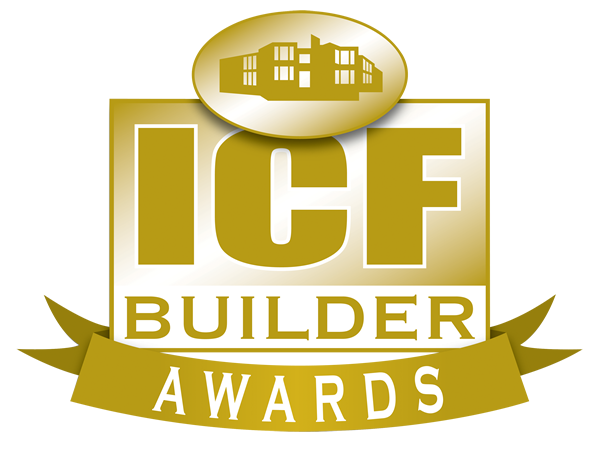 Heavy Commercial-Religious
Winner
St. Juan Diego Catholic Church, in Chandler, Arizona, is the latest of more than a dozen major ICF projects undertaken by the Catholic Archdiocese of Phoenix. It's an exceptionally complex and ICF-intensive project. With just more than 22,500 sq. ft. of floor, it used more than 41,000 sq. ft. of ICFs—a ratio of almost 2:1—due to the decision to build most of the interior walls with insulated formwork as well.
Most of the walls approach 40 feet high, with multiple arched openings, columns, and hundreds of embed plates. The semicircular chancel has radius ICF walls 60 feet in diameter that stretch 30 feet (22 courses) above the footer. The ICF gable extends 20 feet beyond that, topping out at 50 feet above grade with no intermediate floors.
"The overall complexity of the tall radius walls and the multitude of elevation changes make this church one of the most difficult we have ever completed," says Rod Fetters of ICF Specialist, the installation subcontractor for this job. "It also had multiple ICF core sizes: 10-inch, eight-inch and six-inch. These changes in core sizes at the corners demand a lot from the bracing, especially considering the head pressure that can build up when pouring 10-inch and eight-inch core walls."
The Phoenix archdiocese has commissioned projects with a number of different ICF brands over the years. For the St. Juan Diego Church, Fox Blocks was selected because of local product availability, quality, and pricing.
Sitework began in the spring of 2016, and by the time the GC was ready for the ICF crew, the legendary Phoenix heat made afternoon work unbearable. Fetters and his crew compensated by starting at 4 a.m. They started with the 60-foot-plus radius wall, where it forms two T-junctions into the gable wall, and then moved on to the other exterior walls, which used 10-inch core. Interior walls, separating the nave from the aisles, are built with six-inch core block and sit on a series of arched openings supported by ICF columns.
The Phoenix area is a seismic zone, and about 40% of the wall required a double mat of rebar. While not so bad in 10-inch core, Fetters reports it was a challenge to ensure proper placement in the 8″ core blocks, especially in the radius section.
To improve efficiency in blocking out the dozens of arched openings, they used a temporary solid foam plug set on top of a rectangular wooden buck. He says, "This saved a full week fabricating arched wood bucks. They also weighed 90% less than typical forming and we were able to use them over and over." The system reportedly worked well. The window subcontractor was amazed at how perfectly all the arched windows fit into place.
Cuts were made with hotknives to minimize debris, and at the end of every day, all the extra foam onsite was secured so there were no surprises with the severe thunderstorms and monsoon duststorms that regularly rolled through.
Fetters says, "There were at least 18 different elevation variations on the project, requiring an exceptional and experienced eye for detail." As walls went up, they placed 670 embeds to support the roof trusses and moment framing. He says, "Attention to the mix design and delivery schedule for the over 1,100 yards of concrete was key to a strong, void-free and laser-straight wall." He also credits the company's 12 years of experience on large-scale heavy commercial ICF projects a key factor in the successful completion of the building.
In order to meet the tight schedule (68 weeks), multiple trades were nearly always working at the same time. Daily morning meetings helped alleviate conflicts. Fetters reports that the meetings brought everyone together as a team and the respect from each company was evident. He also developed his own "walk-under" wall bracing, which allows access to the lower wall while the upper sections are still being stacked and poured.
The HVAC is an innovative underfloor system with vents installed beneath the chapel seating area. Considering the 40-foot-high ceilings, it's the most efficient way to keep the congregation comfortable. In another nod to sustainability in the desert, graywater is directed to a number of cisterns onsite, where it is reused to water the landscaping. Fetters says, "With the ICF, underfloor HVAC, site orientation and LED lighting maintained with motion sensors, this building would easily qualify for the highest level of LEED certification."
A project of this magnitude naturally attracts attention, and the church has had numerous site visits from local contractors, architects and structural engineers. (Fetters says, "It's amazing the contacts that are made when these ICF projects are located on the corner of a major intersections.")
ICF Specialist had an aerial video made showcasing one of the final pours, and still continues to bring in leads. It can be viewed below.
The project also won best Heavy Commercial-Religious project at the 2018 ICF Builder Awards. Fetters concludes, "It's projects like this that brings ICF to the forefront. We've heard so many times that complex structures—especially those with tall radius walls—cannot be achieved with ICFs. This is a false way of thinking."
Project Statistics
---
Location: Chandler, Arizona
Type: Catholic Church
Size: 22,536 sq. ft. (floor)
ICF Use: 41,429 sq. ft.
Cost: $7.2 million
Total Construction: 68 weeks
ICF Installation Time: 76 days
Construction Team
---
Owner: Phoenix Diocese
General Contractor: Chasse Building Team
ICF Installer + Form Distributor: ICF Specialist
Architect: Phoenix Design Group
ICF System: Fox Blocks
Fast Facts
---
Tall radius walls and arched windows
18 elevation variations
670 embeds placed
Solid foam block outs reused for many arches
Numerous visitors and industry presentations
Like what you read?
Yearly Subscriptions Starting @ $30