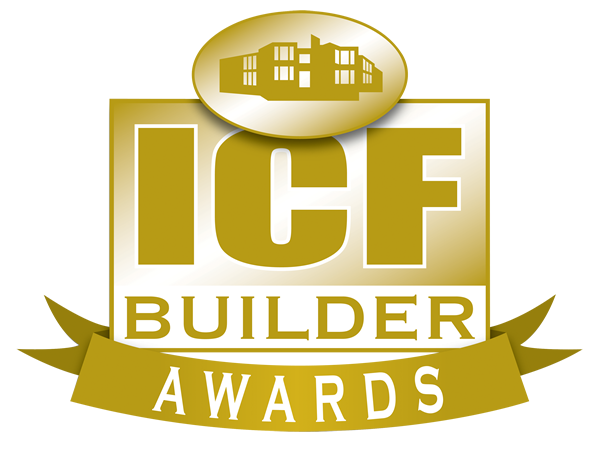 2018 Small Residential
2nd Runner-Up
River House is a beautiful single family home located on the banks of the Mississippi River about 100 miles downstream of St. Louis, Missouri. It was designed and built by Ivan and Sue Griffin, who despite having no previous ICF experience, completed this exceptional project largely on their own.
Ivan had never worked with ICFs before, but he was impressed by the benefits that insulated concrete forms offer, and wanted to try it. A railroad bridge across the Mississippi is just a few yards from the property and sees a significant amount of use, so the ability of ICF to block out that noise was attractive. (ICFs have an STC rating of 54.)
Unable to find an experienced ICF contractor in the area, Ivan decided to tackle construction himself. After evaluating several leading brands, he selected BuildBlock as he felt that it would be the easiest to work with. He especially liked the solid interlock that eliminated movement without the need for clips or zip ties.
The design, drawn up by his wife Sue, was quite complex, especially for a first-time builder. ICF walls extend the full two stories, and the design includes a significant number of large windows, corners, and short wall segments. A corner turret with multiple windows adds even more difficulty. This was built with 45-degree corner forms, but each corner had to be cut, strapped, and braced with precision. Wisely, Ivan did some diligent planning and research before beginning, and everything went fairly smoothly. He reports, "I found BuildBlock's staff and resources to be readily available and able to help with every question I had."
Plumwall's BuildBrace was used to ensure walls were straight, level, and plumb. The brace folds for convenient transportation, and is adjustable from the top of the scaffold, which was a benefit for the short-handed owner/builder crew.
Brian Corder, vice president of sales and marketing at BuildBlock, says, "The ICF portion of this house went up relatively quickly, given the fact that it was the builders first time working with ICFs. You can see from the construction photos that Mr. Griffin kept an extremely clean and organized jobsite. The walls were stacked and braced very efficiently. The result is walls that are incredibly straight and even the large openings are perfectly straight and plumb. The walls are solid through-and-through with no voids present. The home is airtight and maximizes all of the benefits of ICF construction. It was all completed in a way that was very impressive for a first time ICF homebuilder."
As the first ICF home in the area, it was a first-time experience for many of the subcontractors as well. Griffin says the crew that did all of the sheetrock was initially hesitant to bid the job, as they had never worked with ICF before. He says, "After a little education they took on the job and found the material very easy to work with."
The finished home is a showcase of outstanding craftsmanship and design. The open floor plan is tastefully appointed with stone accents and tongue-and-groove paneling. The back of the home, which offers views of the river, is thoughtfully completed with large windows, a walkout deck, and covered patio. The turret, vaulted ceilings, and arched doorways give the house a castle feel and makes it seem larger than the actual 3,000 sq. ft. The two-tone brick and stone exterior finish complements the design and gives the house an amazing amount of curb (and river) appeal.
Corder says, "The owners commented that the home is very quiet and offers a peaceful living environment. The owner is very satisfied not only with the finished home but also with how easy he found ICFs to work with. The home has inspired others in the area to build with ICFs, including the owners son. They are in the process of completing his ICF home now."
Project Statistics
---
Location: Scott City, Missouri
Type: Private Residence
Size: 3,000 sq. ft. (floor)
ICF Use: 3,861 sq. ft.
Total Construction: 80 weeks
ICF Installation Time: 14 days
Construction Team
---
Owner + General Contractor: Ivan Griffin
ICF Installer: Jim Rogers
Form Distributor: BuildBlock
Architect: Jan Bodenstein
ICF System: BuildBlock
Fast Facts
---
Owner/builder's first experience with ICF construction
High walls and turret with 45-degree corners
First ICF home in area, drew community attention
Like what you read?
Yearly Subscriptions Starting @ $30