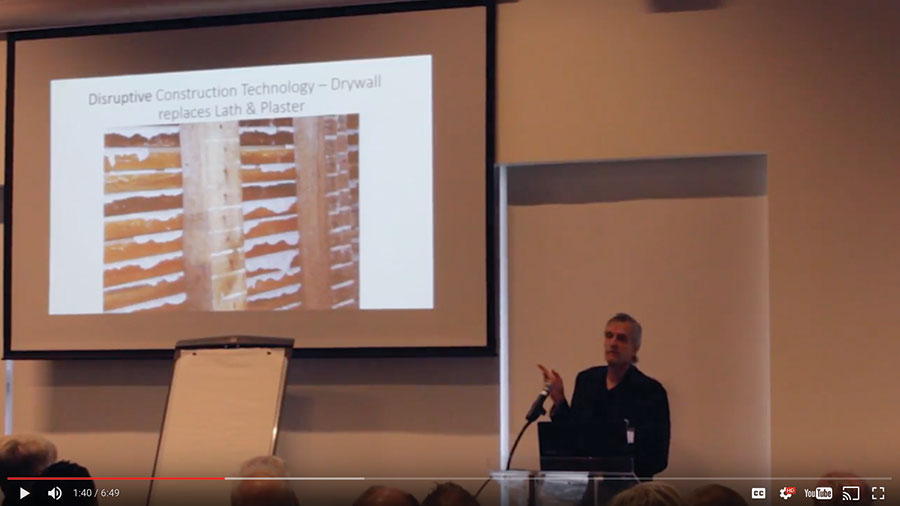 ICF Expo a Success
In early March, Fab-Form hosted a well-attended ICF Expo near Vancouver, B.C. Canada. Rick Fearn, who organized the one-day event, reports that about 200 building professionals from the region attended to learn about "the role of ICFs in the future of construction."
The expo included an exhibit area where fourteen manufacturers displayed their ICF wall and floor forms including accessory products. The primary focus, though, was the education seminars, where 18 industry experts presented a variety of topics. Speakers included architect Reema Masri, who discussed the many ICF midrise condominium complexes her firm has designed in Waterloo, Ontario; Luke Pinkerton, CEO of Helix Steel, who discussed concrete reinforcing with micro fibers; Keven Rector, technical director at ICFMA who discussed engineering challenges; and Chris Mattock, a principal at HDC Consulting, who discussed the greening of construction.
Videos of the presentations are available online and can be accessed via the expo website www.icf-expo.org/archives.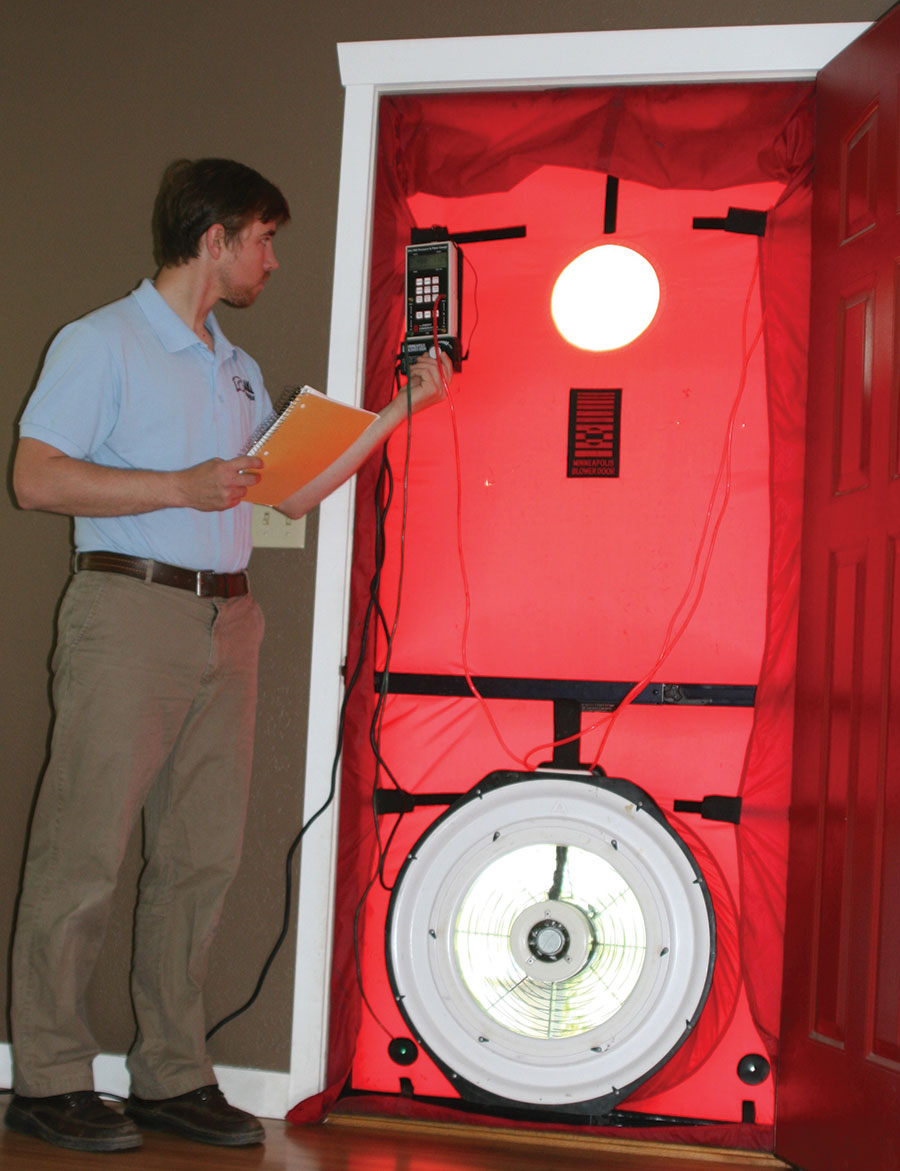 Appraisals To Include HERS Scores
An effort is underway to require homebuilders to disclose energy efficiency data to potential buyers.
The cost of home ownership—such as utilities, maintenance, and association dues—is a major factor in purchasing a home, but not always obvious. Energy costs are a major portion of these costs, approximately to 4% (roughly $2,200 per year) of the average household's income, but many consumers in the market for a home have little or no information on the energy efficiency of homes they are evaluating.
Now, a new effort by Residential Energy Services Network (Resnet) and the Appraisal Institute, the association of professional real estate appraisers, will make home energy efficiency more transparent to buyers. Going forward, appraisers will be able to add an addendum covering "green" elements of the home, such as additional insulation, and includes them into the valuation of the property. The building's HERS score will be included, as well as any certifications, such as LEED for Homes.
Resnet executive director Steve
Baden explains, ""One of the largest barriers to the building and selling of high performance homes is that the value is often not reflected in the real estate appraisal. Many of the features that make a home energy efficient are hidden behind drywall and aren't obvious to home buyers. Our goal is to make information, such as the HERS score of a home, visible in the appraisal so that consumers have more facts available to make their decisions."
Resnet has already compiled a database with HERS scores for more than 200,000 homes across America. The Appraisal Institute will have access to Resnet's database of HERS-rated homes on a state-by-state basis.
"Often the builder has to 'eat' the added cost for high performance or the buyer has to pay for the improvements out of pocket," Baden notes. "Having the energy performance of the homes recognized in the appraisal means they can be financed through the mortgage loan, which reduces out-of-pocket costs to the owners."
He continues, "The technology is there, the economics are good and NAHB research has shown that consumers want energy efficient homes. It's time that we made this information more transparent to consumers so that they can have as much information as possible to make that critical home-purchase decision," Baden says.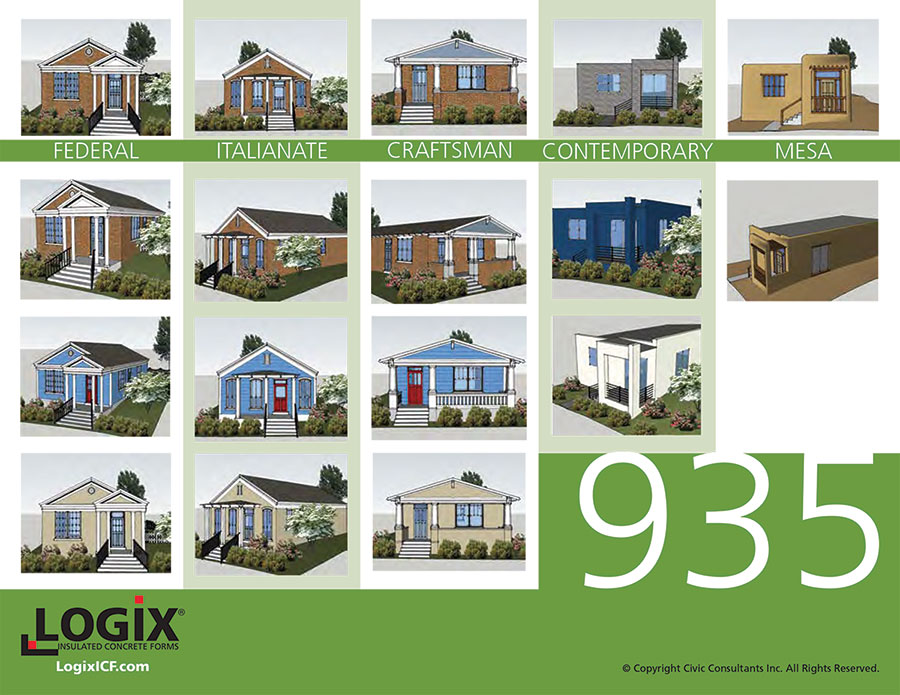 Logix Offers Small Home Designs
In January, Logix ICF unveiled a new series of home plans developed in conjunction with Civic Homes.
Dubbed "Civic Home Plans for Logix," the floor plans focus on efficiency. They include one- two-, three- and four-bedroom layouts with living areas ranging from 415 to 1,810 sq. ft. and are "Net-Zero Ready". The designs are optimized to Logix' dimensions, and are offered fully estimated, including the finishes and appliances.
"This is a collection of tasteful home designs crafted to provide families with strong, long-lasting, disaster-resilient homes that are comfortable, energy-efficient and affordable," says Andy Lennox, marketing director for Logix ICF.

Concrete Midrise Advocacy Continues
The National Ready Mix Concrete Association (NRMCA) continues to advocate for ICFs in midrise construction. The campaign, called "Build With Strength" offers design assistance for specific projects in addition to promotion and lobbying efforts.
Recent activities include calling on the Maryland State Senate to limit dangerous and combustible lightweight wood construction in mid-rise residential buildings, and urging the Florida Building Commission to maintain its prohibition on using wood-frame construction in public school and college buildings.
The Maryland advocacy centered around a discussion of Senate Bill 722. Six young children were killed in a Baltimore house fire in December, and nine other state residents were killed due to fires in the first 30 days of 2017. In response, the fire safety community, structural engineers and proponents of safer construction methods are coming together to urge Maryland's lawmakers to enact stricter building code standards to prevent needless tragedies from striking the community.
"The code changes that have gone into effect in Maryland over the last eight years allowing the use of combustible framing materials in taller and larger buildings contain unparalleled levels of risk," said Steve Lohr, fire chief in Hagerstown, Md. "SB 722 is without a doubt a definite move in the right direction."
The Florida Building Commission was debating whether to amend the Florida Supplement to the 2015 International Building Code, which specifically prohibits wood-frame construction in school board and college buildings. NRMCA partnered with the Masonry Association of Florida and the Florida Concrete & Products Association, to defeat the proposed modifications to allow wood-framing.
"Requiring the use of noncombustible materials that won't rot, mold, or warp, and can withstand the full force of hurricane-force winds, is a no brainer for schools," said Kevin Lawlor, a spokesperson for Build With Strength. "In Florida, that means bricks and mortar, concrete and steel rebar, not wood-framing."