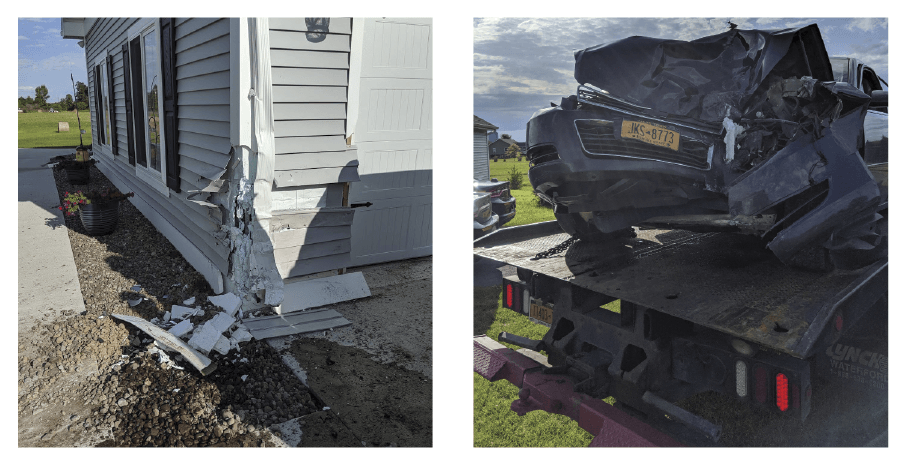 ICF Home Survives Car Collision
ICFs have proven their strength once again, this time protecting a New York home from an out-of-control automobile. 
According to Daniel Byers, sales manager for Top Notch Building Components in Clayton, New York, the driver hit the house going between 45-50 mph. Built with Nudura ICFs, the wall has a four-inch core of steel-reinforced concrete. There was no damage to the concrete or drywall on the inside of the garage corner that was hit. 
"If this was a wood-framed garage, the car would have went through the wall into the garage, or possibly the house," Byers says. As is, the siding and other minor damage can be easily repaired.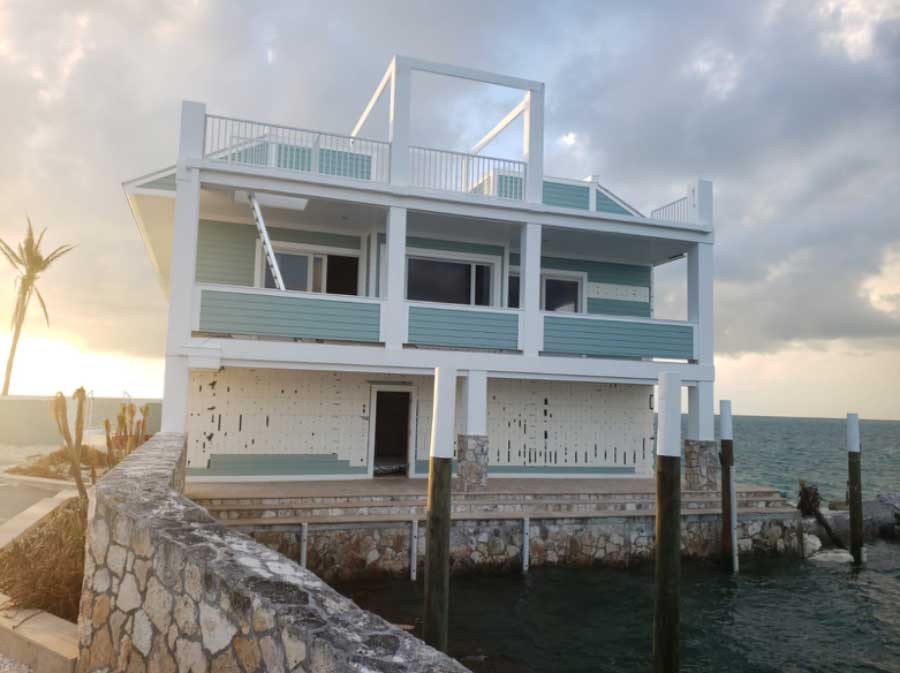 ICF Home Survives Dorian
Hurricane Dorian is said to be one of the worst natural disasters ever in the Bahamas. 
Winds were in excess of 150 miles per hour for two days straight, and on several major islands, 60% of homes were destroyed or severely damaged. 
On Grand Abaco Island, the hardest hit, one homeowner found his ICF home was fortunately still standing after 36 hours of punishing hurricane-strength winds.
Built with Amvic ICF, just a few hundred feet from the beach, the home did lose a few patches of siding, but the structure of the building and its contents survived unscathed.
"As natural disasters continue to take lives and destroy homes, one can only want to prevent the situation from happening again and prepare for the worst," says Laura Catalan, director of marketing at Amvic Building Systems. "Insulated concrete forms (ICF's) have been proven to stand tall amidst natural disasters. Since we can't always change building behaviors, we need to educate on ways to build disaster resistant buildings; especially in disaster prone areas."
More photos of the home, along with a video of the surrounding area can be viewed in the online version of this story or on the Amvic blog.
In an otherwise booming U.S. economy, the U.S. housing market is weakening. Dodge Data and Analytics reports that new construction starts moved 5% lower in September to a seasonally adjusted annual rate of $774.1 billion. This marks the second consecutive monthly decline . Residential construction dropped 6%, while commercial construction starts held virtually the same pace, rising less than 1% during the month. 
Through the first nine months of 2019, total construction starts are 3% lower than 2018 due to pullbacks in both residential and nonresidential construction starts. Single family starts are down 4%, while multifamily has declined 11% year-to-date.
Richard Branch, chief economist for Dodge Data & Analytics, says, "Construction starts have certainly throttled back in 2019 due to mounting uncertainty over the country's economic health."
Ispan, makers of a steel pourover decking system popular with ICFs, has expanded their dealer network. In August, they announced that Pinnacle Agencies is now an authorized dealer of Ispan products in Atlantic Canada, including the provinces of Newfoundland, Nova Scotia, Labrador, Prince Edward Island, and New Brunswick.
Dwayne Schaus, director of sales, says, "Pinnacle has built a reputation of being the leading source of technical sales and support for construction and industrial products in Atlantic Canada. We're thrilled that they've chosen to distribute our product."

A new searchable database for ICF professionals is now online. It's designed to make it easy to find ICF contractors, installers, dealers, distributors, architects, and engineers locally. Called ICF Hub, the directory can be accessed at www.icfhub.com. The distributor and contractor segments of the website already have well over 700 listings in each category.
The database is searchable by location, and features an interactive map.
A reliable, comprehensive database to connect homeowners, developers, and general contractors with ICF installers is one of the greatest needs in the industry. 
A basic listing is free, and companies who join ICF Builder Group get a complimentary upgrade to a premium listing where they can select the areas they work in, the type of construction they do, photographs of past jobs, and detailed company contact information. Clients are able to include feedback on the jobs, separating the conscientious professional from the amateur.
"I'm confident that this will be a great benefit to members, as it will generate a significant number of quality leads for their businesses," says Clark Ricks, executive director of ICF Builder Group and editorial director of this magazine. 
To claim or set up your listing, visit www.icfhub.com.