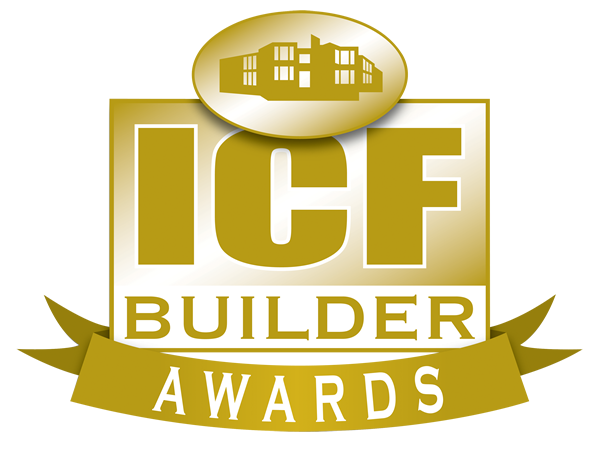 2013 Light Commercial Winner
Winner of the Best Light Commercial Project for 2013, the All Saints Catholic Newman Center is a landmark on several levels.
It is located adjacent to the Arizona State University Campus on the corner of University Drive and College Avenue, purported to be the busiest sidewalk in the United States when school is in session. But the project is also a landmark for the ICF industry, setting several new benchmarks.
The building is owned by the Catholic Archdiocese of Phoenix, one of the major drivers of commercial ICF construction. (They've built more than a dozen major ICF projects in the past few years, with at least that many more in the planning stages.) This facility serves as a social and religious resource for Catholic students at ASU, developing and strengthening the faith of the next generation of community, business and spiritual leaders.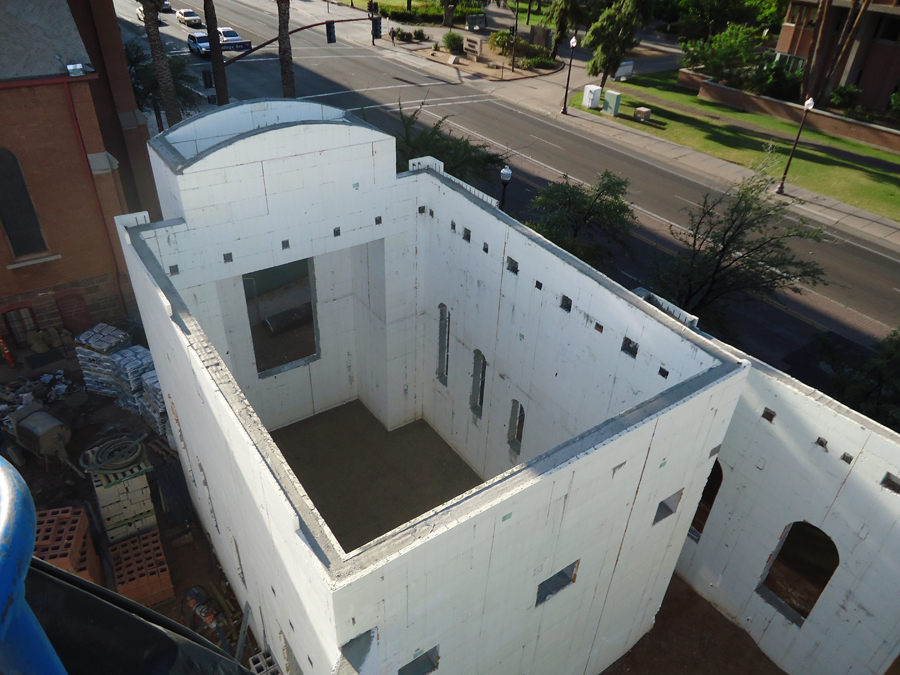 Rod Fetters, the ICF installer for this project, says, "The level of complexity and creativity on this project had no limits." The 21,000 sq. ft. building used more than 32,000 sq. ft. of forms in the exterior walls, plus an additional 13,000 sq. ft. in interior walls and landscaping.
As noted above, the jobsite was on a busy corner, and three sides of the structure abutted the property lines, which left little room for the required privacy fence. Fetters says, "With all the other trades working on site, it made material storage and bracing a huge challenge."
After losing several bundles of forms to careless heavy equipment operators, Fetters transitioned to a Just-In-Time inventory system and invented his own tall-wall bracing system that allows work to continue below the scaffolding while ICF work continued vertically. This overlap of trade work, including plumbing, electrical, concrete, etc., allowed for maximum efficiency.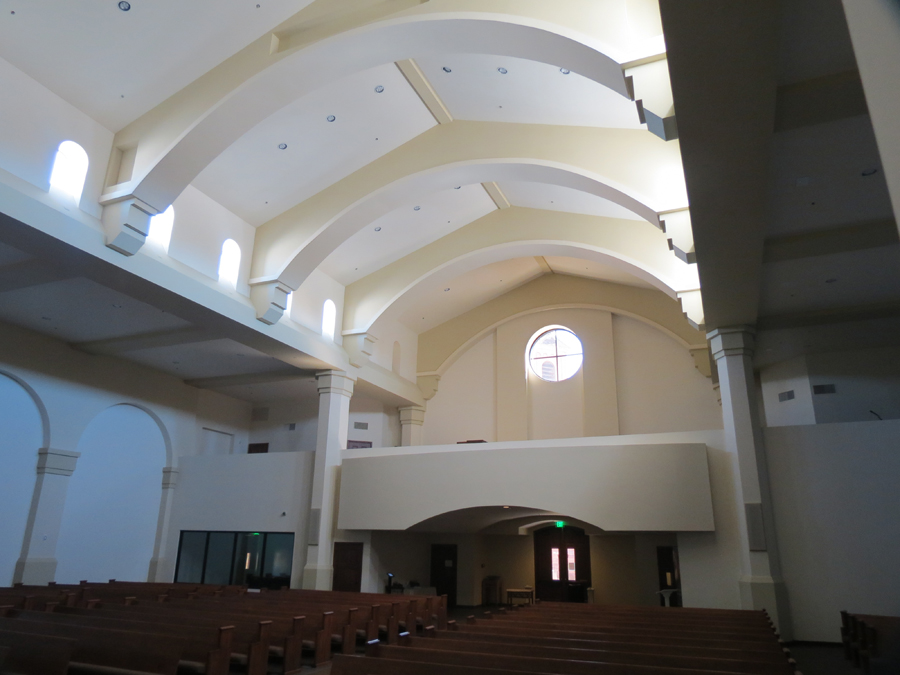 These obstacles weren't even the most challenging part of the build. Wall heights rose to 40 feet, with multiple angles, arches, and nearly 1000 embeds. Fetters says, "The columns and arched walls in the rear patio gathering area required multiple core sizes and numerous T-wall assemblies."
"Another trying portion of the build involved the various ICF core-size changes along with brick ledge and taper-top block to support the custom brick and stone work," he continues. "Keeping the wall assembly plumb and level throughout its entire expanse proved to be quite a challenge,"
Still, ICFs proved to be the most efficient building method. Fetters says, "A decision, which ultimately sped up the construction process but at the same time demanded a higher level of craftsmanship, was the choice to install the hollow metal door frames simultaneously with the ICF. The frames were considerably smaller than the actual core size, which complicated things further, but ultimately saved the door subcontractor an estimated six days."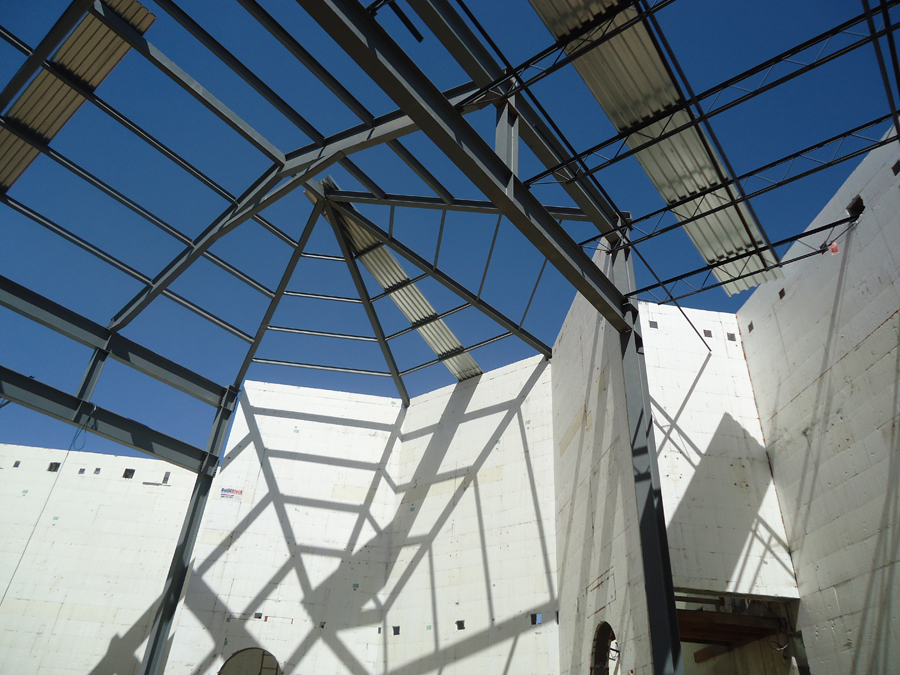 A highly creative feature was the underground stormwater cistern and mechanical shafts for the under-floor heat and air. These were both designed as cast-in-place concrete, but with some quick value engineering, they were changed to ICF, saving the project $11,000.
Unrivaled craftsmanship, innovative bracing, and attention to detail kept the project on schedule. Despite having 16 different elevation variations on the project, when the steel beams and joist were installed, not a single one of the 960 embeds had to be removed or manipulated.
The eye-catching 8-foot diameter Rosary window, which overlooks the ASU campus, fit into place without a hitch.
In addition to ICFs, other efficient/green design features included LED lighting, low-flow fixtures, a geothermal heat pump, and a photovoltaic system that will be installed this year. The building uses a unique under-floor ventilation system in the chapel area. "With the high ceilings and open area of the chapel, this is the most efficient and uniform way to cool and heat a room filled with two thousand people during Mass," Fetters explains. "Should the owner decide to have the building energy tested, it would qualify with a platinum certification."
Because of the building's unique attributes, it hosted a steady stream of visitors, including architects, design firms and outside general contractors. Professors and students of ASU's construction engineering and management programs—considered one of the top three in the nation—regularly toured the project, which will have a significant and ongoing impact for the future of ICF construction.
The Newman Center has also been covered by local media for its innovative design and construction process.
Location: Tempe, Ariz.
Type: Mixed Use Chapel and Classrooms
Size: 20,800 sq. ft. (floor)
ICF Use: 32,400 sq. ft. (all exterior walls) + 10,500 interior walls and 2,300 sq. ft. landscaping
Cost: $4.8 million
Total Construction Time: 14 months
ICF Start-to-Finish Time: 105 days
Owner: Diocese of Phoenix
General Contractor: D.L. Withers
ICF Installer: ICF Specialist
ICF Distributor: BuildBlock Direct
Architect: Phoenix Design Group
Engineer: A.V. Schwan
ICF System: BuildBlock
LED lighting, stormwater retention/irrigation cistern. Photovoltaics planned for 2014
Massive ICF arches supported by ICF columns
Tall walls, multiple angles, huge unusual window openings
LED lighting, low-flow water fixtures, geothermal heat pump
Every single one of the 960 embeds was set perfectly
Extremely tight site; three abutted the sidewalk
Pioneered new tall-wall bracing system
Extensive local publicity, including tour by ASU construction management and engineering students
Like what you read?
Yearly Subscriptions Starting @ $30