Similar skills, different applications
Across the country, contractors are scrambling to adapt to the pandemic in a few ways. Demand for new homes and home remodeling is skyrocketing while at the same time, commercial construction is in a decline (Dodge reports that overall starts in the commercial sector dropped 23% in 2020). One of the growing markets is in pool construction. In addition to expanding their manufacturing facilities in Canada, BuildBlock has developed radius ICF blocks specifically for pools, which has turned into an advantage for ICF contractors in today's environment. 
"Local, regional, and national pool builders that we've talked to are looking for ways to add to their ability to build more pools," says Brian Corder, president and CEO of BuildBlock Building Systems." There aren't many people with the skillset to do ICF pools but in today's world you're seeing a lot of people that are interested in adding pools to their properties because they want their own backyard retreat."
About three years ago, BuildBlock released a full set of prescriptive engineering for ICF pools. Those guidelines are continuously being revised, and the knowledge is supported with webinars and additional educational resources. With COVID changing the way people live in their homes, customized entertainment spaces and relaxation zones are becoming more popular. Corder says builders and homeowners are starting to realize that they can build pools using the same materials, using the same contractors, and add a pool either while they're building a new home or remodeling a home for little extra cost. "If you're digging a hole for your basement, dig another one for the pool at the same time," Corder says. 
BuildBlock has also added staff to support their BuildCrete Pool Plaster, a pool plaster system that they developed with GigaCrete. So far, there's been a tremendous amount of interest in the skills and materials for pool building. Corder says the installers they talk to are booked for months. 
"An ICF pool is fast to install and pretty straightforward to build and fairly cost effective, especially when compared to a gunite pool system," Corder says.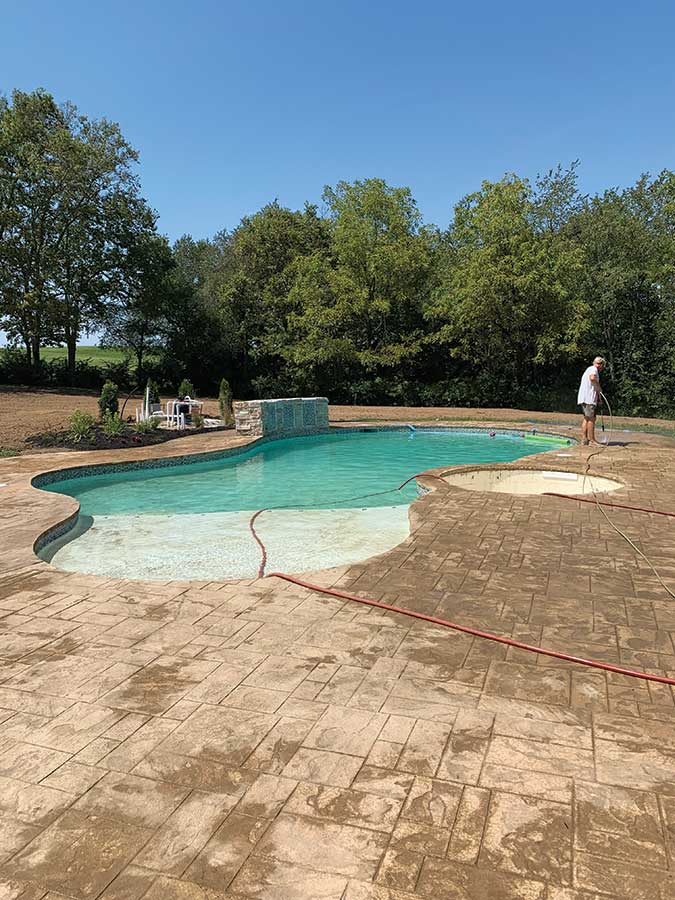 Steve Carroll, a distributor for BuildBlock located in Kentucky, has seen his pool business grow through word of mouth over just the past few months. He currently has two pools under construction and three more on schedule to build, which has him booked through the end of August as of early February (he builds houses and other projects also).
Carroll was already knowledgeable about ICFs, having built a 7,500-square-foot home with ICF roofing and an ICF floor for his first-time ICF build. He took Corder's advice and built a 15×50 ICF pool while the home was under construction. Later, he designed a pool for one of his subcontractors using BuildBlock's radius blocks, and provided guidance during the DIY construction process. Then, he sold another pool to a DIYer who later decided they were too busy and had BuildBlock of Kentucky finish the pool project.  
"After that, I felt ready to start charging people real money for pool building," Carroll says. He's now providing design consultations to pools all over the country. While installing an ICF pool is something that homeowners can DIY, it is not easy. In particular, it's useful to know how to do the final coating. 
"Pools are a huge growth opportunity, in particular with the thermal values that the pools can deliver," says Carroll. "I've talked with some very experienced gunite pool builders and they are very interested in learning the skill because there's less labor, cost, and quicker turnaround time."
There are three basic systems for creating pools: installing a vinyl liner, gunite (a fine aggregate concrete product that is sprayed on), or a poured concrete pool. Both liners and gunite produce good pools, but customization and size can get very expensive. Gunite and concrete pools need to be professionally finished and plastered, which is the part that can be difficult for beginners to master. Alternatively, Carroll notes, you can install an ICF pool finished with a liner. Carroll currently uses BuildCrete for his pool coatings.
One company that solves the liner problem is Sider-Crete. COO Ivan Burgrand says less than 10 years ago they would receive calls about pools once or twice a month. Today, they get calls daily, he says. About nine years ago they partnered with ICF manufacturer Quad-Lock to develop a hybrid system for pool finishing. Sider-Crete already manufactured pool plaster, and they developed an acrylic modified replastering material for swimming pools. "It's a completely waterproof plaster," Burgrand says.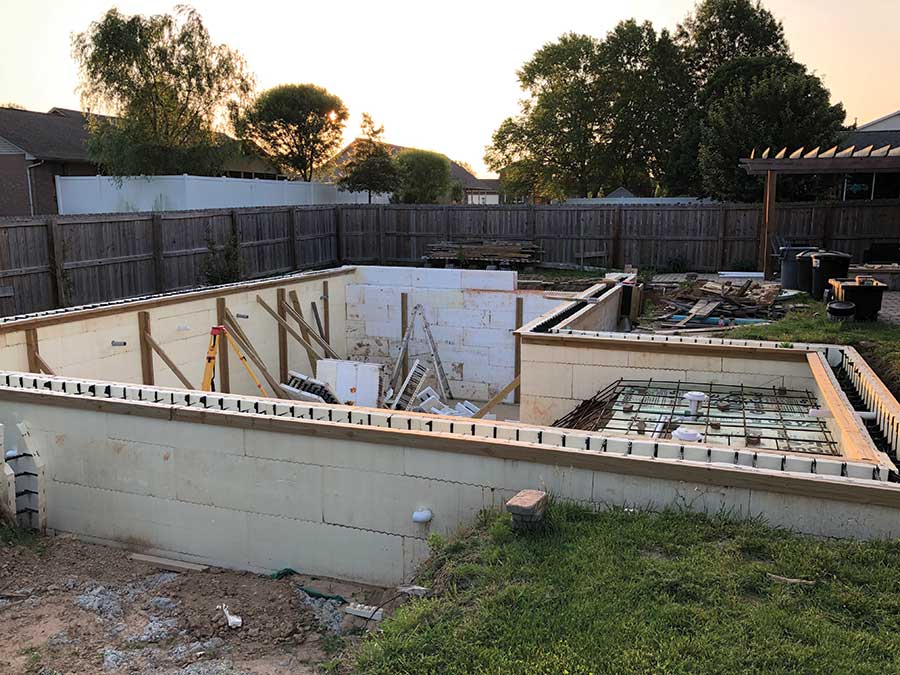 The Sider-Proof FF-PR Roll-On Pool Plaster is a cement-based, swimming pool plaster and resurfacing coating for gunite and shotcrete pools, existing plaster and marcite, concrete, and ICF swimming pools. It's flexible, impact-resistant, and can be used on any shape pool. First, apply a base coat, then two coats of the roll-on plaster, which is available in a few colors and some with quartz added. A high-impact reinforcing fiberglass mesh is embedded into the base at the time of the application.
"We supply thousands of pools every year with this roll-on plaster," Burgrand says. "The ICF contractor can apply it themselves. They do not have to rely on a pool plaster to come in. The builder can use his own crew or his mason, or even a stucco contractor to do the application."
BuildBlock is focused on taking their existing customers and providing them the resources to help them grow, and providing pool design consulting in addition to pool building services can be an excellent way to increase revenue. "Homeowners, if they decide to install their pool themselves, will still need some advice on what size pool pump they need or how many skimmers they need, what size piping do they use, and things like that," says Carroll. "It's good for them to have access to a pool builder or consultant who can help them along."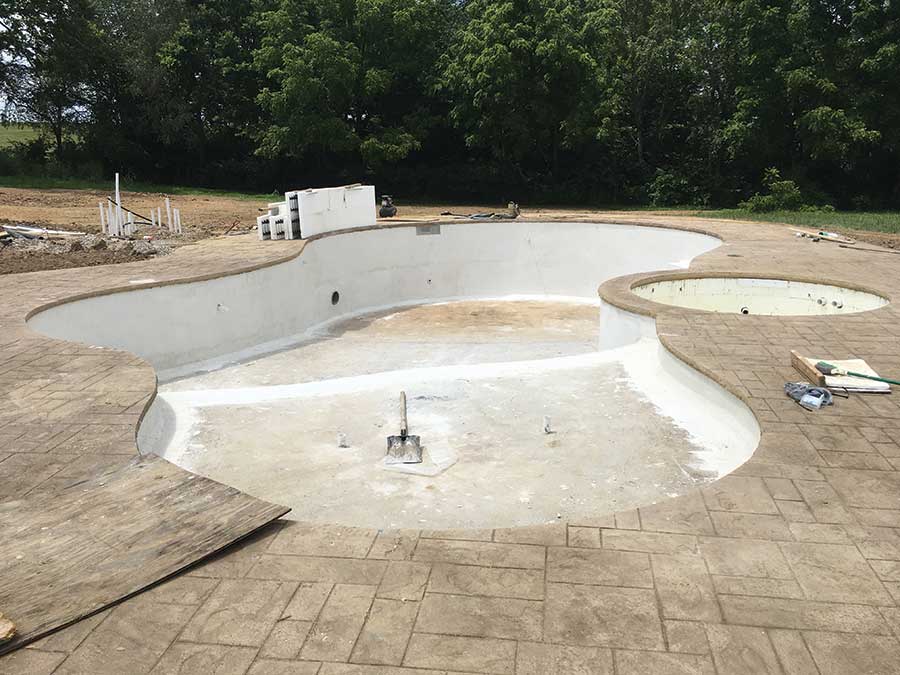 Corder says the skyrocketing price of lumber in addition to an increased interest in sustainable building methods in general is helping the ICF industry grow. In addition to pools, accessory dwelling units, or ADUs, are also a popular way to use ICFs. "If the industry can take advantage of some of those things then I think we can see some longer-term growth," he says.
A key to success is finding more skilled installers and contractors—either converting contractors by teaching them new skills or training them from the ground up. 
"The short answer is, you find ways to keep people in business and then give them jobs to help them make money," Corder says. "ICFs will continue to gain greater market share, especially with where lumber prices are. The next two to four years will be a really interesting time to see what happens in terms of the insulation performance and energy performance that will be required by new structures, especially new multi-family residential structures and single-family homes."
Joey Hughes, owner of Hybrid Building Solution in Sandpoint, Idaho, has been building with ICFs for 20 years, and his family has been installing gunite pools for more than 30 years on the East Coast. He built his first ICF swimming pool and hot tubs in Alaska 15 years ago, and saw an avenue for building pools with ICFs—he typically uses Amvic today. "I realized, why couldn't you just take a bunch of forms and run all your plumbing and stuff through the walls," he says. "You have a thermal protective barrier with the ICF, just like you do with a house, where you can keep the water warmer. So we started doing swimming pools based on that and it was much more efficient."
The pandemic intensified demand for pools across the country. In most cases, pool manufacturers had run out of inventory for even simple above-ground pool kits, Hughes notes. Pool builders were also booked more than two years in advance not just because of the demand, but also lack of materials such as pool liners. Hughes found that liner manufacturers were unable to keep up with the demand due to a lack of raw materials needed to produce the liners. He looked for alternatives to vinyl pool liners and found several products that could be substituted and used, for example spray- and trowel-applied pool liner systems that are ICF friendly.
To Hughes, the concept of building a pool out of ICFs makes perfect sense. "An ICF pool is superior to a standard pool much in the same way and reason as builders build homes and commercial buildings out of ICFs," he says. "ICF pools provide all the same benefits as any other ICF structure—there are fewer building steps, they are faster, and more cost effective. They are far more energy efficient by providing dual thermal breaks."
Hughes insulates the underslab of his pools, to maintain a more consistent temperature with less energy input to heat or cool. "An added advantage of an insulated slab is you can also add radiant heat tubing and basically turn your pool into a giant hot tub or make it usable year-round even in winter months with minimal expense to heat," he says. 
All this has helped grow Hybrid Homes to an unexpected level. At the beginning of 2021 Hughes expected to hire 20 new positions for the upcoming season. He's now hiring 40 new positions spread across all levels of the company, including a new panelization facility in Washington. The company's philosophy is not to turn away opportunities and say it can't be done. Instead they hire and train new staff to fill the building demand. Hughes also believes that other ICF builders aren't competition.
"We've heard this philosophy about not training your employees too much," Hughes says. "We realized that that model doesn't work. Our competition isn't necessarily the other products or the other people out there building with ICF because they're actually doing us a favor. They're helping to market and grow the ICF building industry. If your competition is building an ICF house, then more people get exposed to it. It makes it easier for us to sell an ICF project."