ICFs are starting to gain market share in retail construction, thanks to the growing importance of energy efficiency, durability, and sound attenuation.
The last four or five years have not been kind to any segment of the construction industry. But it appears the slowdown has allowed ICF construction to gain a toehold into a few market niches, such as big box retail construction, that have traditionally been dominated by other construction methods.
Big-box retail has been overwhelmingly dominated by tilt-up construction for decades now.  It's cost effective because these buildings have a large slab relative to total wall area. So the tilt-up forms for all the walls are set at once. The concrete comes in all at once, and the crane comes out to the jobsite just once and sets all the walls. Factors that complicate tilt-up—windows, corners, differing wall heights, etc.—are minimal in big box stores.
Pieter VanderWerf, who writes for this magazine, also noted, "Most big box buildings historically have low insulation and aesthetic requirements. A plain concrete wall is adequate."
However, owners are starting to insist on better looking, better insulated buildings. And that means ICFs are starting to pick up retail projects where disaster-resistance, sound attenuation, and energy efficiency are priorities. National chains such as Ace Hardware, Walgreens, Aaron's Rentals, and others are discovering that ICF construction gets them a better building faster—and sometimes at a lower cost—than other methods.
VanderWerf adds that ICFs tend to win more of the smaller projects. "In smaller projects tilt-up is not as competitive," he explains. "The slab is small enough that casting has to be done in multiple passes. Additionally, most have a more complex floor plan and finishes. All these requirements are expenses that take away tilt-up's cost advantage."
Efficiency
The extraordinary insulation ICFs provide is a major selling point for any property developer that will also be the long-term owner.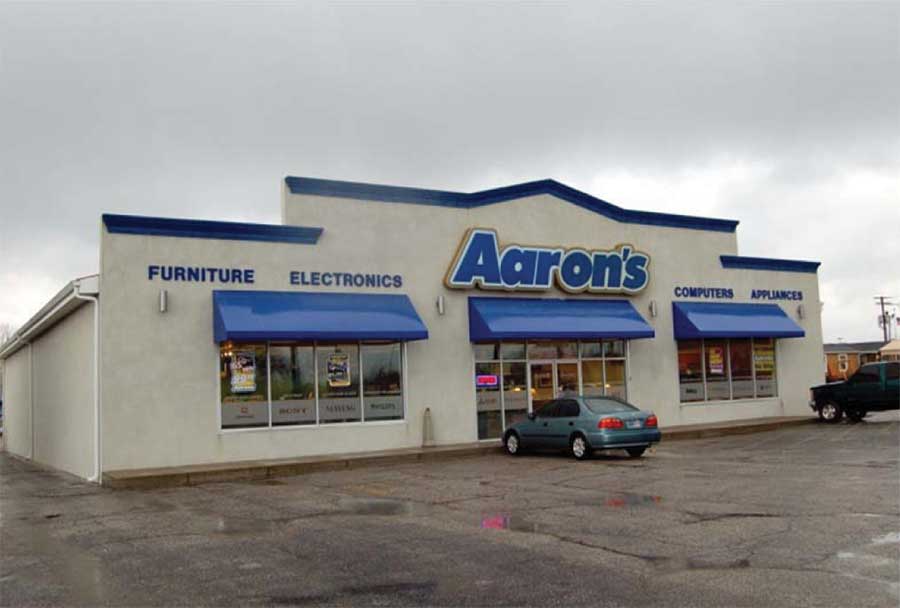 Andrew Stephens, a territory manager for LOGIX on the West Coast, says this was the major selling point for a 19,000 sq. ft. Ace Hardware Express store built just south of Redding, California. He credits the form distributor, Lee Morton, with providing "stellar support" to the architect, GC, and owner so they felt comfortable going ahead with the choice.
Construction went forward extremely rapidly, despite temperatures well above 100 degrees on many days. The interior slab was to be stained concrete, so all bracing of the 22' walls had to be done from the outside. Similarly, no scissor lifts could be used inside the building when it came time to set the 2,200 roof bolts.
Stephens says, "Located adjacent to the I-5 freeway, it was a highly visible project. Architects, contractors, engineers, and the interested public all made numerous site visits." Completed in 2008, the owner is extremely pleased with the energy bills, and has commented on the quiet interior, despite being near the busy interstate.
"This project shows both large and small chain retailers that ICF is a viable option," Stephens says.
More than 2,000 miles away in Madison, Indiana, the developer of an Aaron's retail store in Madison, Indiana chose ICFs for the same reason. In his case, though, he knows exactly how much he's saving: about $300 per month. He knows because he's compared his utility bills to those of three other Aaron's locations located within a 50-mile radius of his store. The ICF structure costs just over a dollar ($1.01) per sq. ft. to heat and cool. The CMU outlet costs $1.77, and the nearby light-gauge steel structures pay $1.52 and $1.29. They're powered by propane and natural gas, respectively.
Reward Wall Systems, which provided the ICFs for the Aaron's store, reports that at least one additional store has been built with their ICF because of the success of this project.
Shorter Construction Times
In retail, time is money. The more quickly a building is built, the sooner it can start making money. So shorter construction schedules can mean real savings for the owners. Joe Withey, owner of Withey Health Foods in Kalispell, Montana, chose ICFs primarily for other reasons (more on that below) but was pleasantly surprised at how easy it was to transition to the new building.
The new, larger store abutted the existing one, but the owner was still able to continue business as usual. Working from inside the new building's footprint, workers quickly got the ICF walls up, braced and poured. Once the building was closed in, they finished up the inside, all while patrons continued to visit the existing store.
When completed, the owner used a three-day weekend to transition to the new location, and subsequently demolished the original store.
Healthy Environment
The primary reason Withey chose ICFs was for their health benefits. "I wanted a healthy built environment," the owner says. "I needed a building material that fit into the health store philosophy, with non-toxic materials and no off-gassing."
ICFs fit these requirements perfectly. And while he may not have chosen ICF for efficiency, he enjoys that benefit too. The 6,500 sq. ft. store has heating costs of only $92 per month, despite wall heights of 36 feet and a location in far northern Montana.
Sound Attenuation
Another often overlooked benefit played into the construction planning of the Napa Auto Parts Store in Hillsboro, Oregon, just west of Portland.
"The store is located right next to an airport and helicopter training facility, so sound attenuation was a big factor," say Mark Schneider, of ICF Construction, Inc.  Schneider used Reward's 13" iForm, with an STC rating of 54 for all exterior walls.
He continues, "More important was an energy tax credit available from the power companies in Oregon. The power companies paid for 80% of the cost of the concrete and forms through tax rebates over a five year period."
Barry Hess, the store owner, says, "Although [Oregon's Business Energy Tax Credit] was a big factor, it wasn't nearly as big as the lifetime costs for the building. I didn't want to build a store that I couldn't afford to live in. I'm very pleased with my heating costs so far this winter. When the outside temperature is 30° or above, we have been heating the entire building with one 4-ton heater. According to code we are required to move a lot of air within the building. If we didn't have to do that, we probably could've used just one 5-ton residential heater for our whole heating system."
He reports that the building does a great job blocking outside sound—as expected—but says if he had to do it again he'd add even more insulation to the roof.
The 14,000 sq. ft. building used almost 19,000 sq. ft of ICFs, due to the 24' walls. Regarding the construction schedule, Schneider says, "This project took two people that had some experience and two temp helpers seven weeks to put up. This beat tilt-up by quite a bit."
Conclusions
Stephens, the LOGIX territory manager, believes ICFs bring many advantages to retail construction. "With long, tall wall runs and minimal openings, this project maximizes the efficiency of ICF walls," he says.
Troy Gibson, marketing manager at Reward agrees. "You can build in a shorter time with smaller crews, [and] the result will be a sustainable building that is energy efficient, durable and requires little maintenance. The virtually soundproof walls allow you to build anywhere, and the strength and safety of steel-reinforced concrete will keep employees and inventory safe from fire and storms."