Five years ago, Ft. Lauderdale, Fla., was in the center of a white-hot real estate market. And when the Krutze family began looking at options for building a resort hotel on 500 feet of ocean-front property they owned, they knew it had to be different.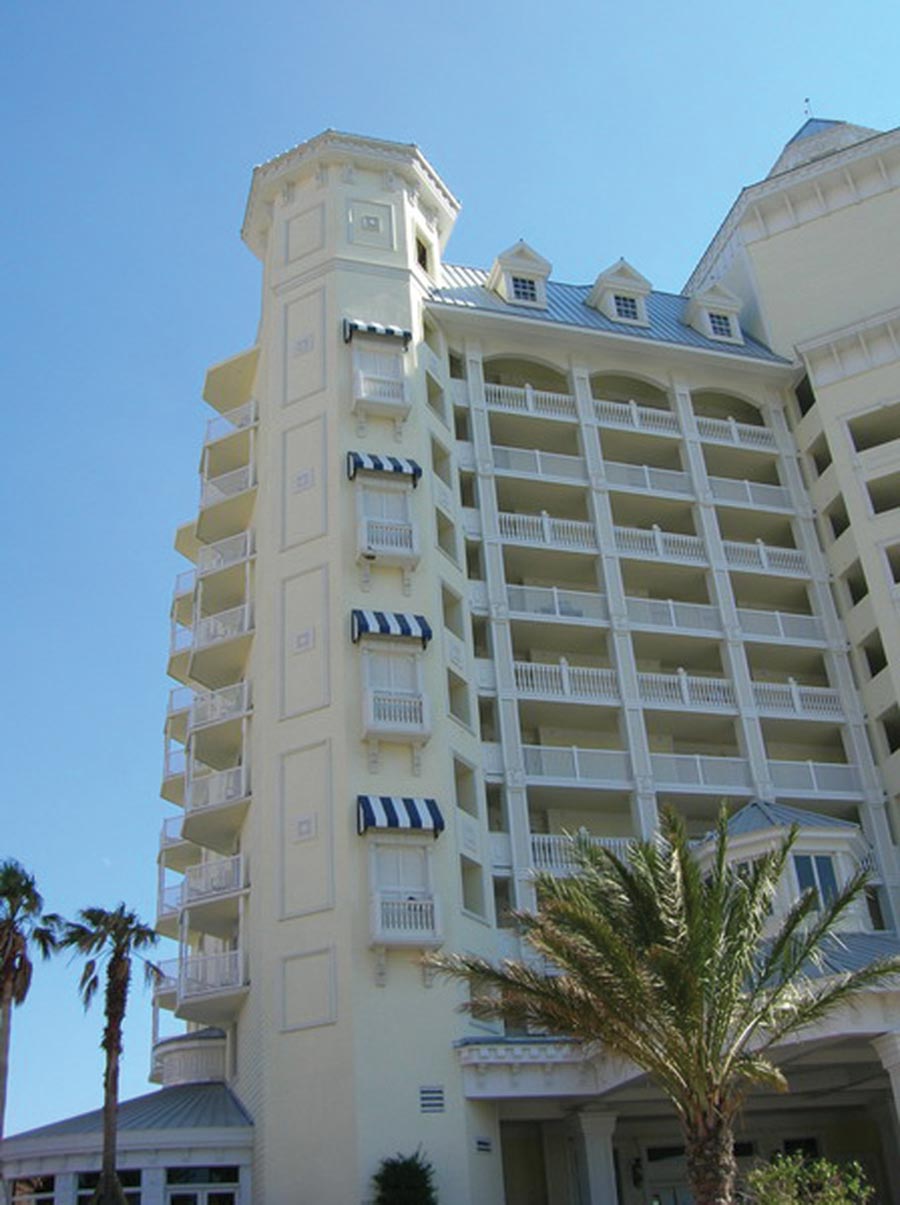 From the beginning, they wanted it to be ecologically friendly. They also needed to meet stringent Florida building code guidelines for strength, durability and non-combustibility. Cost and speed of construction were major factors as well.
The solution to all of these concerns was ICFs. "Basically, they were looking for a faster completion date, and better efficiency for owners," says Harry Pilkington, owner of ICON Structures.
The structural frame of the building was cast-in-place using removable forms. ICFs were used for the in-fill walls. With an underground parking garage, 11 stories of resort suites, and a central tower made of ICFs rising to 148 feet, it is the tallest known ICF structure in North America.
The general contractor brought in ICON Structures to complete the ICF install, after the original contractor encountered difficulties. At the time, ICON had just completed a pair of 11-story buildings in Ft. Myers that also used ICFs as non-structural infill walls, and knew how to make it happen. They used 9- and 11-inch iForms from Reward, got the project back on schedule, and moved forward without any further problems. 
The hotel was originally part of the Best Western hotel chain, and the same design had been built elsewhere with CMU walls. Against that known construction schedule, ICFs proved faster. Even with the slow start, Pilkington says they shaved 40 days off the total construction timeline. They also saved on energy costs. Instead of a 102-ton air conditioning unit, the ICF version required only a 48-ton unit.
According to Troy Gibson at Reward Wall, ICFs integrated perfectly with the other eco-friendly features of the hotel, which included a gray water recycling system for a 50% reduction in water consumption, tunnel form concrete construction of interior floors and walls, and low-e glass. On the exterior, a combination of Hardiboard fiber cement siding and stucco create an exterior that is hurricane resistant and virtually maintenance free.
Pilkington says the only construction challenge was how to fill the ICF wall when the opening was covered by the floor above it. The solution was to put a plumbing sleeve over each piece of rebar—every 16˝ on center—prior to pouring. The bottom  section was filled by pouring through a window cut in the side of the foam. The final few inches of concrete were placed through the sleeves from above using a high-slump mix.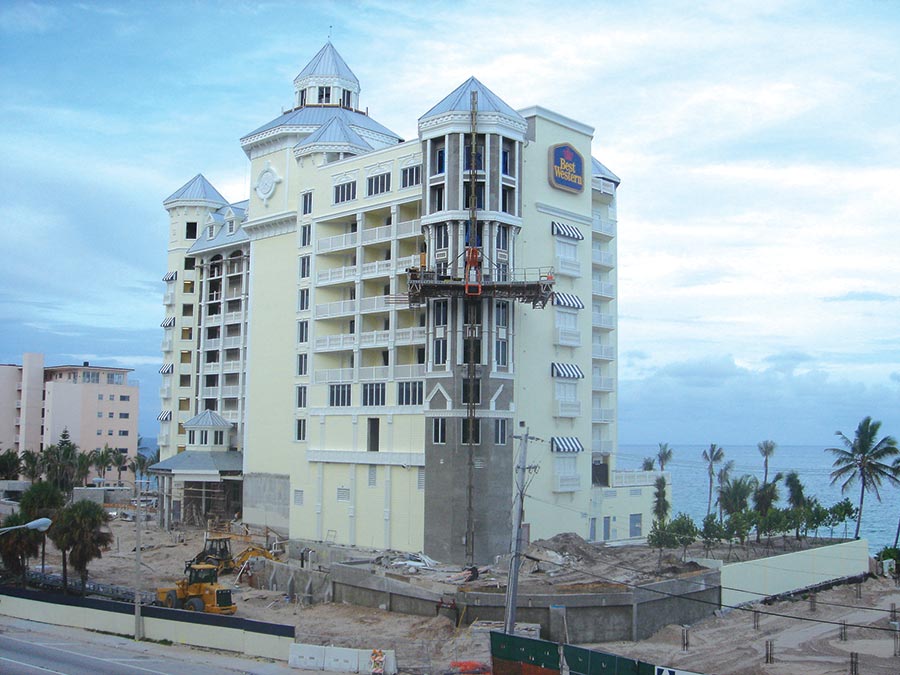 Now under new ownership and named Pelican Grand Beach Resort, thousands of vacationers have enjoyed the energy-efficient, hurricane-proof hotel. It stands as proof of what ICFs can accomplish in the hands of a knowledgeable and experienced builder. 
Project Statistics
---
Project Name: Pelican Grand Beach Resort
Location: Fort Lauderdale Fla.
Total Building Size: 197,500 sq. ft.
Cost: Approx. $20 million
Completion Date: 2005
ICF Use: In-fill walls
Height: 11 stories plus below-grade parking; ICFs reach 148 feet Tallest known ICF structure in North America
Construction Team
---
Developer: Parlin Properties
General Contractor: Emblem Contracting
ICF Installer: ICON Structures
ICF System: Reward Wall (9" and 11" iForm)
Like what you read?
Yearly Subscriptions Starting @ $30