Using 275 cubic yards of concrete and 3,500 ICFs, this 16,000 sq. ft home is anything but ordinary. Elliptical windows, radius tall walls, and significant elevation changes only added to the challenge.
The story of this home begins in March of 2005, when Troy and Paula Walker sat down with a general contractor to begin planning their dream home.
They partnered with Robin Anderson of Metro Design and Drafting to convert their sketches into a buildable plan.
Blueprints specified a 13,255 sq. ft. home built into the sloping hillside. A two-story high great room in the center of the house would provide a measure of privacy for the separate "mother-in-law" apartment in one wing of the home. The immense picture windows built into the great room would provide striking views of the fields and pine trees that surround the site in rural Central Alberta.
A below-grade shop, built with ICFs and topped with a concrete roof, would provided several thousand additional square feet of living space.
Lorne Bingeman and his 5-man crew were brought in to do the ICF work. "This is a significant project that presents architectural and engineering challenges for any building system or technology," Bingeman says. "The design includes radius walls, arched windows, tall walls, high back-fill and significant elevation changes."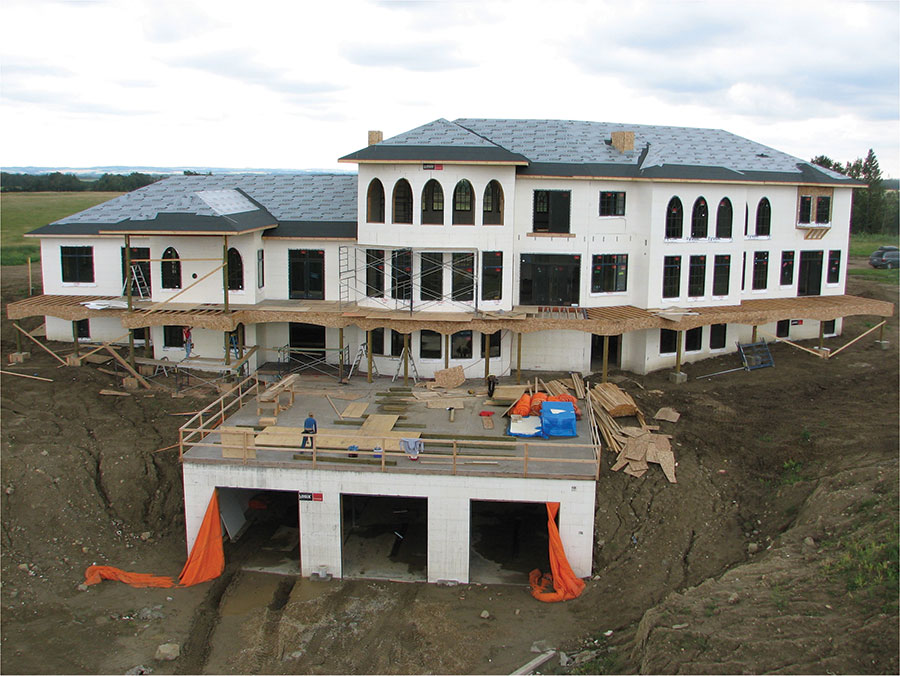 They began with the shop, with walls reaching 14'8". These were stacked with 8" core Logix and poured in a single lift. After the Hambro joists were set, they poured the concrete roof, which doubles as the home's back porch.
The back wall of the shop is curved to match the wall of windows that rises above it. To create the radius, Bingeman wired the ICF forms together internally, then wrapped a 1×4 around the outside of each course to brace it. The result was impressive.
"That's what got us the house," says Bingeman. The home plan had originally specified ICF for the foundation only with wood frame construction for all above grade walls. "But once the owner recognized
how we completed the complicated foundation plan with speed and efficiency, he immediately began to work with the architect and engineer to convert the entire project to ICF," he says.
Bingeman lists the main factors that influenced their decision: energy efficiency, noise reduction, longevity, healthier materials, and structural strength. He adds that the fact that his company had already proven themselves competent and easy-to-work with also contributed to the decision.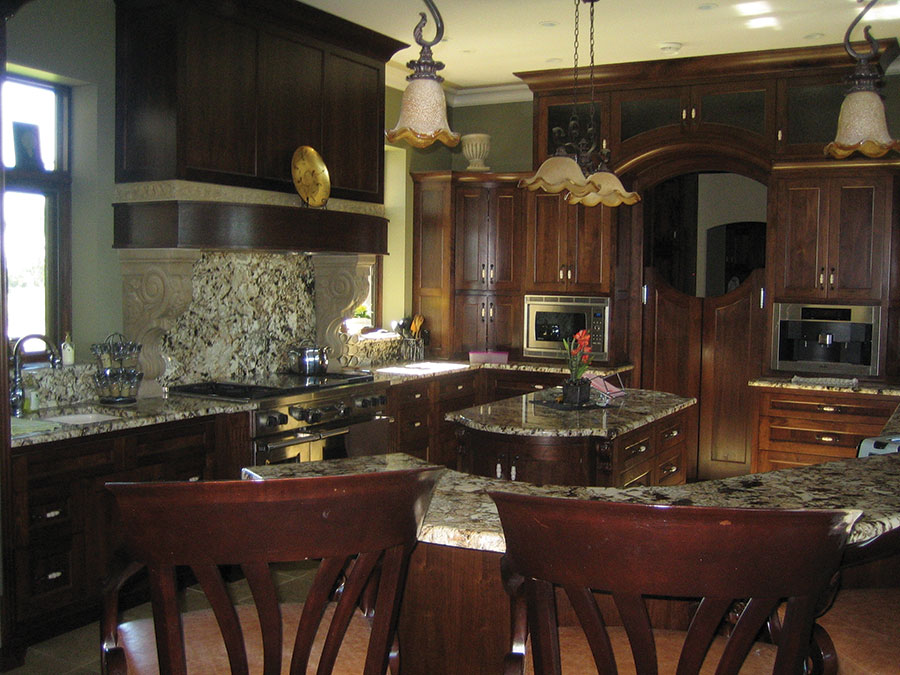 Bob Griffiths, the GC that helped in the design of the home, says, "After reviewing the heat loss calculations with conventional framing, I knew that the cost of heating and cooling this home was going to be enormous. Maintaining a consistent temperature in both summer and winter is a lot easier using the ICF building system… Eliminating noise from the nearby railroad tracks, and the durability and strength of the concrete walls were also factors."
There were also cost considerations. "ICF technology provided cost efficient radius wall construction, arched window details, and provided efficient tie-ins to Hambro floor system," Griffiths says. "The combination of ICF walls and concrete floors eliminated 18 of 20 specified concrete pads, columns and beams."
Griffiths continues, "Conventional framing would require a large amount of workers to frame and erect the building.The ICF system required just one great contractor with a small amount of skilled workers. This made the managing of the project a whole lot easier. The ICF system was more efficient and was completed in less time than what it would have taken using conventional framing… Lorne Bingeman's dedication to this project was evident from the day we first met to discuss the Walker residence. His commitment to excellence and his attention to fine detail made him the perfect contractor to work with on such an immense project."
Despite its size, the home is a monument to energy efficiency. Hydronic in-floor heating is installed throughout the house.An inch and a half of EPS foam was installed under all slabs on grade, and the underside of all the floor joists are insulated with spray foam.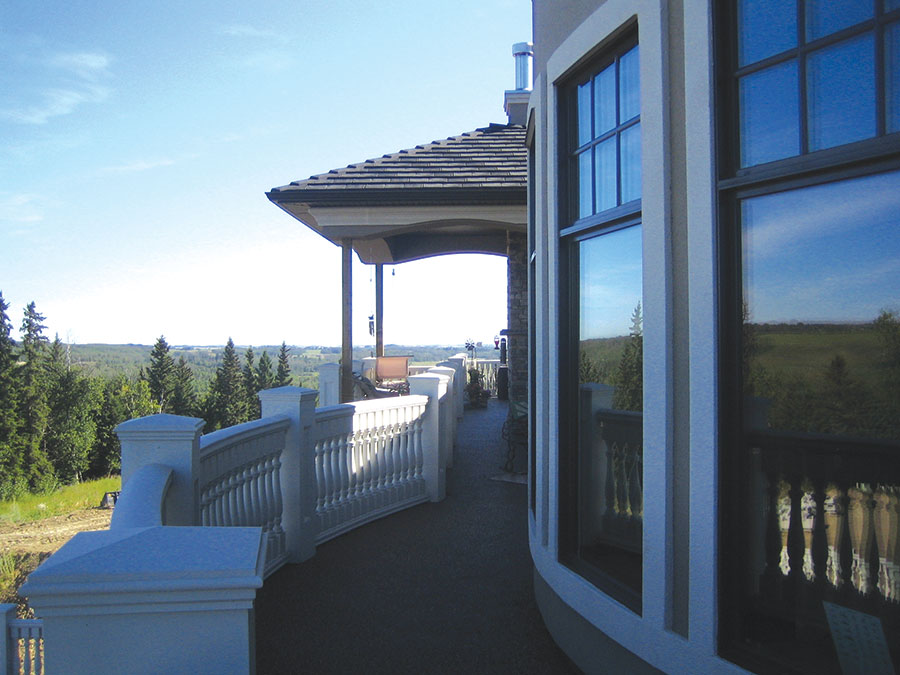 Windows are triple pane, argon-filled, low-E tinted-glass. A "lifetime roof" of imitation slate—actually made from recycled tires—is impervious to snow, hail, and rain, and provides additional R-value and curb appeal.
The biggest construction challenge, according to Bingeman, was the giant radius wall on the back of the home that stretched 50 feet above grade. Bracing was done from the inside, in stages as each floor was set in place.The other challenge was getting the bucks built.
"Building elliptical window bucks into a radius wall is not simple," he says. He ended up laminating the curves using three layers of 3/8" plywood. Cutting the inside of the buck to match the radius, the cut-off was then attached to the outside of the buck to complete the job.
Completed in January of 2008, the home is a masterpiece of efficiency, durability and architecture.It used about 3,500 Logix forms, and took 275 cubic yards of concrete to complete. In addition to the exterior and basement walls, ICFs were used for an interior fire separation wall, 72 feet of wing-wall abutments for below grade wall reinforcement, and in retaining walls for a below grade stairwell between basement and shop.
Most importantly, Mr. Walker loves the home, "I am extremely happy with the overall results of the project and with the benefits that ICF construction provides," he says, "it's a safe, quiet and energy efficient home for my family."
Project Statistics
---
Location: Red Deer, Alberta, Canada
Total Building Size:16,823 sq. ft (13,255 conditioned)
ICF Walls: 18,200 sq. ft. (92% of Exterior Walls, plus demising wall and exterior retaining walls)
Cost: Undisclosed
Project Start-to-Finish Time: 24 months
ICF Install Time: 6 weeks (in stages)
Project Completed: January 2008
Construction Team
---
Owner: Troy and Paula Walker
Architect: Robin Anderson/Metro Design & Drafting
General Contractor: Bob Griffiths/Built By Owner
ICF Installer: Lorne Bingeman/Bingeman Construction Ltd.
ICF System: 6" and 8" core Logix
Like what you read?
Yearly Subscriptions Starting @ $30