The number of passive buildings in North America has increased more than six times over in the past five years. This Minnesota passive house integrates ICF walls with a number of other innovative technologies.
How do you build a passive house with insulated concrete forms (ICFs)?
Passive buildings are on the rise. The Pembina Institute reports that the number of certified projects in North America has increased from 500 in 2015 to more than 3,000 today. 
This program was first developed in Germany, and sometimes the German spelling of Passivhaus is used in North America as well. The technical criteria required to be considered a passive house in North America are set by the Passive House Institute US (PHIUS) and by Passive House Canada. Whereas other green building programs such as LEED focus on a wide variety of aspects such as site location, recycled materials, and water use, Passive House certification focuses exclusively on energy and ventilation. 
Passive buildings are built in accordance with these building science principles:
An airtight building envelope
Continuous insulation 
High-performance windows
A balanced heat and moisture recovery ventilation.
In builders' quests to achieve net-zero specs, many make the mistake of building conventionally framed homes and then trying to add technology to it after the fact.
Building with ICFs, however, offers a much easier path to net-zero status (and ultimately passive house certification as well). Indeed, many builders are already using ICFs to construct net-zero homes, and the reason is simple: ICF builds are highly energy-efficient, inherently airtight and eliminate thermal bridging.
Troy Hodas is a Passive House consultant, and lives in an ICF passive house he built himself a few years ago. He says ICFs are a great choice for walls because they're "simple, durable and cost effective."
Many others are also finding ICFs are a great choice for building to Passive House standards.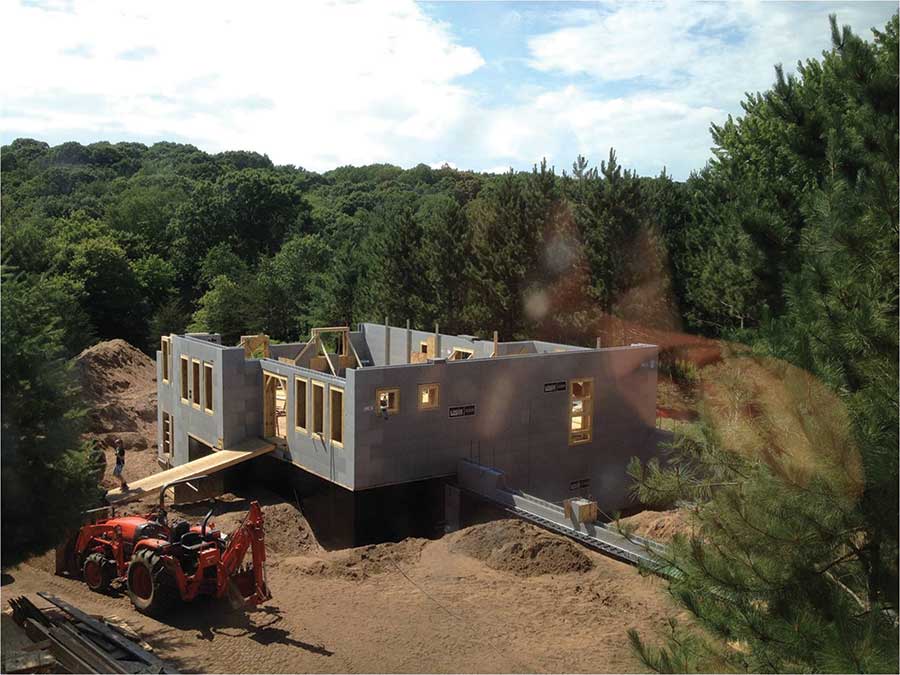 Case Study: Morehead House
 Michael and Barbara Morehead of Afton, Minnesota spent 10 years researching how to build their energy efficient dream home. They even built a 2000-sq.-ft. "laboratory" to test the performance of their preferred products before beginning construction.
Construction began in the spring of 2016. Michael Morehead says, "I had been researching energy-efficient buildings for many years. I ruled out geodesic dome homes and earth-sheltered homes for a variety of reasons. Most important was the lack of general acceptance by average people… A coworker of mine built an ICF home and raved about it. Then, in 2013, I built a 2,000-sq.-ft. barn supported by an ICF wall. The ICF construction was easy and greatly impressed me. I also learned of a person constructing his own ICF home near me. I volunteered at his worksite and was even more impressed with ICF building technology. I found an architect who had experience with super energy-efficient homes. He also thought ICFs were a good choice."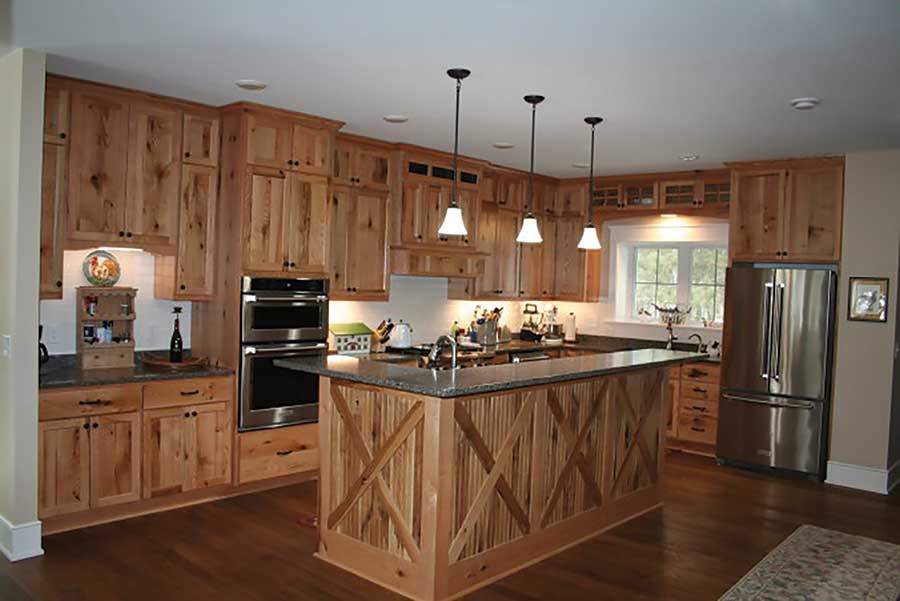 They selected Logix 10-inch Platinum Series ICF for the walls, using the graphite-enhanced bead for additional R-Value, plus a two-inch rigid foam core insert to create an R-38 wall assembly. The walls were wired with temperature sensors embedded in the concrete to monitor performance. 
On the interior, the Logix walls were furred out with 2'x4's and then further insulated with a layer of batt insulation. The attic space was insulated with 48 inches of expanding blown-in fiberglass insulation, for an insulating value of R-126. Windows are triple-pane, high-efficiency units imported from Canada. 
The footings were wrapped to prevent moisture from wicking up into the walls. Twelve inches of rigid foam insulation was also installed under the floor slab.
Completed in December of 2017 the 4,200-sq.-ft. home creates more energy than it uses, with the final blower door test registering a HERS rating of 9. That translates to using only 91% less energy than a comparable house built to code minimums.
Morehead warns, "Expect to pay more for a passive house. Passive houses have lots of added things: better exterior doors and windows, more insulation all around the structure, far more attention to detail and additional testing to assure performance. Most passive houses are going to cost more than the touted 10% over the cost of a spec home. Most owners I have spoken with have stated their cost projections were too conservative."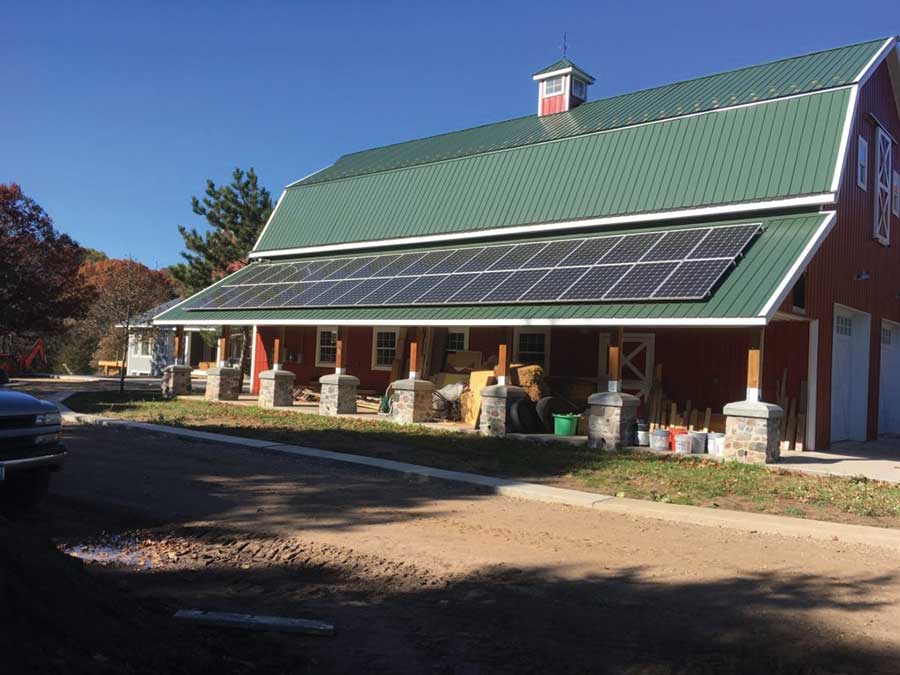 He says education is key. "Do your due diligence and educate yourself. Read everything you can about the type of house you intend to build. By all means, visit as many passive homes as you can and talk to the owners, not necessarily the builders. Look at the 100-plus pictures on our Afton Passive House blog to see some of the things we did to achieve passive house goals."
The Moreheads chose to skip formal certification. "PHIUS, PHAUS, LEED and any other type of certification programs come with lots of administrative overhead that translate into a great deal of added costs with marginal return on investment," he says. "Most builders in my area who have passive house experience are telling their clients to build a really good house using passive house principles but skip any type of certification. The real bottom line will be how the house performs, not some plaque on the wall." 
Project Statistics 
---
Location: Afton, Minnesota
Type: Passive House
Size: 4,200 sq. ft. (floor)
Total Construction: 21 Months
ICF Installation Time: 90 days
Construction Team 
---
Owner: M. and B. Morehead
General Contractor: Bluff City Builders
Form Distributor: AMC Foam Technologies
Architect: CR-BPS, Inc.
ICF System: Logix Platinum Series
Fast Facts 
---
Successfully constructed  during a cold Minnesota winter
91% more energy efficient than local codes!
12X more airtight than local codes!
Like what you read?
Yearly Subscriptions Starting @ $30