Alvaton Elementary School, near Bowling Green, Ky., was built entirely with insulated concrete forms from NUDURA Corp. Completed in 2006, the school accommodates 700 students and features spacious classrooms, modern computer labs, a library, gymnasium, and cafeteria. Coupled with geothermal heating and an energy-efficient roof, the 77,000 sq. ft structure is so energy efficient that officials have already committed to using ICFs for the new high school and middle school set for construction within the next several years.
ICF construction is rapidly gaining a reputation for being an economical way to create healthy, safe, energy-efficient environments. They are a perfect choice for school districts across the country as they evaluate how to replace an aging stock of buildings with better learning environments.
"ICFs offer school districts an ideal building material for their needs, "says Kent Stumpe, chairman of the ICFA board. "They offer reduced energy costs, comfort, quiet, and safety. ICFs offer them more value than they can get from any other type of wall construction."
"It's a perfect fit," says Vera Novak, technical director for the ICFA. "There's been a big uptick in school construction. Designers know about it, school boards know about it, and the number of successful projects keeps growing."
Last year, the U.S Green Building Council (USGBC) established LEED for Schools to help those interested in building sustainable, healthy buildings while minimizing their environmental impact. 
LEED for Schools is a national standard, and provides independent, third-party verification that a school meets the highest health and performance standards," says Jessie Sackett, publications manager for the USGBC. ICFs are a great way to meet many of the LEED criteria.
Clearview (Pennsylvania) Elementary School, for example, achieved a LEED gold certification from the USGBC, in part by using insulating concrete forms for all exterior walls. 
As a test, the school heating system was shut down at 1 p.m. in mid-February when the high temperature outside reached only 40°F. Nighttime temperatures fell to 22°F., but the classrooms cooled by only 4 ½°F. When the furnace was restarted at 5:30 a.m. the next morning, the desired room temperature was regained in less than an hour. Architect John Boecker, says, "The insulating concrete form wall provided us with a high-performance thermal envelope that contributed significantly to downsizing our HVAC system and reducing energy consumption."
Since energy consumption accounts for at least 75% of a building's total environmental impact, ICF walls can create major savings—for the environment as well as school district budgets. 
But that's not the only advantage ICF construction has to offer. Novak says, "ICFs can also contribute LEED points by limiting the construction footprint, reducing construction waste, using recycled and/or regional materials, and improving thermal comfort and indoor air quality." ICFs also reduce noise transmission.
A 2006 study shows real advantages to building "green schools." Cleaner air reduced asthma by nearly 40%, while increased thermal comfort increased productivity by up to 15%, and even led to improved teacher retention and better student attendance.
According to FMI Corp., a construction consulting firm, more money is spent on school construction than any other non-residential construction segment, with spending nearing $20 billion a year.
To take advantage of this market, the Insulating Concrete Forms Association recently decided to target school construction. The association is creating a pair of technical briefs; one that will showcase the benefits ICFs offer schools, the other to help contractors that want to break into local school construction markets. The ICFA will also exhibit at the American Institute of Architect's (AIA) annual School Building Expo in 2008. 
Brevard County (Fla.) School Additions
There is another advantage ICFs offer: durability and protection from natural disasters. When the Brevard County (Florida) School Board received a mandate to replace its portable classrooms with more permanent structures, they chose to build with ICFs from American PolySteel.
"The project involved 22 schools, with one to eight classrooms being constructed for each school," says Patrick Murphy, president of American PolySteel. Seven of the 22 buildings were designed as hurricane shelters for the surrounding community.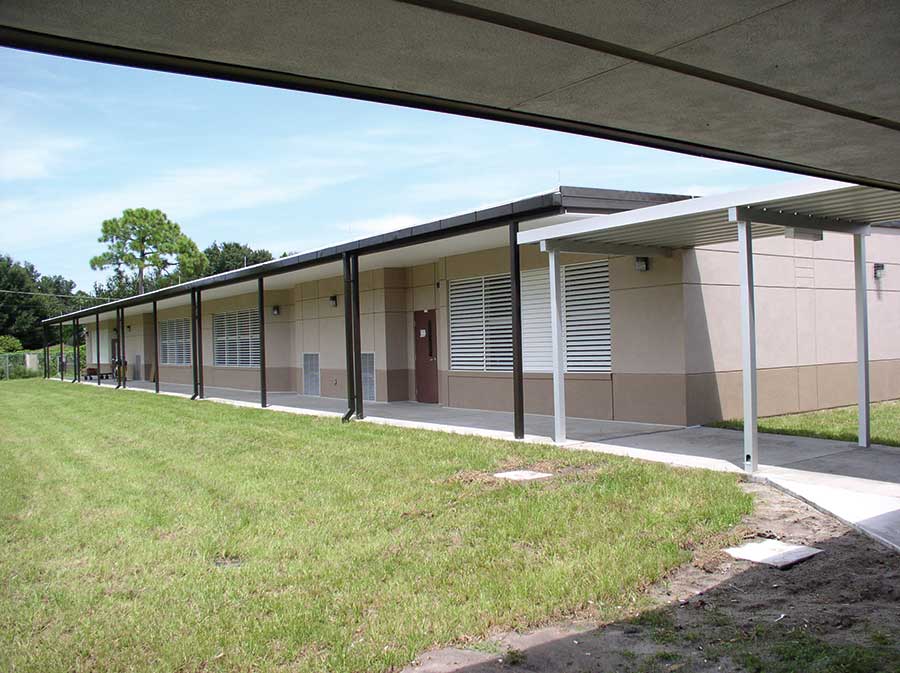 The general contractor, 3D/I Construction, won the design/build job after carefully consulting with the local distributor, Florida PolySteel, Inc. The selection committee was impressed with PolySteel's hurricane resistance, energy efficiency, superior sound attenuation, and termite resistance.
"The forms are economically competitive to all existing exterior wall systems… which was one of the main selection criteria," adds Bill Porter-Carlton, of 3D/I Construction. "Also, the forms do not require high skill labor and heavy equipment isn't used on a congested, occupied school campus."
The buildings utilized standard roof trusses, tied into the concrete core of the wall with hurricane straps.
"PolySteel was able to create good, solid, secure structures with improved indoor air quality and a peaceful quiet atmosphere," Murphy says.
"When Charley, Ivan, Frances, and the rest of those hurricanes rolled across Florida in 2004, they were glad they built with PolySteel."
The district has been so impressed they've asked PolySteel and 3 D/I to complete several more projects for them in the years since. 
Construction Team 
---
General Contractor: 3D/I Construction
ICF Installer: 3D/I Construction
Distributor: Florida PolySteel, Inc.
Form: American PolySteel
Fast Facts
---
Project Name: Brevard County Portable Classroom Replacement 
Size: 22 Schools
Completed: 2003 
Outstanding Energy Efficiency and Disaster Resistance
Elmore City (Okla.) Elementary
Jim Smith, superintendent of Elmore City-Pernell Public Schools in central Oklahoma, first became interested in ICFs because they would provide a tornado-proof shelter for students. But he soon became convinced their energy efficiency was just as valuable. Under his direction, the district built a new elementary school and a high school addition with room for 200 students. Both structures use post-tensioned Lite-Deck to create a tornado-proof, 8-inch thick concrete roof.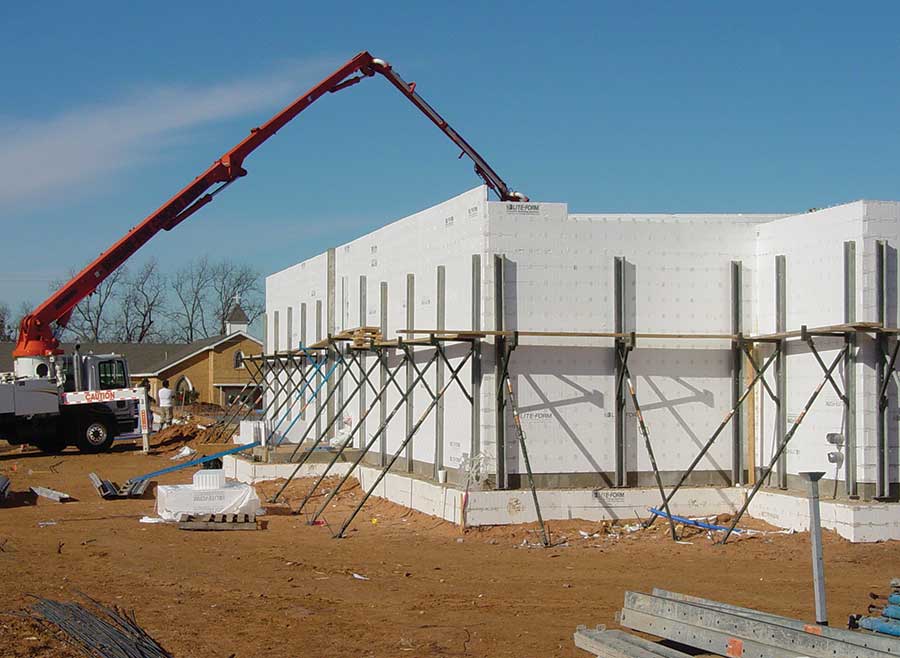 Exterior walls have a reinforced concrete core measuring a full 12" thick. Interior walls are also made from ICFs, with a more modest 4" core.
Terry Helvey of ICF Direct of Oklahoma, which installed the walls, notes that some of the construction funding was provided by a federal program to provide disaster-resistant community shelters. "But the real benefit is energy efficiency, and they enjoy that regardless of whether there are tornadoes in the area," he says.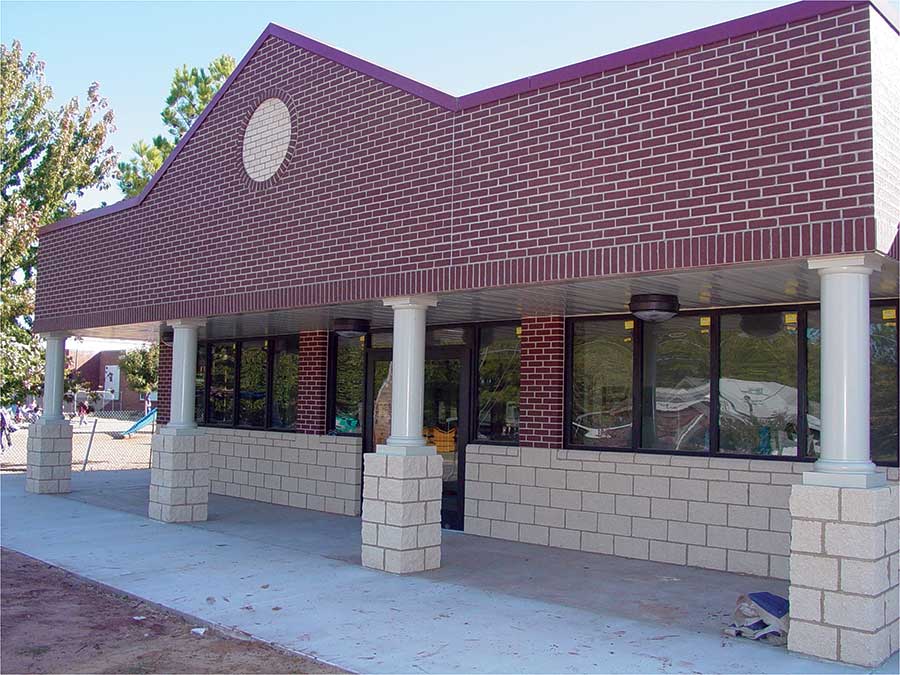 Fast Facts
---
Project Name: Elmore City Elementary School
Size: 15,000 sq. ft.
Completed: Dec. 2006 
12 classrooms function as Safe Room
Construction Team
---
Owner: Elmore City-Pernell Public Schools
General Contractor: ICF Direct of Oklahoma
ICF Installer: ICF Direct of Oklahoma
Form: Logix and LiteDeck