As the Southeastern U.S. and Caribbean prepare for another hurricane season, many residents, government officials, and insurance executives are scrambling to find ways to protect themselves from the devastating loss of life and property that these storms always bring.
One solution is to build with insulating concrete forms, or ICFs. Hurricanes pose three main threats to structures—strong winds, storm surge, and flying debris—and ICFs stand up well to all three. 
Studies at Texas Tech University simulated flying debris by shooting 2×4 wood studs, traveling at nearly 100 mph, at wall assemblies. (See a video of the tests on our website, www.icfmag.com).
The missiles easily penetrated the wood- and steel-stud walls, even at speeds of 50 mph. At 70 mph, they penetrated brick veneer finish. But nothing penetrated the ICF walls. Even wall segments constructed with waffle-grid block experienced no cracking.
The report concludes, "The strength and durability of concrete walls offer unmatched resistance to the devastation of major storms. Concrete homes are less likely to suffer major damage from debris than conventionally framed houses. This greater measure of built-in safety makes cement-based ICF construction systems the quality choice for your new home."
Dr. Ronald Zollo, an engineering professor at the University of Miami, says, "If they are going to build a poured wall, let's make the best poured wall possible, and that wall is ICF."
From a contractor perspective, ICF walls are easier, faster, and better than alternative materials. Layne Thompson, an ECO-Block distributor in Desdin, FL, says wood-frame or concrete block requires significant work to meet hurricane-resistant standard, while "ICF walls are inherently stronger with no extra effort. There is no extra cost in the wall."
Thompson has seen hurricane damage first-hand. When Hurricane Ivan roared ashore in September of 2004, one ICF home on the Florida Panhandle took at direct hit. Tidal surge—a wall of water ten feet high—blew out the garage door and scoured the sheetrock off of the garage walls. But he says the rest of the house sustained very little damage. 
Hurricane Ivan also devastated the neighborhood below. While nearby homes were reduced to rubble, one home sustained only minimal damage. Built from Nudura blocks with a solid 6" concrete core, it shows how well ICF homes can fare in extreme weather.
Only weeks earlier, Hurricane Charley hit Chuck Taylor's home outside of Arcadia, Fla. "It came right over our heads," he says, "but we felt totally safe." Taylor watched in awe as the winds picked up the pool enclosure and blew it over the house. His wife and children playing cards couldn't even hear the winds outside. Built from Arxx ICFs, the home suffered only minimal damage—mostly dents in the roof from the pool enclosure. "I am so happy with our home," he says, " I wouldn't live in anything but concrete walls."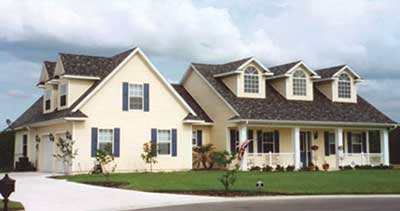 In 2005 Hurricane Katrina made history as the most devastating storm in U.S history. Pushed by 150-mph winds, a tidal surge estimated at 22 feet high swept through Alabama and Mississippi, wiping entire towns off the map. All that is left of one neighborhood outside Pass Christian, Miss., is row after row of concrete slabs—and one ICF home. It stands as a prime example of the durability of
ICF construction.
In Slidell, Louisiana, the storm surge was a more modest 12 feet. It knocked in the front door of a recently finished Thermoblock home and filled it with 3 ½ feet of water. Raging winds decimated the frame hoses nearby. "They were literally blown away," says James Estes, president of the company. Estes says that even with the water, the home was easily repaired since the polyurethane block didn't absorb water, and all insulation was expanded polyurethane.
"They just cut the sheetrock at the four foot level and replaced it. The flood rehab was a very shortened timeframe," he says.
Estes also credits the sprayed polyurethane insulation with keeping the roof intact. "It acts like a glue that holds the structure together," he says. "They didn't even lose any plywood."