IMS Masonry built the 173,393-square-foot Roy Junior High School in Roy, Utah, with Fox Blocks. This was the first ICF school built in Utah. 
IMS Masonry is one of the largest masonry contractors in the Western United States, and they include among their projects some of the largest ICF projects in the United States. President and owner Heath Holdaway has been with IMS Masonry since 1998 and an owner since 2004. He has more than 25 years of experience in the masonry and construction business. 
"We started out as a traditional masonry contractor, which is typically handling brick, block, stone, and masonry, for either the structure of the building or the facade," says Holdaway. "But we've also been doing ICFs for 20 years now. The reason that we wanted to educate ourselves about ICF is because it's very similar to the type of work that we do with masonry — stacking units up, filling them with concrete, making sure the walls are plumb, all that kind of stuff."
The company also does a lot of pre-cast construction, stone cladding, and interior finishes. The company's based in Utah, which is where the headquarters of the Church of Jesus Christ of Latter-day Saints is based. A lot of the projects the company handles are temples and other large facilities for the church. "That's really given us the ability to work everywhere around the nation," he says. "We've worked as far away as the West Coast, all the way to the East Coast. We have a project coming up in Maine, and we've done work in Connecticut and Vermont."
The types of projects that IMS Masonry undertakes are not only large in size, but also complex in their requirements or aggressive in scheduling. Many of the large projects are higher education, complex health care facilities, or sports arenas, and military and other federal government work. "With the push on energy efficiency, ICF is becoming a very popular form of construction," Holdaway says. 
Historically, movie theaters have been a good source of ICF work for the company. "ICF is popular in demising walls in theaters, because of the sound transmission between theaters that are right next to each other," he says. 
They've also built a lot of schools out of ICF, particularly in recent years. Over the last two years they've built five different ICF schools in Utah. Overall, ICF accounts for about 20% of the company's work. Holdaway says the company is usually working on two or three large, complex ICF jobs out of about 20 ongoing projects at any given time. 
Getting Started On Large jobs
The company's been in business since 1989, so their growth into large jobs took time. Most masons or contractors are small, single owner operations, with the same person doing a lot of different types of work. Instead, Holdaway says they structured IMS Masonry differently. "We built the company with a different type of organization, so we were able to build a business versus building a company that's out there performing one job at a time."
Holdaway got into masonry "haphazardly," he says, out of high school. "A friend's father-in-law had a small masonry company and there was an opportunity to just get to work as a laborer. That's the one thing about construction and especially masonry — with little to no experience, there's a lot of opportunity for higher starting wages and for growth."
Holdaway says he took advantage at every opportunity to learn and grow, and was able to advance quickly. Holdaway had a good opportunity to come to work for IMS Masonry in '98. It was much smaller then, and shortly after joining, Holdaway began estimating and he and the owner focused on growing the business. In '99, he was offered a partnership. "I bought half the business from him and then we ran the business together for quite a few years as 50-50 owners," he says. Holdaway bought him out about five years ago.
"When we take on a big job, the way we approach it is looking at it as if it's five smaller jobs," Holdaway says. "We try to break it down so it's manageable." Approaching a large job as a single large job can make it overwhelming. One nuance, he says, is understanding the manpower and the scheduling needed to complete a very large job. "It's not just a handful of guys doing one job at a time," he says. "With a big theater or a school that's going to have an aggressive schedule, you're going to need 40 or 50 people on that job alone. What takes the additional planning is making sure you've got the right man-power allocated for it and the right leadership to make sure that you can oversee all those guys."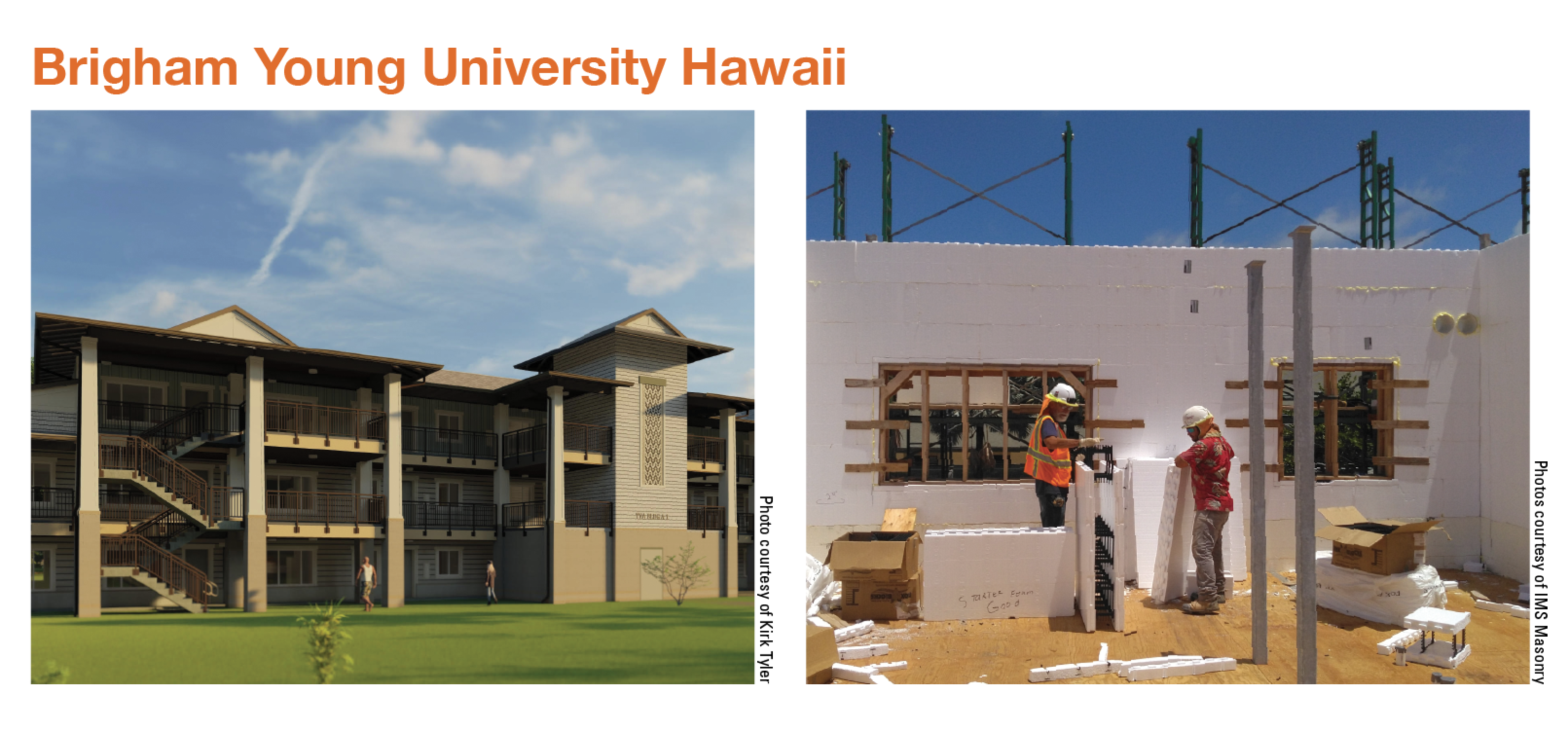 Right now, the company is working on a huge ICF project in Hawaii for Brigham Young University's campus on Oahu. The project is updating about 20 buildings on campus with the addition of several new structures, including parking and a new classroom building. The buildings will be replacing older masonry buildings with insulated concrete forms. We're not sure how to prove it, but it's possible this is the largest ICF project ever undertaken. Builders have already completed 32 apartment or townhome buildings (the townhomes were completed by IMS Masonry) with more ongoing. Project manager Kirk Tyler was instrumental in choosing ICFs for this project. "The windward side of Oahu is one of the most corrosive environments anywhere, because the prevailing winds blow salt across the island all the time," he says. "Building with ICFs here just made all the sense in the world."
Location: Oahu, HI • Type: Dorms, Apartments & Townhomes • Size: 57,8156 sq. ft. • ICF Use: 62,670 sq. ft • ICF System: Fox Blocks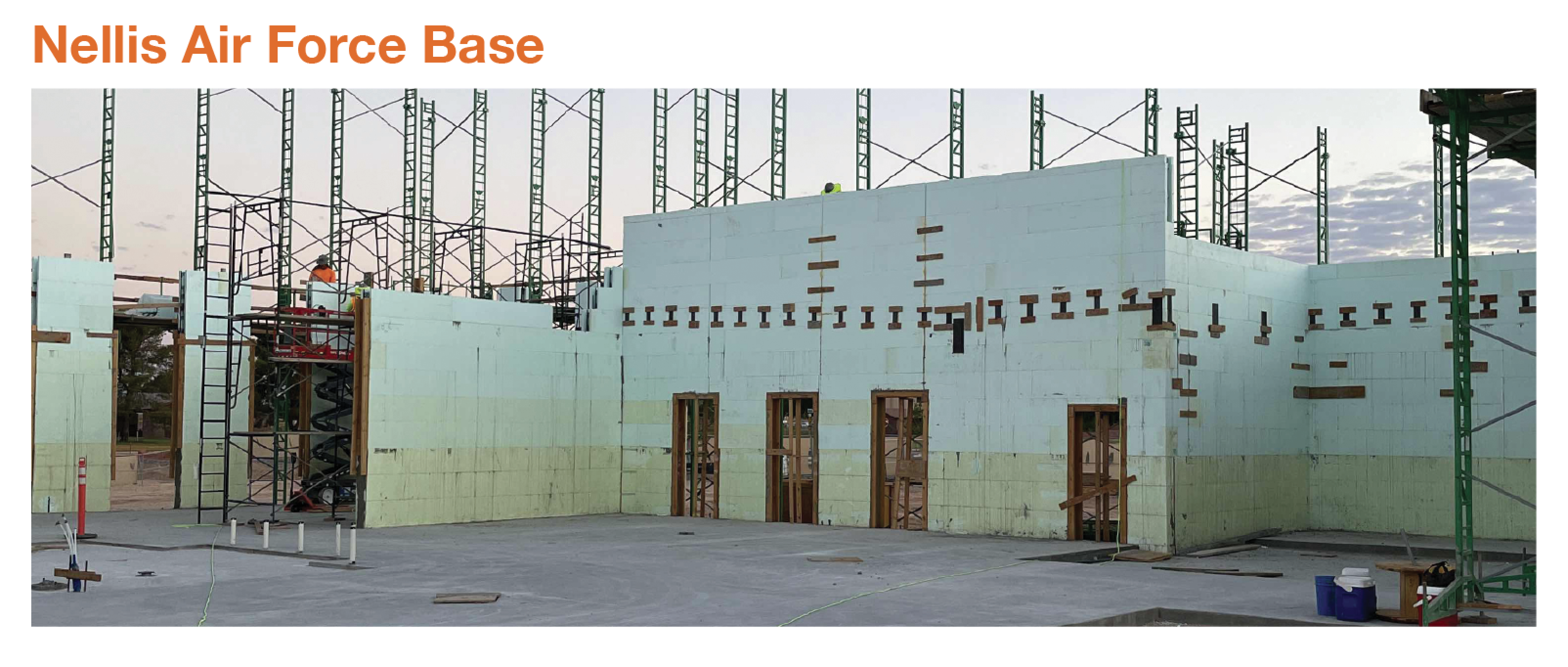 At Nellis Air Force Base in Nevada is the U.S. Air Force Warfare Center, the largest air combat training center in the world. In 2018, the Air Force developed plans for a $29 million state-of-the-art simulation center at Nellis AFB. The Virtual Warfare Operations Center Facility (VWOCF) features four flight simulators, each in a 12-foot-high dome. Also included is an auditorium, seven mission-briefing offices, and more than 3,000 square feet of "white space" server rooms and office support space. The building has raised floors for easily reconfigurable data cabling. Outer walls of this project are ICF. 
Location: Southern NV •  Type: Military • Size: 50,967 sq. ft.• ICF Use: 35,574 sq. ft. • ICF System: Nudura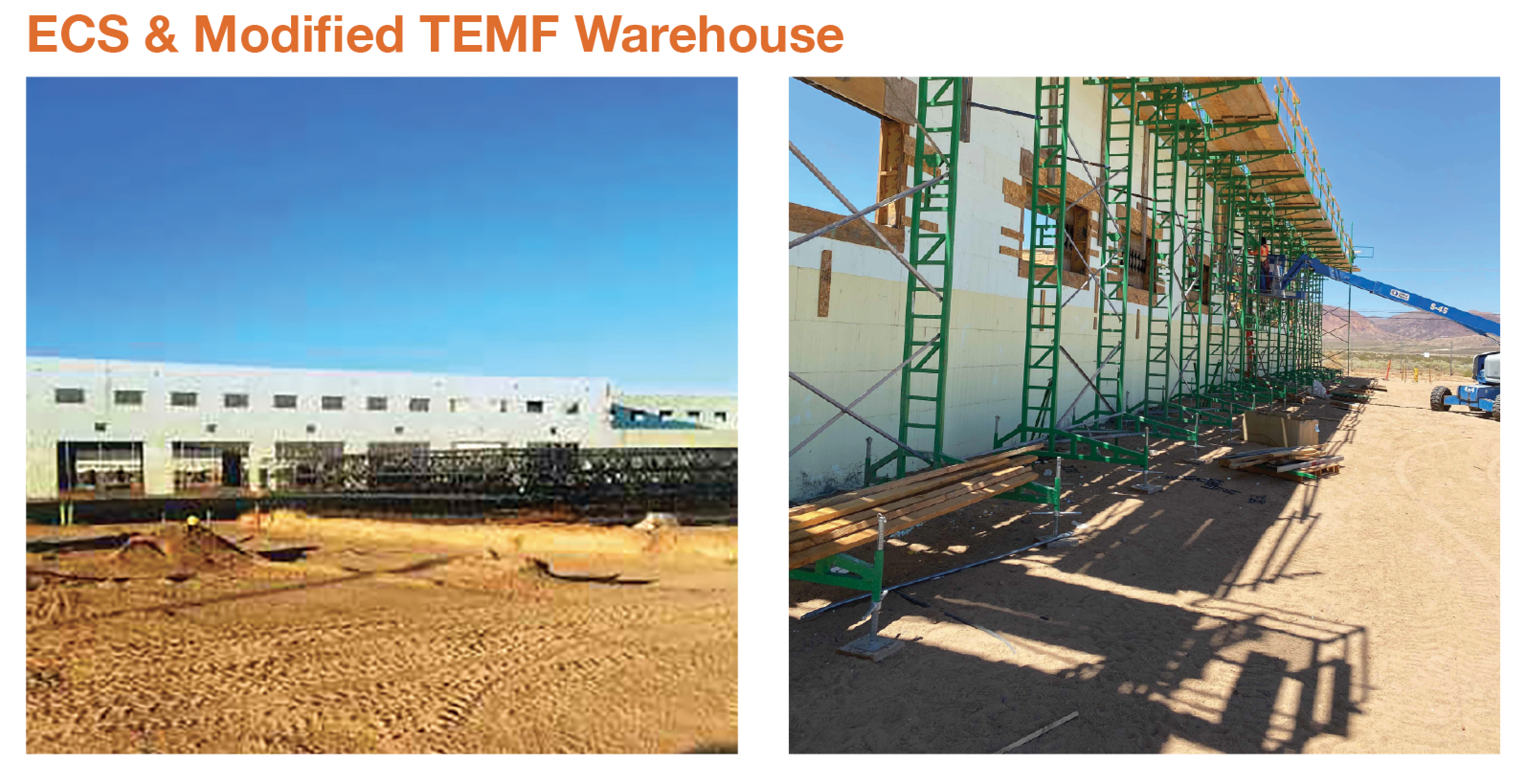 IMS Masonry built a Modified Tactical Equipment Maintenance Facility (TEMF) and General Purpose Warehouse in the vicinity of Barstow, California, for an Equipment Concentration Site (ECS). 
Location: Barstow, CA • Type: Military • Size: 41,000 sq. ft. • ICF Use: 57,093 sq. ft. • ICF System: Nudura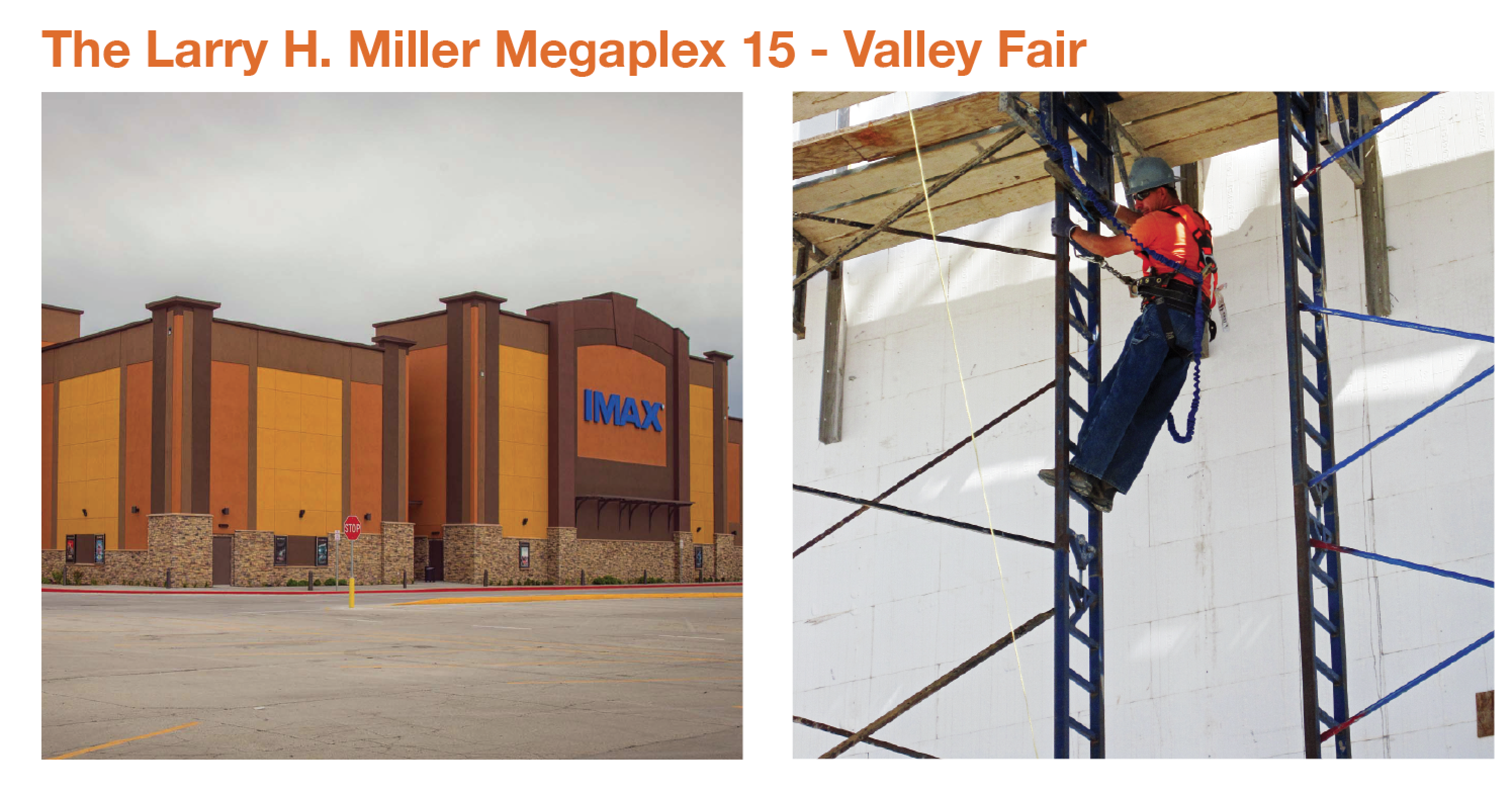 It took only four months to build this Megaplex 15 theater, with the entire job completed in only seven months. The theater's use of ICF and other green features garnered it a LEED Silver rating.
Location: West Valley City, UT • Type: Movie Theater • Size: 125,570 sq. ft. • ICF Use: 141,917 sq. ft. • ICF System: Fox Blocks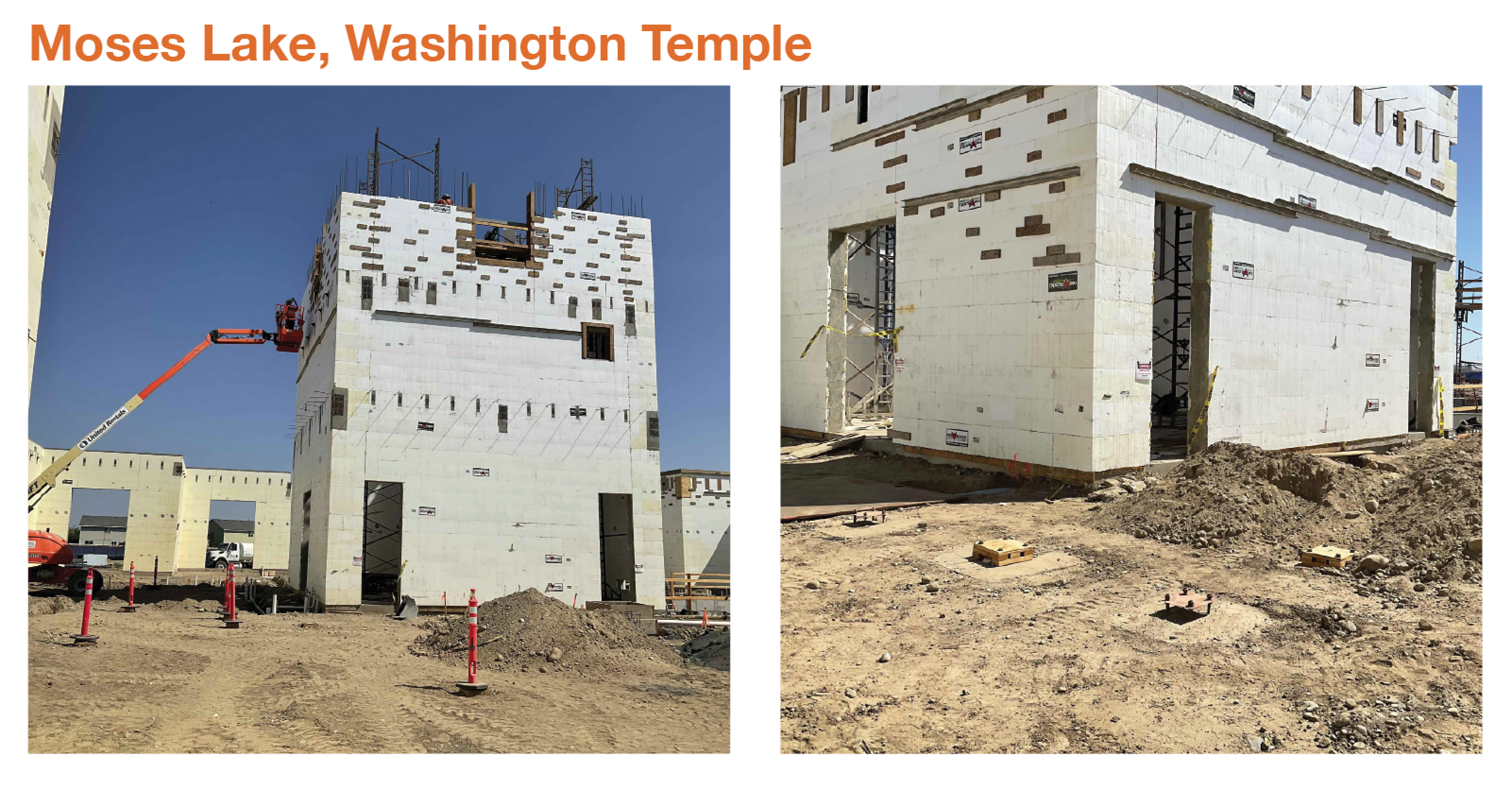 In Moses Lake, the first-ever LDS Church temple made of ICFs is estimated to be completed in 2023. IMS Masonry is building the temple and also plans to apply stone cladding to the exterior.
Location: Moses Lake, WA • Type: Religious Temple • Size: 26,337 sq. ft. • ICF Use: 19,043 sq. ft. • ICF System: Fox Blocks