Gap closes on the price of stick-built vs. ICF home.
In July 2020, the National Association of Home Builders (NAHB) sent out a press release that spoke about how much more expensive lumber has gotten since the beginning of the year. At that time, lumber prices had skyrocketed 160% since April. Today, in late November, that's down to about 120%. Contractors had mentioned that lumber prices were going up, at least since the beginning of the pandemic issues, but before this press release came out, none of the ones I talked with could provide hard data. They just had a general sense of how the market was changing. But with this press release, it became clear that not only has lumber gotten more expensive, it's gotten harder to find.
All of this means ICF homebuilders have yet another tool at their disposal for selling ICF homes to potential homebuyers . . . if lumber is more expensive and harder to get, that increases the cost of a stick-built home by thousands of dollars, and it potentially makes the build take a lot longer. Building with ICFs could cure both of those headaches for homebuyers. 
John Ballew, president of ICF Warehouse in Santa Fe, New Mexico, says he's been selling ICF for 20 years and in the concrete industry for 40 years, and he saw the price of lumber starting to go up even before the press releases started hitting people's mailboxes. ICF Warehouse is the largest ICF distributor in New Mexico. 
"Building with ICFs in our area typically costs $3 to $4 more per square foot than a lumber home, so if the price of lumber goes up $5000 then that means ICF is only $1000 to $3000 more," Ballew says. "When you consider downsizing your heating and cooling system which you can do with ICF, that gives you energy savings, and masonry structures typically get a break on insurance in our area, so that adds up to be about the same."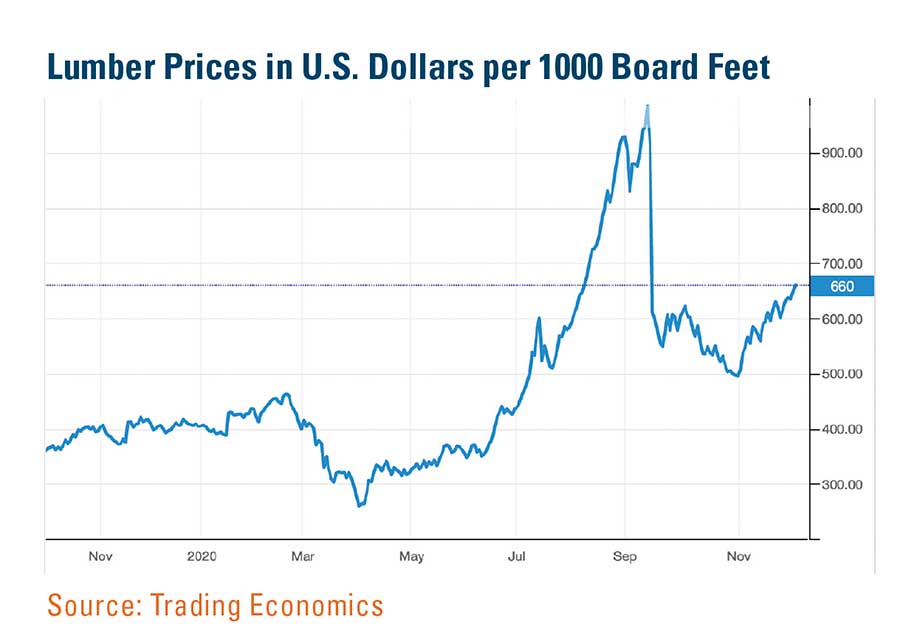 The NAHB indicated that when the coronavirus pandemic began, lumber prices slumped. That was because at first, there was no construction going on—businesses everywhere, including the residential construction sector, had ground to a complete halt. That left lumberyards with wood they couldn't sell. As people pretty quickly realized, there was no real need for construction to shut down, and building activity resumed, but inventories were already low and demand was high.
Marketplace.org says there are a couple of reasons for this high demand. One was a quick decline in lumber production on the part of sawmills. The other was that folks stuck at home during quarantine were tackling home projects they had long avoided. 
This led to an increase in lumber prices of nearly 60% in the second quarter. Lumber futures gained 56.5% in the second quarter, following a loss of more than 31% in the first quarter. In the three-week period ending July 2, prices climbed by roughly 28%. On July 16, lumber was $481.90 per 1,000 board feet. As of October 21, that price was $523.20. Canadian lumber shipments to the U.S. for the second quarter were down by just under 19%.
It might seem that once demand was flipped back on again, the lumber should be there and there should be no problems accessing it. But Greg Kuta, president of commodities/ futures brokerage firm Westline Capital Strategies, explains that's not the case. Kuta told Marketplace.org that sawmill production doesn't work in a "flip the switch on or off" manner. It takes weeks to bring curtailed output back online due to rehiring laid-off workers, retooling equipment, and rebuilding the transportation chain to ship the wood out of the mills.
In June, the Washington Post published a story that said the supply of homes for sale is consistently dwindling. Homeowners are delaying putting their properties on the market due to the pandemic. According to Redfin, a real estate brokerage, the supply of new homes fell 10.5% in the 12-month period ending in April, compared with a 24% drop for existing homes. This gives you, the ICF builder, even more fuel . . . those homebuilders with the resources to build will have even more incentive to build their own home rather than trying to wait for the market to produce the home they want.
David Logan, director of tax and trade analysis at the National Association of Home Builders, told MarketWatch that framing lumber makes up roughly a fifth of the materials cost of building a traditional stick-built home. It's the homebuyers who will pay those higher prices. Logan also noted that back in 2018 when lumber prices also saw a large increase, the square footage of newly-built homes dropped. 
An October update by the NAHB said that since mid-April 2020, lumber costs for the average single-family home have climbed more than 170%. This results in an increase of more than $16,000 in the price of a new single-family home. And the average cost increase for a new multifamily unit is approximately $6,107.
Yet people are still wanting to build. Data from ProBuilder says that over the first seven months of 2020, total single-family permits issued year-to-date (YTD) nationwide reached 525,623. On a year-over-year (YoY) basis, this is an 5.8% increase over the July 2019 level of 496,726. Between July 2019 YTD and July 2020 YTD, 35 states saw growth in single-family permits issued while 14 states and the District of Columbia registered a decline. Louisiana recorded no change. South Dakota recorded the highest growth rate during this time at 35.9% from 1,508 to 2,050 while single-family permits in the District of Columbia declined the most, by 41.0%, from 117 in 2019 to 69 in 2020.
Ballew says that if a friend or family member asked him if they should build a stick-frame home or an ICF home, he would tell them "they are crazy to build with anything but ICF."
"With ICF, you're going to come out ahead from day one," he says. 
Of course, while the price of lumber is easy to pinpoint, it's not the case with ICF. Prices vary a lot by manufacturer, by region in the country, the price of concrete, and the price of steel in the rebar. 
"The price of ICF is likely to be 10% higher, or maybe 2 or 4% higher or maybe 15% higher so it's hard to pin down the exact cost," Ballew says. "Concrete is $110 a yard where you move up to the Western slope of Colorado but it might be $150 or $180 a yard somewhere else."
Salt Lake City, Utah, news outlet KSL published a report back on September 12 that described the "sticker shock" some homeowners were seeing when they were heading to the lumber store. Prices are increasing exponentially, almost on a weekly basis, said Mark Burton, director of operations at Burton Lumber.
"Between three and five times more expensive than they were even six months ago," Burton said. "Most of the builders that we deal with are saying that their homes are going up anywhere between $20,000 and $30,000 for just a regular size, single-family home."
While that changes the discussion about the price of lumber versus concrete somewhat, this price increase in lumber is a clear talking point when trying to persuade someone to build with ICF instead. Add in the energy costs Ballew mentioned, plus the disaster resilience of concrete over wood, and Ballew has it nailed down: You would be crazy to build with anything else.
One final note . . . are you worried about whether this demand for wood might result in deforestation? 
Pete Stewart, president of the timber analytics company Forest2Market, told MarketWatch that the concern about deforestation is overstated. 
"In the U.S., we're growing 15% to 20% more trees than we are consuming, which is good for the environment, good for everything," Stewart said.
Footing Prices Also Lower Construction Costs
With builders around the world looking at different building practices, the use of Fastfoot has never been higher, says Joey Fearn, operations manager for Fab-Form. Fastfoot fabric footings are made of high density polyethylene fabric, which allows any footing to be formed with just 2x4s. One 100-foot roll of Fastfoot can replace up 1,500 pounds of lumber. "With lumber prices up 130% since just April alone, using Fastfoot really is a no brainer," Fearn says. "With current lumber prices, the cost of forming a footing with Fastfoot is now approximately 50% the cost of forming with lumber."
Just like with the use of Insulated Concrete Forms, there are many other benefits besides just the price. Fastfoot is a woven plastic, meaning it easily adapts to uneven excavations. This leads to quicker setup and stripping of the forms. It also doubles as a dampproof membrane, preventing moisture entering into the home through the footing. "Simply lap your ICF peel and stick membrane over the top of Fastfoot, and tape it to your underslab membrane," says Fearn. "Adoption of Fastfoot and Insulated Concrete Forms are running at a parallel it seems, with rising lumber prices being one of the main drivers."