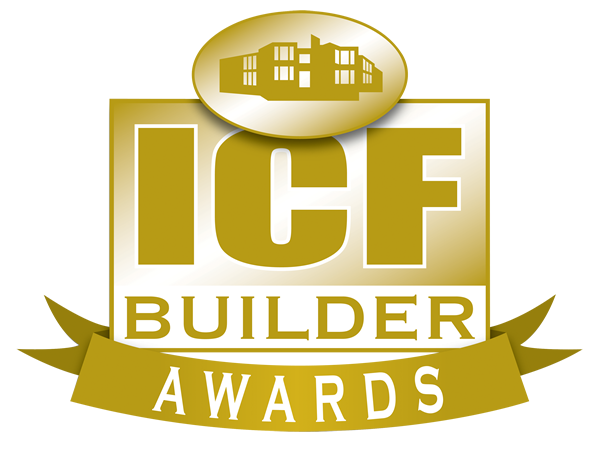 2021 Specialty Application
2nd Runner-Up
Swimming pools are an even more hot commodity for homeowners right now than usual, due in large part to the pandemic forcing families to stay at home for so long. Luckily for this Cape Girardeau, Missouri, family, their stunning pool was completed June 20, 2020, just in time to give them a place to go for entertainment, backyard oasis, and respite during the pandemic months. 
Built using Amvic forms, the project cost $31,000 and is a total of 920 square feet of pool area. Installing the 900 square feet of ICFs for the pool took a modest four days out of a total 20-week construction schedule. The entire ICF portion was installed by one person, and the project was completed with 100 man-hours of help in total 8 days.
This pool project overcame the need for help by utilizing ICFs, which can be self-performed by a single qualified installer. "ICFs allow for any design since it is versatile," says Amvic's Laura Catalan. "Users are able to make field changes based on site conditions."
In this case, the ICF installer was the homeowner, Scott Peterson. As a structural engineer with Drury Southwest, a development company, Peterson was already very familiar with this brand and used Amvic as his material of choice for his swimming pool. He told Amvic, "The major benefit of using ICF for a swimming pool is that there are no limitations for the depth or design of the pool. ICF's are very versatile and lightweight which are a perfect combination for building a pool."
ICFs also make it possible to add seats inside the pool. A plaster or tile finish is a durable finish, and ICFs provide the ability to achieve that. By using ICFs, equipment was not required for maneuvering, since the ICF blocks are lightweight and easy to carry. Less over-excavation was necessary, therefore no shoring was required to stabilize adjacent structures. The level of precision of the wall for straightness and plumb required for an ICF pool is significant because the water will always amplify imperfections, and this pool turned out beautifully.
Additional features include two fountains embedded into the top of the tanning ledge and two additional fountains embedded right into the ICF on the deep-end shelf. There are 10 LED lights incorporated around the pool on the inside walls and stairs. Beautiful tiling was added around the waterline of the pool and some horizontal surfaces. The overall design was considered based on the space and how additional features (slide, diving board) complement the surrounding area. 
With ICFs, the rough-in jets and lights were easier to stabilize during the concrete process. ICFs provide a consistent temperature once heated due to the thermal mass of the insulated walls. 
"This homeowners backyard project became a project of interest in the area and essentially encouraged four other ICF pools in the area," says Catalan. 
Project Statistics 
---
Location: Cape Girardeau, Missouri
Type: Swimming Pool
Size: 920 sq. ft. of floor area
ICF Use: 900 sq. ft.
Cost: $31,000
Total Construction: 20 weeks
ICF Installation Time: 4 days
Construction Team 
---
Owner: Scott Peterson
ICF Installer: Scott Peterson
Form Distributor: Amvic
ICF System: Amvic
Fast Facts 
---
Entire ICF portion done by one person
100 man hours of help in total (8 days)
Like what you read?
Yearly Subscriptions Starting @ $30