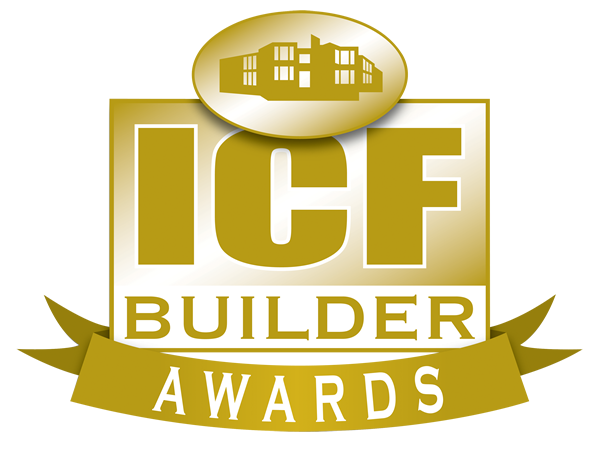 2016 Small Residential 1st Runner-Up
The story of Ecologia Montreal begins when Sabine Karsenti purchased a century-old residence in the heart of Montreal. Originally built in the 1890s, the house had been abandoned for some time, and it was a middle unit in a long row of townhomes.
But the location—right on the Island of Montreal, in the downtown core of the largest city in Quebec, Canada—was right and plans went forward. 
The old construction was carefully taken down, leaving a lot measuring 25 ft. x 90 ft. It would be a tight, congested jobsite.
Architect Gervais Fortin, who also served as general contractor, worked with Ms. Karsenti to achieve her goal of an ultra-sustainable home that would also demonstrate cutting-edge "healthy home" attributes. Insulated concrete forms (ICFs) were a key part of that plan.
Karsenti says, "Using ICF allowed us to be as close as possible to the existing building without the need to remove forms and [also meet] the insulation, sound, and fire rating standards." Nudura-brand forms were selected, as they're manufactured in Quebec and have significant support resources in French. The plastic webs used by Nudura are 100% post-consumer recycled material, which was also important.
Ecologia Montreal has a sleek and contemporary design. Thanks to a sloping lot, the house appears to be two stories on the front, with a third, walk-out basement level visible from the rear.
Because the house is a zero-lot-line build on two sides, Fortin placed an atrium in center of home with floor-to-ceiling windows, flooding all three floors with natural light while still allowing for privacy.
Every aspect of the home is geared to be as sustainable as possible. The heavy beams from the original pre-1890 home were carefully salvaged and incorporated as roof and floor joists in the new structure. The flooring was milled from local ash trees. Vanities and bathtubs were molded from soy resin, instead of the usual fiberglass or steel. The concrete in the walls was 40% recycled, using fly ash in place of portland cement and ground concrete aggregate in place of gravel.
The design uses both passive and active solar. "The wall facing the interior courtyard stores the sun's heat and distributes it throughout the house while the back-up forced air system serves to stabilize room temperature," Karsenti explains.
Heating is tied to a geothermal loop and ground source heat pump (GSHP).
On top, a green "living roof" minimizes stormwater runoff, adds insulation, and reduced the heat island effect. Amid the plants are several large photovoltaic panels that generate the bulk of the electricity required by the household.
More than just efficient, the house is designed to have regenerative properties for the people living in it. Walls are finished with a hemp/lime plaster in lieu of drywall. In addition to providing tensile strength, Karsenti claims the hemp has antifungal and antiseptic properties, while the natural lime plaster helps
regulate humidity.
Concerned about the possible damaged caused by electromagnetic radiation, the house has been built as a Faraday Shield, "We have blocked out all electromagnetic waves with carbon fiber paint, mesh fabrics and thin film applied to the windows," she says.
Compared to the planning, actual construction was fairly straightforward. "Proximity to the neighbors was a challenge," admits Karsenti, "but ICF was perfect for this and a huge advantage." They provided the insulation and the requisite structural strength, while being perfect for the zero-lot-line build. The lightweight forms also made it easy to move material by hand on the congested site, yet could still support the heavy vegetated roof, even with the long window lintels.
Additionally, they met Karsenti's goal of being local and sustainable. She says, "In as much as we could, we chose construction materials that were local, eco-friendly, and non-polluting."
Considering these factors, it's perhaps no surprise that Ecologia was certified LEED-Platinum by the USGBC, and has been the focus of extensive media coverage. It is the first LEED-Platinum home in Quebec. Stories about the project have appeared in more than 100 websites and 60 magazines around the world, including Vantage, a Shanghai publication, Il Bagno an Italian periodical, and Interiors, a French-English magazine.
In nearly all of these, ICFs have been highlighted for their green attributes and ability to create a tight, efficient, insulative wall.
Project Statistics
---
Location: Quebec City, Quebec, Canada
Type: Single Family Custom Home
Size: 2,900 sq. ft.(floor)
ICF Use: 3,300 sq. ft.
Cost: $800,000
Total Construction: 12 months
ICF Installation time: 4 months
Construction Team
---
Owner + ICF Installer: Sabine Karsenti
General Contractor + Architect: Gervais Fortin
ICF Installer: Insulated Concrete Buildings
Form Distributor: Givesco
ICF System: Nudura
Fast Facts
---
• First LEED-Platinum home in Quebec
• Atrium in center of home to allow for light
• Tight, congested jobsite
• Vegetated roof, geothermal heat
• Recycled Ash Flooring
• Soy Resin Fixtures
• Hemp Lime Plaster
• Built as Faraday Shield
• Media coverage by 60 magazines and 100+ websites
• Built on a zero-lot-line site only 25 feet wide
• Concrete contained 39% recycled materials
Like what you read?
Yearly Subscriptions Starting @ $30